This is not an actual recipe but it does come in handy when we have excess bread at hand and not prefer to buy bread crumbs from the store.Last week we got a loaf of bread not realizing that we still had half a loaf leftover.All I did is tear up [usually a day old] bread slices from half the loaf and pulse it up in the mixer.Store the bread crumbs in the fridge till it is ready to be used up in the cutlet ,tikkis or kekabs.A whole box of bread crumbs ready in a jiffy else the bread would have ended up in the dustbin.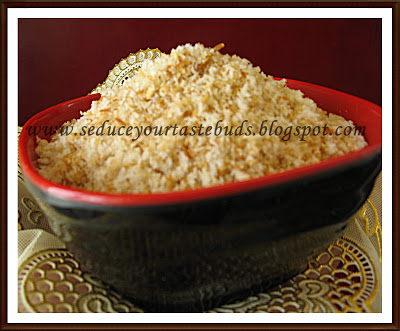 Note:
Any type of bread can be used.
Do not use stale bread.
You can also toast the bread slices before pulsing the slicing.
To make seasoned bread crumbs, toast the bread cubes in a skillet on low heat for a few minutes. Remove from heat.When cool pulse it along with the seasoning of your choice like garlic powder / pepper powder / dried basil / oregano etc.
Check out what my fellow marathoners are cooking this week @ the 10th edition of Blogging Marathon
Bon Appetit…