Ginger garlic paste is used in many recipes and though we get this in the store, there is nothing that beats the one made at home.I make small batches of this to last for 10 days.
Judging by the date on the click below, you would have understood that its been in my drafts since then!!I thought this tip would be apt for this months blogging marathon – Preps and preserves.
For this home made paste I use equal quantities of ginger and garlic. Peel garlic and ginger. Chop them roughly and grind to a smooth paste. Usually water may not be required while grinding. In case you need to, add as less as possible. Transfer the paste into a container and refrigerate / freeze.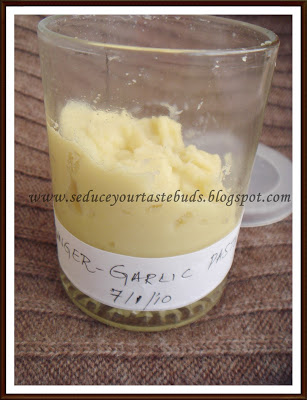 Note :
You can alter the quantity of ginger and garlic to suit your taste.
A pinch of turmeric can be added to give the paste a bright yellow color.
While grinding the paste you can add a little cooking oil instead of water.
If you prepare a large batch, freeze half and refrigerate the other half.
This Day That Year…
2010 – Palak Parathas and Banana Peanut butter Smoothie
2009 – Ridgegourd flavored rice
Bon Appetit…