Living in the orient had lead me to adopt some methods that I would normally never use if I was in India. One such method is freezing coconut. Having lived in a land where fresh coconut is abundant and almost each and every household has at least a couple of coconut trees, it was a shock and disappointment for us when we found that we could no longer prepare our favorite coconut chutney to go with breakfast dishes.
The desiccated coconut found here was sweet and not fit for chutney. Our attempts to locate a coconut turned futile. After searching for it in the vegetable aisle in almost all the malls and the farmers market we would return home bitterly disappointed. Then one day when we were looking for something else, we saw a pack of coconut juice and on the carton was a beautiful picture of a coconut tree and a coconut. With renewed enthusiasm, we approached the girls in one of the counters and showed them the picture of the coconut and asked for it.
She took us to the fruits section and pointed to a shiny brown 'object' which has no resemblance to the Indian coconut. Here is what we found……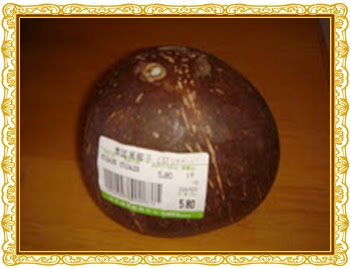 We picked up a couple of these and came home and had a good laugh. Many a times we had seen this in
the fruit aisle and thinking it was some oriental fruit didn't even bother to find out what it was. Later I found out that these coconuts were not stocked up often especially in winter.So I always buy a couple of coconuts when they arrive and freeze them so that I have a ready stock whenever I need.
Since I don't have the Traditional Indian grater to grate the coconut, I cut the coconut into small pieces and pulse it a couple of times in the mixer.[If you let it run for a long time, it becomes a paste]. Then transfer the 'grated' coconut into a container and push it into the freezer. I keep them in a couple of containers so that I use up one and then start with the other. Since we have to thaw the coconut before using, if it is in the same box, the change in temperature will reduce the shelf life of the coconut.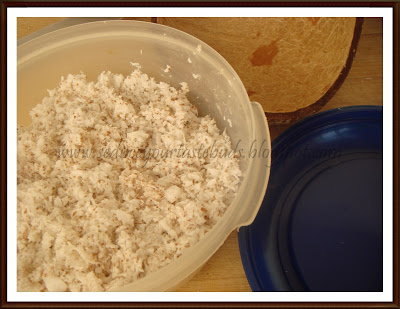 This Day That Year…
2010 – Microwave Eggless custard Powder Snack Cake
2008 – Jackfruit Kheer
Bon Appetit…