My second post for Srivalli's
Blogging Marathon
is a spice mix.If you have been following my blog, you would be aware about my love for
simple spice mixes
that brighten up a meal.Here is another one joining the band…
Manathakkali vatral
is a commodity that is rarely being used these days.The leaves and berries of the plant called
black nightshade
or manathakkali is said to have numerous health benefits.
Updated: Here are the names of this plant in other languages.
Botanical Name – Solanum Nigrum
Kannada – Kakkesappu / Kaanchekaai
Tamil / Malayalam – Manathakkali
Manathakkali vartal cleanses the internal organs and hence taking these during the post partum period is very important.
If you are new to this ingredient, here is what it looks like….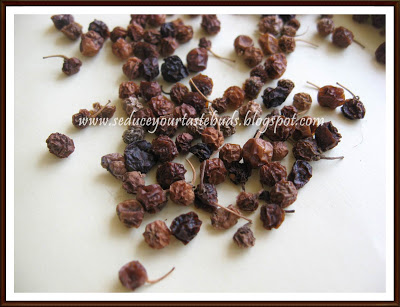 Also, this can be made at home. The procedure is very simple and can be found here.
Mom made this simple spice mix that can be eaten with piping hot steamed rice. This is a recipe that my grandmom had prepared for my mom after I was born.So here comes a recipe straight from grandma's kitchen…
You need:
Manathakkali Vatral – a little less than 1/4 cup
White urad dhal – 1/2 cup
Red chilli – 1
Black peppercorns- 10 numbers
Salt to taste
Ghee – 1 teaspoon
Heat ghee in a pan[on low flame] and put in the manathakkali vatral.Fry till they puff up. Take care not to char the vartal.Drain from the ghee and remove it onto a plate.
In the remaining ghee add the urad dal,peppercorns and red chilli.Fry till the dal turns brown.Cool.
Grind the vatral and urad dal,red chillies,peppercorns with salt to a semi fine powder.
Store in an airtight container.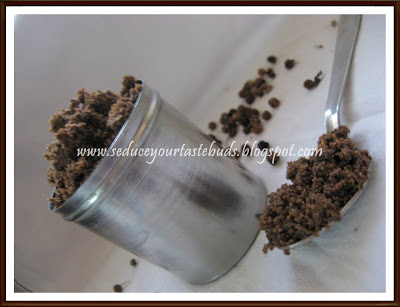 To serve, drizzle melted ghee over piping hot steamed rice and add a teaspoon or more of the spice mix. Mix well and consume this as the first part of the noon meal.
When I say steamed rice, you need not serve it like the rice you need for sambar / rasam rice. A small quantity of rice, a few morsels, is more than enough.
This rice will be slightly bitter but while considering the healing properties of these berries, the bitterness will simply not matter….
Check out the Blogging Marathon page for the other Blogging Marathoners doing BM#13
Bon Appetit…