Last week , I made an announcement at home that I would be preparing breakfast for the next 7 days.Mom immediately knew what I was up to. Dad did not sense what was really happening but readily agreed to be the 'guinea pig'. And from then began my experimentation with different types of Dosa. During my search for dosa recipes,I came across this one prepared with raw plantain. The idea sounded nice and I decided to try it. The recipe mentioned only raw rice and plantain. I followed the procedure but the dosa turned out hard and I was in for a total disappointment.
Mom,sensing my feeling, suggested that we 'repair' the batter and she set out to soak urad dal and a little fenugreek. When this was ground and added to the plantain dosa batter, the resulting dosa was excellent. We loved it.The best part was the whole house smelt of bajji and the dosas tasted like bajji too!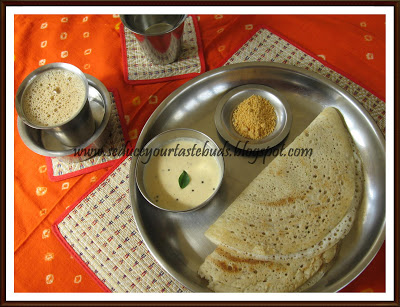 I used:[See note below]
Raw rice – 1 1/4 cups
Plantain[raw],grated- 1 medium sized
Urad dal – 1/4 cup
Green chilies- 2
Ginger- 1″ piece
Fenugreek seeds- 1 teaspoon
Salt to taste
Soak rice,urad dal, fenugreek seeds for 3 hours.
Drain and grind using a little water.
When the rice mixture is ground coarse, add the plantain., green chillies, ginger and salt.
Grind to a smooth paste adding a little water.The resulting batter should be of pouring consistency.
Heat a griddle and pour a ladle of batter in the center.Spread it out to a circle. Drizzle a little oil around the edges.Cook till both sides are a little brown.
Serve hot with a sambar / chutney of your choice.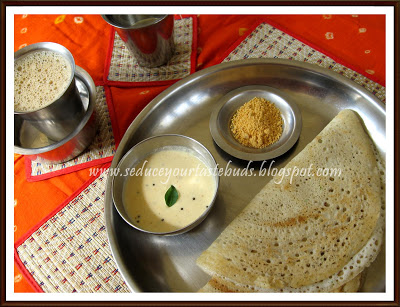 Note :
The cup I used holds around 200 grams of rice.I used the same cup to measure the grated plantain.
We refrigerated the remaining dosa batter and used it the next day. The dosas tasted better!
Adding green chillies and ginger is optional.
Here are some dosa varieties that you might like to try….
Kadhamba dosai #2 – Multi grain dosa
Sprouted Moong dosai
Chettinad Dosai
Soya bean Dosa
Galettes De Sarrasin French Buckwheat crepes
Instant Kambu-Oats Dosai
Tofu Masala Roast
Soya Cornmeal Dosa
Kollu Dosai – Horsegram Crepes
Masala dosai
Onion roast
Moong dosai
Tomato Dosa
Koolu dosai/Horsegram dosa/Horse gram crepes
Multi flour dosa
Instant oats dosa
Savory Oats Crepes
Instant Oats-Sago Dosa
Cornmeal dosa
Wheat flour dosai
Instant Ragi Dosai
Kaara Rotti
Moong dosai
Onion Roast
Uthappam
Masala Dosai
Ghee roast/Nei dosai
Instant Rava Roast
Adai Varieties :
Adai
Barley Adai
Oats Sago Adai
Vegetable Adai
Ragi Adai with herbs
Check out the Blogging Marathon page for the other Blogging Marathoners doing BM#14
Bon Appetit…