For the last day of Week 1 in Blogging marathon, I have prepared this simple,easy yet delicious and nutritious palak dosa. This is the instant version and does not require left over dosa batter.
When the food served is colorful, it becomes easier to satisfy the taste buds. It is often said that the food which is served and cooked must please the senses even before it is tasted! In one such attempt, I made this simple breakfast.Take a look…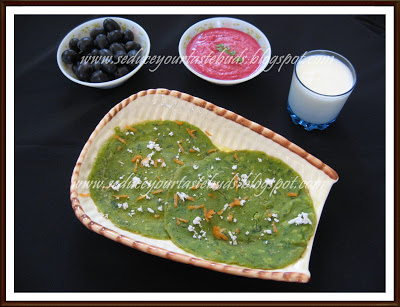 Somehow, I liked this colorful palette and this made me all the more hungry :). Pink colored beetroot chutney was paired with Green colored palak dosa.White colored buttermilk quenched the thirst and the grapes added nutrition to the morning meal.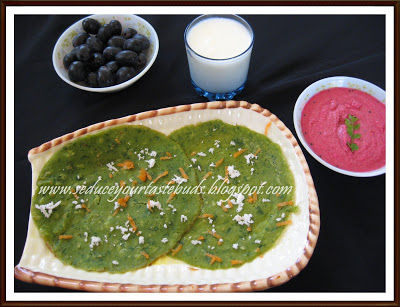 Palak Dosa served with beetroot chutney
I used :
Palak- 1 small bunch
Wheat Flour – 1 cup
Rice Flour – 1/2 cup
Ginger- a small piece.
Green Chilli – 1,chopped
Salt to taste
Drop the palak leaves in boiling water.Leave it in the water for a couple of minutes and remove.
Grind it to a smooth paste along with ginger and green chilli.Sprinkle a little water if needed.
In a bowl take the flour, salt.
Add the palak paste to the flour .Mix and add water to bring it to a batter of pouring consistency. Take care to see that there are no lumps.
Heat a griddle and pour a ladle full of batter in the center and spread it to a circle.Drizzle oil around the edges.
When the edges turn brown, flip it over and cook for a couple of minutes.
Remove from griddle and serve hot with a chutney of your choice.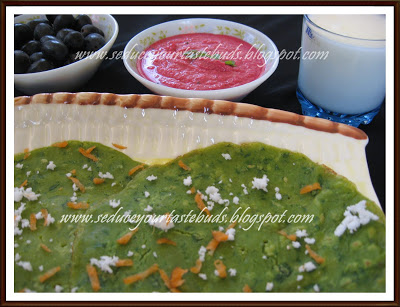 Note :
You can serve these dosas as such. To make them colorful and to increase the flavor, you cann top them up with a little grated coconut / carrot / finely chopped onion etc.
Hop over to the Blogging Marathon page for the other Blogging Marathoners doing BM#14
Hope you enjoyed '7 days of Dosa' theme..
Here are some dosa varieties that you might like to try….
Instant Palak Dosa
Plantain Dosa
Banana Dosa
Ridge gourd Dosa
Okra Dosa
Bread Dosa
Kadhamba dosai #2 – Multi grain dosa
Sprouted Moong dosai
Chettinad Dosai
Soya bean Dosa
Galettes De Sarrasin French Buckwheat crepes
Instant Kambu-Oats Dosai
Tofu Masala Roast
Soya Cornmeal Dosa
Kollu Dosai – Horsegram Crepes
Masala dosai
Onion roast
Moong dosai
Tomato Dosa
Koolu dosai/Horsegram dosa/Horse gram crepes
Multi flour dosa
Instant oats dosa
Savory Oats Crepes
Instant Oats-Sago Dosa
Cornmeal dosa
Wheat flour dosai
Instant Ragi Dosai
Kaara Rotti
Moong dosai
Onion Roast
Uthappam
Masala Dosai
Ghee roast/Nei dosai
Instant Rava Roast
Adai Varieties :
Adai
Barley Adai
Oats Sago Adai
Vegetable Adai
Ragi Adai with herbs
Bon Appetit…