When it comes to 'fast food' , the first thing that comes to my mind is pressed rice / poha.Any dish with this ingedient gets done fast..Here is one of my favorite that was a part of the Chitra maasa panaka poojay thali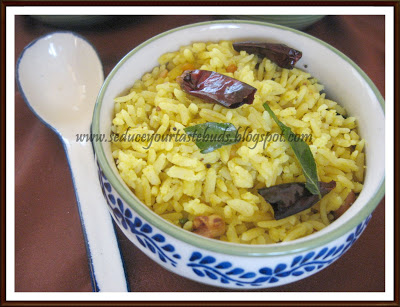 You need
Pressed rice / aval / poha – 2 cups
Tamarind – a small lemon sized ball
Turmeric powder
Salt to taste
For seasoning
Oil- 2 teaspoons
Mustard -1 teaspoon
Urad dal -1 teaspoon
Gramdal – 1 teaspoon
Red chilli – 2 broken into bits
Roasted groundnuts – 2 tablespoons
Curry leaves- a few
Soak tamarind in ¼ cup of hot water. After 10 minutes extract the juice and keep aside. Add a little more hot water and repeat the process till you get around ¾ cup extract.
Wash the pressed rice with water and drain completely.
Add the tamarind extract, turmeric to the pressed rice and mix well.[see note below]
Let it stand till the pressed rice is soft to touch. When a few grains of pressed rice is pressed between the thumb and Index finger they must be completely soft. Else sprinkle a little water, mix well and cover and let it stand for some more time.
Heat oil for seasoning in a pan. Put in all the ingredients except curry leaves.
When the mustard splutters and dal turns brown, reduce the flame and add curry leaves.
Add the soaked pressed rice , salt and mix well.
Remove from heat after 2 minutes.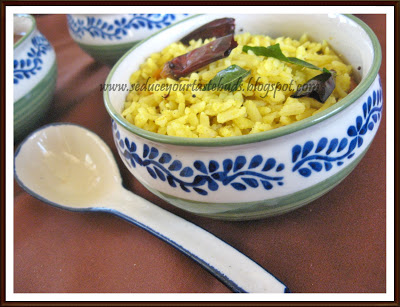 Note :
There are two varieties of Poha – the thick and thin varieties.
While adding tamarind extract to the washed pressed rice, it should be noted that the above mentioned varieties absorb the extract differently. Similarly different varieties of tamarind gives different levels of sourness. So add some ,check taste after sometime and add more if needed.If the sourness is right but the pressed rice is not fully soft, sprinkle more water. If the sourness needs to be increased, sprinkle tamarind extract .
Check out the Blogging Marathon page for the other Blogging Marathoners doing BM#15

Bon Appetit…