After yesterday's Festive Ugadhi lunch, I have a simple spread today – A breakfast from Kongunad….
Having lived in kongunad reagion for quite a few years, I was surprised when I saw that I had posted the lunch recipes and there was no sign of kongunad breakfast recipes in my blog. So I thought I will do a post about breakfast dishes from this land for this months edition of Blogging Marathon.
I have already written about Kongunad and its cuisine. Here is a quick recap-Re-introducing the Cuisine of Kongunad – The cuisine from the land of nectar…..
Kongunad is the homeland of the Tamilians and dates back to the 8th centuary AD.It comprised of Palani, Dharapuram, Karur, Namakkal, Thiruchengodu, Erode,Selam,Dharmapuri, Coimbatore, Avinasi, Nilgiris,Pollachi and Udumalpet [All these places are in Tamilnadu-South India]
Before I start off with the menu,a word about the lesser-known freedom fighters from the kongu soil.
Two brave men – Theeran Chinnamalai and Tiruppur Kumaran have given their share to the freedom struggle.
Theeran Chinnamalai [1576 – 1805] is said to have made the freedom struggle a people's movement.Historians say he adopted the guerilla warfare against the invaders.He took part in three important battles and in the final battle he was betrayed by his cook and he was hanged to death.
Tiruppur Kumaran[1904-1932] ] born in Chennimalai [Erode district] was one of the youngest in the freedom movement taking Gandhi's way at a very young age.Kumaran died from injuries sustained from a Police assault during a protest march against the British and died holding the flag of India.He is considered a martyr by the people of Tamilnadu and is referred to as 'Kodi Katha Kumaran' meaning 'Kumaran who saved the flag'.
Now coming to the cuisine part,Kongunadu cuisine is extensive for the simple reason that kongunadu covers a vast area.This cuisine does not involve marinating and has its own nativity and style.The use of turmeric,groundnut paste to curries give it a unique texture and flavor.This is a very healthy cuisine owing to the use of millets, pulses, sesame and less amounts of oil and spices.
Some of the delicacies include
Arisi paruppu sadham – Delicious one pot meal of rice and lentils
Ell urundai – Sweet sesame balls
Urulaikilangu curry – Spicy Potato curry
Paruppu urundai kulambu – Lentil dumpling in sambar
Venn pongal –Yet another rice pulse combo,a common breaskfast dish
Dosai
Nellikkai chaaru – Gooseberry soup
Murungakkai sambar -Drumstick sambar
Vaazhapoo Kootu – Banana blossom kootu
Pachapuli rasam – no-cook rasam
Elaneer payasam – Tender coconut kheer, etc
and a host of non veg dishes.
Today's breakfast menu comprises of….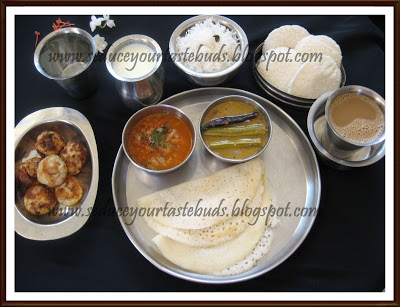 Chola Paniyaram
Sandhavai / Sandhagai
Idli and Dosai with Kongunad murungai sambar and kongunad thakkali masiyal as side dishes
Coffee
Idli and dosa are common breakfast dishes in South India and so is the famous South Indian filter coffee..
The traditional dish that I would like to introduce first is Sandhavai or Sandhagai.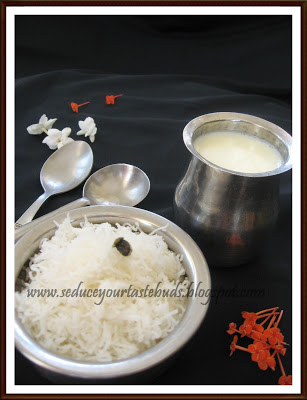 This dish has a special significance. Friends and relatives usually invite newly married couples for lunch / dinner At that time,sandhavai is served. When we were invited to hubby's colleagues home for dinner, we were served this one and his colleagues mom ,an elderly lady in her late 70's, told us this detail! I was glad to learn a little about the region and cuisine. At that time I had no idea that I would be starting a blog and writing about this cuisine 🙂
Paniyaram is usually associated with the chettinad cuisine,but here too there are paniyarams that are healthy and delicious. Presenting to you , chola paniyaram…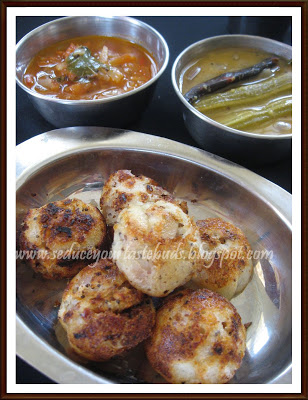 Cholam or Shorgam is a very healthy millet. As I mentioned earlier, millet's were a major food crop in this region. It grows well in dry areas and is nutritious too.Sadly these days,shorgam is replaced by rice as the staple food.
One of the famous side dishes are the murungakkai sambar and thakkali kadaisal[The side dishes seen in the paniyaram picture]. These recipes find place in this blog, thanks to my friend, who was generous enough to share with us her tasty secret :). Thakkali kadaisal is mashed tomato chutney that tastes delicious as a side dish with idli/ dosa/ paniyaram. Murungakkai sambar is drumstick sambar which goes well with steamed rice and tiffin items….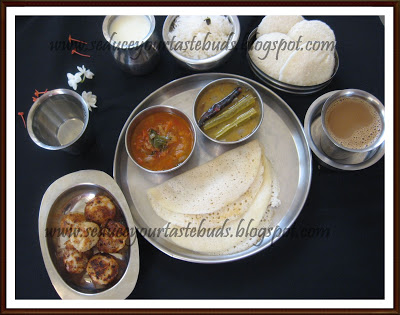 The famous South Indian filter coffee also finds its place in the above thali…..
Also check out the recipe for today – Sandhavai – Kongunadu rice noodles
Check out the Blogging Marathon page for the other Blogging Marathoners doing BM#15
Here are some other delicacies from the Kongunad Cuisine…
Arisi Paruppu Sadham – A delicious combo of rice and lentils.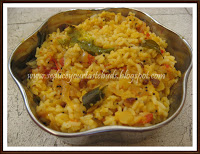 Ell Urundai -Sweet sesame balls,a delicious no cook dessert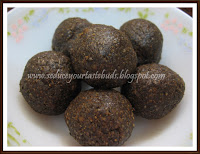 Urulaikkizhangu Curry – Spicy potato curry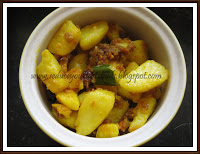 More – Spiced buttermilk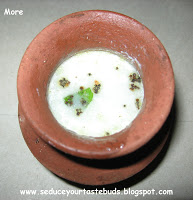 Kollu rasam – Healthy horsegram soup / rasam.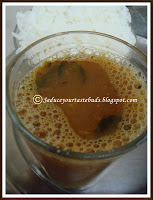 Kollu paruppu podi – Tasty spicemix to go with steamed rice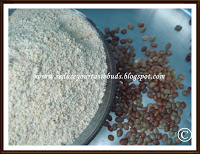 Kollu kadaiyal – Mashed and seasoned horsegram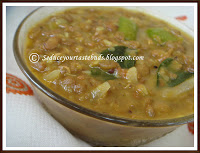 This Kongunad breakfast is off to Srivalli's Thali mela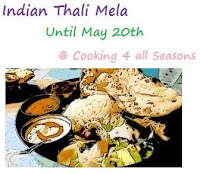 Bon Appetit…