Moru appam is a savory rice dumpling from Tamilnadu prepared from leftover dosa batter. I prepared this while reviewing the book –
Southern Flavors
by Chandra Padmanabhan.
These are quite similar to the Chettinad
Kuzhi Paniyaram
except that sour curd is added to the batter here.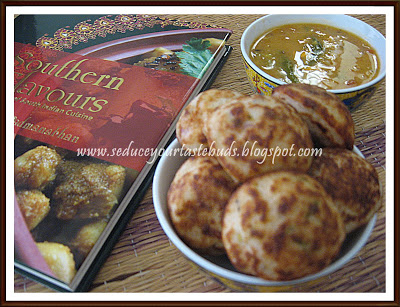 You need:
Leftover dosa batter- 3 cups
Sour curd – ½ cup
Coconut pieces, cut into ¼ " cubes – ¼
Ginger, peeled and grated – 1" piece
Green chillies – 3, finely chopped
Coriander leaves – 2 tablespoons, finely chopped
Salt to taste
Oil
For tempering :
Oil- 1 teaspoon
Mustard seeds- 1 teaspoon
Urad dal – 1 teaspoon
Asafetida powder – a pinch
Curry leaves – a few
Combine all the ingredients except those mentioned under 'for tempering' . Mix well.
Heat oil for tempering in a small pan and put in the ingredients for tempering in the order mentioned.
When it splutters pour into the prepared batter and mix well.
Heat a paniyaram pan and fill the depressions with a little oil.
When the pan has heated up, pour the batter halfway up the depressions. Cook on low heat for 2-3 minutes.
Using a skewer turn the appam gently and cook on the other side for 2-3 minutes till golden brown.
Drain and place on kitchen paper to absorb excess oil.
Serve hot with sambar . chutney / dosai milagai podi.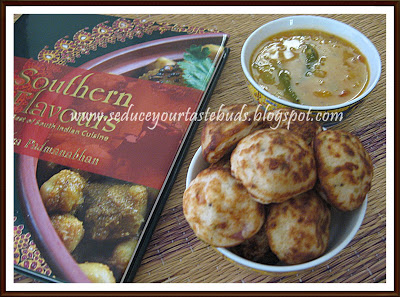 My note :
Before adding salt, check and add if required as the dosa batter already contains salt.
I used a non stick paniyaram pan and hence avoided the oil mentioned in step – 4.
Bon Appetit…