It is no big deal to cook without vegetables, fruits and use only lentils – that is what I learnt when mom told me about the food preparation during the Saaka Vratha. Even though we do not observe these fasts, here is a tasty and healthy kheer that can be had on all days….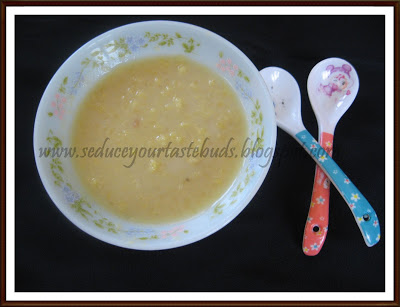 I used:
Moon dal – 1/2 cup
Jaggery – less than 1/4 cup
Milk 2-3 cups
Pressure cook moongdal with enough water and lightly mash it while still warm.
Heat a pan and add jaggery and a little water [less than 1/4 cup]. When it starts melting, add the moong dal and milk.Stir to mix.
When it comes to a rolling boil, remove from heat
Serve warm.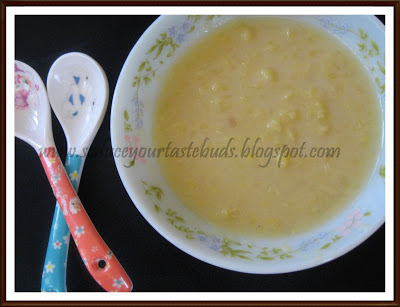 Note:
Sugar can be used instead of jaggery.. But this is more tasty .Generally payasas/kheer is prepared with jaggery.
Sometimes the jaggery can have impurities. Dissolve the jaggery in water ,strain and then use in the recipe.
The kheer tastes even better if the moong dal is cooked in milk.
For extra tasty kheer, dry roast the moong dal till light brown and then pressure cook it.
While preparing this on non-fasting days, cardamom can be used for flavoring and roasted cashews and raisins can also be added.
Bon Appetit…