When we made the
Chaitra maasa paaknak puja thali
a few months back, Panaka was one of the beverages that was featured in the thali.
Though this is one of my favorite drinks, it has been a long time I made this. So when it was time to make thali's for Blogging Marathon, Mom and me chose Chaitra maasa paaknak puja thali and this was one of the beverages to be featured and mom said this was one of the important part of the thali.
The sweetness from the jaggery and the sharp taste from the dry ginger powder makes this a very yummy beverage.It is nutritious – jaggery is rich in Iron and this drink is a great cooler in summer not to mention that is very simple and easy to prepare.
You need:
Water – 200ml
Grated jagery – 2-3 tablespoons
Cardamom powder – a pinch
Dry Ginger powder / Sonti Pudi- 1/2 teaspoon
Dissolve the jaggery in water and filter.
Add cardamom powder, dry ginger powder,mix well and serve.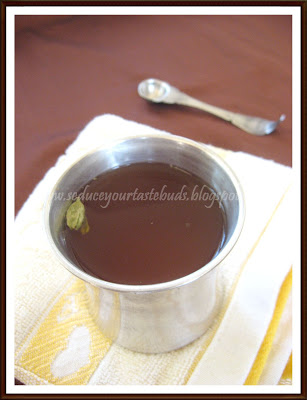 Note:
You can use brown sugar instead of jaggery.
Increase or decrease the quantity of ingredients to suit your taste but you must be able to feel the heat from ginger powder.
Bon Appetit…