This month Srivalli challenged us with one of the three varieties of Kulchas for Indian Cooking Challenge. There was Aloo Anardhana Kulcha , Onion Kulcha and paneer kulcha. I chose the Aloo Anardhana Kulcha though I wanted to try out the other 2 varieties too. But that was put on hold.
Now back to the kulcha I made, Aloo anardhana kulchas is a flat bread from Punjab with a potato and dried pomegranate seed stuffing.Kulchas are made in a tandoori oven but we can also prepare it on a griddle. The base is All purpose flour/ maida but these days people choose to add equal quantity of whole wheat flour or prepare it only with whole wheat flour for health purposes.Since ICC is to learn the authentic way to prepare an Indian dish, I have used All purpose flour alone as the recipe suggested.
It turned out to be a very flavorful challenge!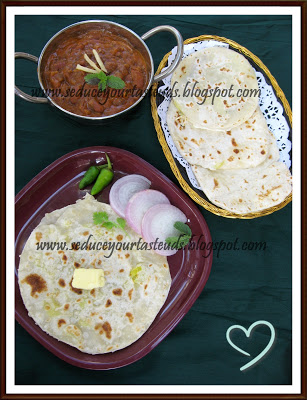 I used:


For the outer covering:
All purpose flour – 2 cups
Baking powder – 1/4 teaspoon
Baking soda – a large pinch
Sugar – 1/4 teaspoon
Oil – 1 tablespoon
Yogurt- 2 tablespoons
Salt to taste
For the filling:
Potato – 2, boiled, peeled and mashed
Onion-1, finely chopped
Anardana / Dry pomegranate seeds – 1 tablespoon, dry roasted and coarsely powdered
Red chilli powder- 1 teaspoon
Turmeric powder – a pinch
Coriander leaves- 1 tablespoon,finely chopped
Mint leaves-a few, finley chopped
Salt to taste
Oil – 1 tablespoon
Ghee for brushing the kulchas
Heat oil to prepare the filling.Add the onion and cook till soft. Put in all the other ingredients and cook on low flame for a few minutes for the flavors to blend. Keep aside.
Make a dough with the ingredients listed under 'for outer covering'. Add a little water.Knead well for sometime. If it is sticky add some flour. Cover with a damp cloth and let it rest for at least 2 hours.
Knead the dough again after the resting time and pinch out golf balled sized balls and flatten slightly.
Place a ball of the filling in the center and bring in the edges to cover the filling.
Flatten slightly and roll out taking care not to let the filling ooze out.
Cook on a heated griddle .Drizzle oil around the edges .
Remove from heat when brown spots appear on both the side.
Immediately brush with a little ghee.
Serve hot with a little butter and a side dish.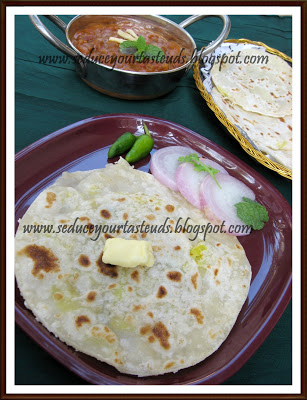 We enjoyed the Aloo anardhana Kulcha with Punjabi Rajma Masala
While preparing this one, I remembered making the Turkish Gozleme which is quite similar to this stuffed kulcha. The world is definitely united through the similarities in cuisine!!!
Check out link for the other dishes we made earlier in the Indian Cooking Challenge….
Bon Appetit….