Not so long ago, there was a little girl who used to watch her mom churn out extremely delicious dishes.She used to wish she too would be able to do so when she grew up. Then a few years later, when she entered the kitchen to cook, things went wrong many times. The butter burnt instead of turning into the aromatic ghee,the kesari was dry, the majjege huli curdled…
Undeterred by the many failures, her love for food and cooking kept growing. She too grew up and learnt the art of cooking from her mother- a patient women and a wonderful cook,the tips and tricks of the trade.Then when she started a family, she found the way, not only to her man's heart, but also everyone else in the family through food.Then she started blogging and now she cannot stay away from it for long!
So one day when she was ready with themed dishes for the Blogging Marathon,she finds out that she had the dishes for a different topic ready!!She had messed up while noting down the dates and themes. She is not the one to give up when it comes to challenges especially if it involves cooking,so off she goes and prepares a meal from her favorite blog!Yes, dear friends, that girl[Yeah 'girl'…I am still young at heart,you know :)] is none other than me.
So here I am with two delicious dishes that can be whipped up in just 30 minutes for first post on the theme – Cooking From BM blogs for the 3rd week of Blogging Marathon #19.The moment I saw this theme – Cooking From BM blogs, I knew from whose blog I was going to cook and even had the recipes bookmarked.But I assumed this theme was for the last week of BM until I was about to post the 'wrong' dish this morning!
Anyway,I have always found Priya's blog to be a place where you can find quick, easy and innovative recipes.I chose her blog to be the theme for Tried and Tasted event that I hosted here two years ago.She has been blogging non-stop,yes,non stop,since 2008 and has more than 2000 recipes!
I wanted something for lunch today and a one pot meal was not on my mind.As much as I love these filling dishes, I was in mood for something to served with piping hot rice.The climate is chill and breezy, Lil Angel is at home, Lil dude needs my attention most of the time,and I had to cook something nice and it had to be done fast.Then I have click and post.So much to do and so little time!But when I found these two recipes, I knew my job would get done pretty quick.
I prepared this Majjege huli ,is a dish from Karnataka,South India, which is a yogurt sauce with vegetables and for the curry I made Okra-aloo posto a Bengali Okra- potato curry.Together with steamed rice and few crispies, the meal that I dreamt of was ready…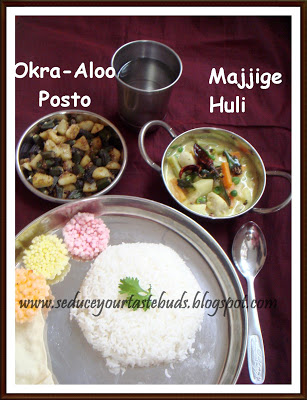 When I mentioned that a whole meal was ready in 30 minutes,it is not an understatement.Getting things going simultaneously in the kitchen really helps.If I wrote the recipe exactly how I prepared,meaning the sequence, it will be very confusing.So here I will tell you the sequence and then I shall go on to the recipe.
Wash and pressure cook rice. We pressure cook for 15 minutes.
While the rice is being cooked, I cut the vegetables for the yogurt sauce and the curry.
In the little pressure cooker, I cooked the vegetables[except the okra and onions]
While both were getting cooked, whisked yogurt,ground the paste for the yogurt sauce and the curry,cleared the vegetable peels,etc.
The vegetables were done first as I cooked them for 8 minutes only.So on that burner, I started with the curry.
When the rice was cooked, that burner was used to prepare the yogurt sauce.
The curry was ready by that time and on that side the pappad and crispies was fried.
See, a whole meal can easily be done in a short time !!!
Here are some of the things that made work easy for me today.
Usually we soak gram dal along with cumin seeds and pepper for at least half an hour while preparing this dish. Here I use fried gram so there was no need to soak the dal.
Generally, I pressure cook or microwave the veggies to be used in curry / gravy and today was no exception.When we allow the vegetable to cook in the pan itself, it takes a long time to get done.
I keep a bowl of water near the stove.Instead of walking to the sink to wash my hands, I use the bowl of water and replace the water as and when needed during the cooking process. Saves time and energy.
A little trick I learnt form a TV show helped. I pressure cooked potato for curry,so only the okra had to be cooked in the pan.That saved a little time.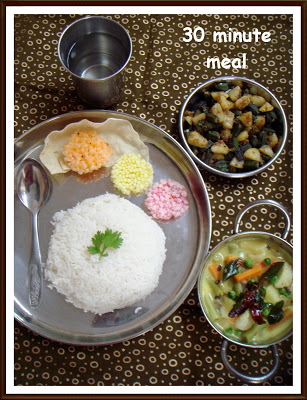 Now to the recipes….
I used:
Thick Yogurt – 1 cup
Mixed vegetables -2 cups,cubed. I used Peas, Carrot, Beans, Taro,Potato
Pearl onion,peeled and chopped – 5
Turmeric powder- a pinch
Oil- 1 teaspoon
Salt to taste
For the paste:
Coriander seeds – 1 teaspoon
Fried dal – 2 teaspoons
Green chilli – 2
Ginger – 1″ piece
Peppercorns-1/2 teaspoon
Cumin seeds- 1 teaspoon
Grated coconut- 2 tablespoons
For tempering / seasoning :
Oil-1 teaspoon
Mustard seeds- 1 teaspoon
Cumin seeds- 1/2 teaspoon
Red chilli – 2
Curry leaves- a few
Pressure cook the vegetables.Whisk the yogurt with a pinch of turmeric.
Grind the ingredients for the paste adding a little water to a smooth paste. Mix this into the whisked yogurt.
Heat a pan with oil and saute the onions till translucent.
Put in the yogurt, cooked vegetables, salt and simmer for 5-8 minutes till the sauce thickens.
Remove from heat and keep aside.
Heat a small pan with oil and add the ingredients for seasoning.
When the mustard crackles, pour over the yogurt sauce .
Mix well and serve with steamed rice.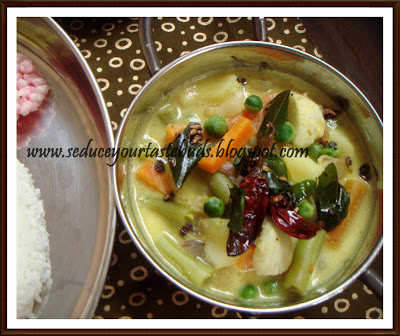 Okra – Aloo Posto
I used :
Okra – 1/4 kilo
Potato- 2
Poppy seeds – 4 tablespoons
Green chilli -2
Turmeric powder – a pinch
Oil- 2 teaspoons
Salt to taste
Pre-prep:
Trim the ends and chop the okra into 1/2 " pieces
Peel, cube and pressure cook the potato till just done.
Make a paste of poppy seeds and green chilli.
Heat a pan with oil and put in the okra.Keep stirring once in a while to prevent it from burning.
When it is cooked, add the ground paste, potato,turmeric,salt.
Mix well to coat and cook for a few minutes on low flame.
Remove from heat and serve as a side dish with steamed rice.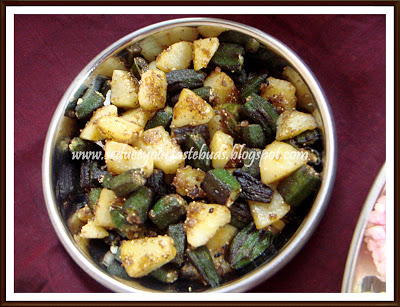 Hope you enjoyed this quick and simple lunch that we had today…Tomorrow, I will be back with another delicious dish from Priya's blog.
Bon Appetit…