As with any recipe,Aval upma too has numerous versions and this one is from Sowmya's Blog with whom I am paired for September's edition of Taste and Create. Taste and create is an blogging community created by Nicole of For the Love of Food, where bloggers are paired and recreate the dishes from the partner blog.
This time, I chose to make Aval upma from Sowmya's blog as it was a little different from what I usually prepare. We love this upma and the different taste is always welcome at our table.
Here is Sowmya's recipe…
Poha/ Aval/ pressed rice – 1 cup
Onion, finely chopped – 1
Green chilli-1 chopped
Red chilli- 1 broken into bits
Potato-1,small,peeled and cubed
Cumin seeds- 1 teaspoon
Mustard seeds- 1 teaspoon
Curry leaves – a few
Turmeric powder- a pinch
Cashewnuts- fried- a few
Salt to taste
Oil- 1 teaspoon
Wash the poha and drain . Sprinkle some water and let it rest till it softens.
Microwave the potato till done.
Heat oil in a pan and add the mustard seeds, cumin and curry leaves.
When it splutters, add the onion , green and red chilli and saute till the onion turns soft.
Add the potato, turmeric powder,salt and poha.
Mix well and sprinkle a little water it the mixture is dry.
Remove from heat and serve garnished with grated coconut and fried cashews.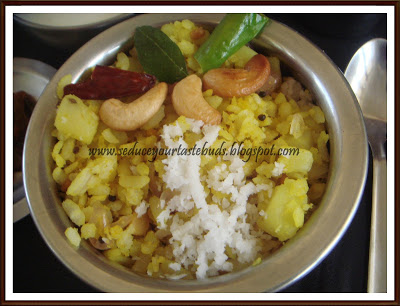 Each month,it is fun creating dishes for Taste and Create …Would you like to join ? Just email Min @ cowgirlmin07@gmail.com with your name, blog name and a link to your blog to sign up.Hope to see you in the next edition of Taste and Create….
Bon Appetit…