The third week of Blogging Marathon #20,comes to an end today and my final post in this series for 'Kids Delight-Potluck party' is a flavorful ladoo which is a hit with Lil Angel.
There are so many versions of sesame ladoo and the simplest one is posted here. Today's recipe for made specially for Ganesh Chathurthi [and my Lil one] and is a no- cook dish. Very simple procedure yet very delicious and healthy.
Sesame seeds are rich in Calcium and Jaggery is a good source of Iron .So this is a healthier option when compared to chocolates.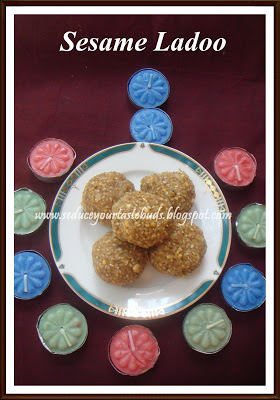 I used:
Toasted White sesame seeds – 1/2 cup
Grated Jaggery – 1/4 cup [Adjust to taste]
Grated coconut – less than 1/4 cup
Roasted bengal gram – 2 teaspoons
Cardamom powder- a pinch
In a blender jar, put in all the ingredients and blend for a few seconds.There can still be a few pieces of gram dal and sesame seeds.These will add a nice crunch to the ladoo.
Transfer the mixture into a bow.
Add the powdered / grated jaggery and mix well.
Make small balls from the mixture and the ladoos are ready to serve…..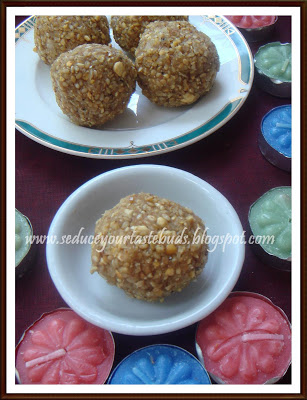 This nutritious treat is off to Srivalli's Kid's Delight – Potluck Party
Wishing all my readers….