Do you know someone who had an extremely successful modelling career and then enters Bollywood but gives it all up for the love of cooking?Yea right,I am talking about Aditya Bal. He has just released his first cookbook – The Chakh Le India Cookbook…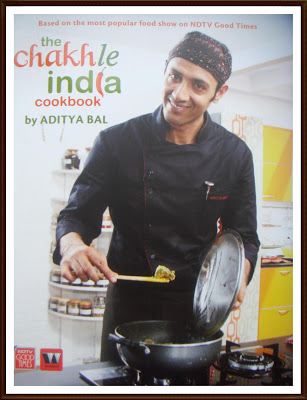 This book has been complied based on his travels and culinary explorations from the first three seasons of his TV show featured in NTVD good times.
Born in New Delhi, Aditya spent his childhood in Kashmir and enjoyed his life in the idyllic place.He loved the food that his mom cooked for the family, a skill that she inherited from her mother.He used to spend his vacations with his grandmom in Delhi and she too would stuff him with delicious food not to mention the baked stuffs!
Aditya firmly believes that his knack for cooking was passed down through the generations and still treasures his grandmom's hand written recipes.
Now, coming to the book,as you can see the front cover houses the Author in the Kitchen.The inside cover is very impressive!It traces the recipe on a sketched map of India!Each orange flag denotes the place of origin of the dish seen in this book.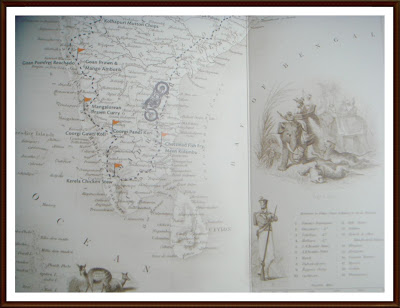 I found the table of contents very prettily laid out.
Then there is the acknowledgement thanking the various people who have helped him come so far.
In the introduction, you can read all about his journey,the time from his childhood to the time he landed in Goa looking for a chef's position and then doing the culinary road show for NDTV.
Then comes some interesting aspects….
The Indian Pantry – where the need for a well stocked and organised pantry is emphasised.Here various ingredients are grouped [like – aromatics, chillies,dairy,herbs,spices,souring agents etc.] and briefly mentions how to use them in cooking.
Essential Kitchen Gear – The basic cooking gear you may need to start up a functional kitchen
Cooking Techniques – explains the various culinary terms used in the cookbook.There are around 22 words that are neatly explained in a couple of sentences and on reading them, I felt like I was in food science class.The techniques are put in simple words that can be of use to novice cooks.
There are some basic recipes like how to prepare – coconut milk / ginger garlic paste / kokum extract,tamarind extract,tomato puree and whisk curd.This section is really short and sweet.
After this is the actual recipe section.
It is divided into various sections
Meat – 14 recipes
Chicken – 15 recipes
Fish and seafood – 17 recipes
Vegetarian – 10 recipes
Snacks – 10 recipes
Sweet – 10 recipes
Each section starts with a color photograph of Aditya taken during his culinary tours.There is one pic of him riding a camel,chatting with a snack vendor[a small boy], posing with a person preparing dessert etc….
What I liked about this book :
The fact that he has written about the pantry ingredients and explaining how they flavor the food is really nice. This will be of use when a non- Indian wants to cook real Indian food.
The ingredient section in the recipe clearly mentions what is needed for each step – like the marinade / sauce / curry base / for the layers etc.
The step-wise instructions for the recipes is very well written, explaining each small thing clearly and also he mentions why certain steps are involved or why some ingredients are used in a particular way.It is always nice to know the science behind the dish.
The dishes have been complied from all over India and we can see that in the title of the recipe itself like – Punjabi mutton chops / Goan pomfret reachado / Mangalorean prawn curry / Andra Chepu pulusu/ Coorgi baby jackfruit curry etc.
The vegetarian section has some interesting dishes like Aamras ki hadi / Mooru sambar / Coorgi baby jackfruit curry . I am sure to try these in the coming days.
What could have been better :
It would have been great if the book had photos for all the dishes or at least most of them. There are a few pics in each section but they fail to impress. What I would have liked is a clear picture of the dish nicely plated with a few props around it.But here you get to see a part of the dish and for some recipes I had to guess on how the remaining would look like when presented on a plate / bowl.
Being a vegetarian, I was really disappointed on seeing the contents. Out of the 76 dishes there are hardly 15 vegetarian dishes.
I looked forward to some exotic rice dishes in the vegetarian section but could not find any.The vegetarian section has side dishes and curries and no roti / rice dishes.
When I read that he was inspired by his grandmom who was an avid bakes, I was sure there would be some baked goods, I was disappointed once again.
The dessert section is good but what is featured here are the regular ones we see all the time. Since he has toured all of India on a culinary journey, he could have added a few exotic / regional specialty desserts.
Would I recommend this book…..
A big Yes, if you a fan of Non-veg Indian food. It looks like there are loads of dishes that are famous and lip smacking.But if you are a vegetarian,you may think twice before buying this one.
On the whole, it is a nice book which more than the recipes tells you that no matter what you study and take up as a profession, follow your heart and do what you actually love to do.That is what Aditya did….
I prepared Aditya's Chola Masala, a spicy chickpea curry from Punjab.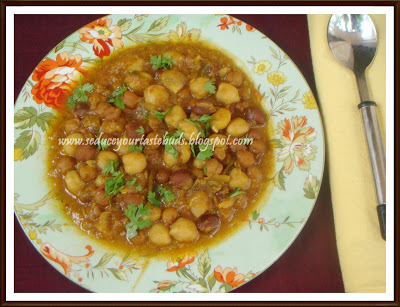 Chola Masala is a great side dish for Bhatura / Roti / puri. Here, in this book, it is listed under 'Snacks'. It is very different to the version that I make or have seen elsewhere. As you would have noticed in the click above, it make use of both the types of channa. There are some other whole spices and powders used for flavor. I will be posting the recipe shortly.
At a glance
Book – The Chakh Le India Cookbook
Author – Aditya Bal
Publisher – Westland Ltd.
No. of Pages – 157

No. of Recipes – 76
Price – INR 395
This is not a paid review.This review is a part of the Book Reviews Program at BlogAdda.com. Participate now to get free books!
Happy Browsing…