The second day's post for Blogging Marathon under the theme – ' Diabetic Desserts' features my favorite ingredient – Oats. While I wanted this to be something of a surprise to my readers, fate had something else in mind!I accidentally hit the 'publish' button instead of the 'save' option and so many of you would have seen the pics or at least the title of the post yesterday…..
Though I have used Palm candy as a sweetener , the portion size is also to be considered before indulging on this healthy dessert.I made this yesterday as a trial and was quite impressed with the result….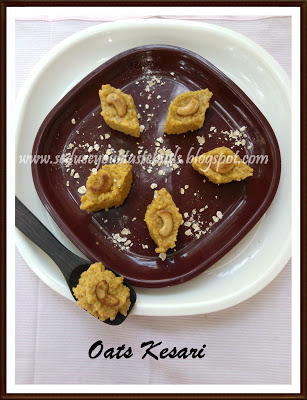 I used :
Quick cooking oats – 1 cup
Palm sugar / palm candy, powdered – 1/4 cup [or adjust to taste]
Cardamom powder- a pinch
Fried cashews to garnish
Ghee- teaspoon
Yellow / orange food color- a pinch dissolved in a little water
Dissolve the palm candy in a little water,stir well and strain.Keep aside.
Heat ghee in a pan and roast the oats till nice and aromatic.Keep aside.
In the same pan heat two cups of water and when it comes to a rolling boil, add the roasted oats.
Keep stirring till it comes together and the oats is cooked.
Add the palm candy solution, food color and cook till it is absorbed and the mixture becomes quite dry.
Remove from heat and serve garnished with fried cashews.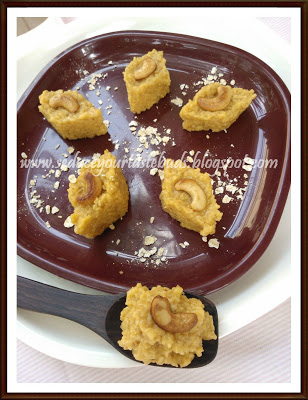 Note :
If preparing this using sugar, increase the quantity of water by 1/4 cup. Here I dissolved the palm candy in 1/4 cup water.
This dish tastes best when served warm.As it cools, it tends to become a little sticky. You can reheat it the microwave this kesari for a couple of minutes if serving later.
Check out the post on
OATS
to read about its health benefits and the tasty dishes that I have prepared with nutritious cereal…
Hop over to the Blogging Marathon page for the other Blogging Marathoners doing BM#21

Bon Appetit…