For the final day of Blogging Marathon #21, under the theme – Diabetic dessert, I have prepared this simple Ragi Ladoo. To make this dessert, I have used palm sugar and a little coconut.A tasty and healthy dessert ready in minutes.I ground the ragi to a 'semolina' like texture so upon roasting it had a kind of crunch that made the ladoos delicious.
I had left this batch of ragi ladoo on the kitchen counter and when MIL and mister saw it, they assumed it was sesame ladoo.Yes, it looks similar but the taste is totally different.
Usually I buy a pack of ragi flour and use it in several recipes. This time, I made the ragi flour at home. The color of home ground ragi flour is darker than the stuff sold in the stores and also I was able to grind it to the desired consistency.
Before we go to the recipe,here is a little info on Ragi…
It is also called finger millet ,African millet.
It has a valuable amino acid -Methionine .
100g of ragi gives 328kcal energy , 7.3 g protein ,1.3 g fat,72 g carbohydrate ,3.44g calcium and 3.6g fibre.
The nutritive value increases when it is malted.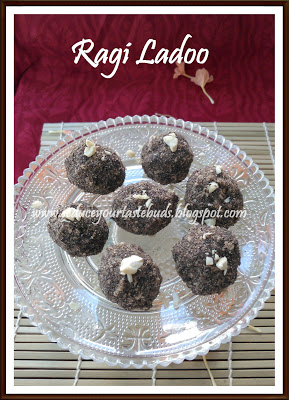 I used:
Ragi – 1/2 cup
Coconut, grated- 1/2 cup
Powered palm sugar – 1/2 cup
Raisins and cashews- a few,fried in a little ghee
Cardamom powder- a pinch
Ghee- 1/2 teaspoon
Sun dry the ragi for a couple of hours. Powdered it in a blender and measure out 1/2 a cup.
Heat a pan with ghee and roast the ragi flour on low flame till you get a nice aroma.
In a bowl take the coconut, palm sugar,cardamom powder,cashews , raisins and add the warm roasted ragi flour.
Shape into balls.Let it set for a few minutes and serve garnished with nuts.
Note:
If there is excess flour after powdering the ragi, store it in an airtight container and use it in some other recipe.[Some ideas are given below]
Do not use desiccated coconut. The moisture from the fresh grated coconut help the ladoo hold its shape.
If using frozen coconut, bring it to room temperature and use .
I have not used milk/ ghee / butter to make the ladoo, but if you have difficulty in making the balls, sprinkle a little milk to add a little ghee to the mixture.
Make sure that the palm candy is free of impurities. Usually we dissolve the palm candy in water and then use the strained liquid in desserts. Since we are using it as it is in this recipe, be sure to check for impurities.
Jaggery can be used instead of palm candy.However sugar does not go well in this dessert.
Recipes with ragi flour…
Hop over to the
Blogging Marathon page for the other Blogging Marathoners doing BM#21
Bon Appetit…