Growing up in a hill station, I was not used to having cool drinks , ice creams or buttermilk expect in summer which used to last just for a month. But when we moved down, buttermilk seemed to be the hot favourite and was sometimes even served when we used to visit friends on weekends. It used to be so soothing after travelling in the hot sun to visit them.
In the place where I live now, come summer , there springs up a number of buttermilk stands that offer free buttermilk to one and all. They are called 'Neer More pandhal'. Make shift stalls are put up on the road side and the buttermilk is distributed in disposable tumblers.Huge earthen pots are used to store the buttermilk.
This concept of distributing free buttermilk is in vogue for a long, long time. During the rule of kings, people used to travel by foot and so to quench their thirst, such stalls would be a permanent place for travellers to rest a while and have something to drink and re-energise themselves. There were also some places where the people could stay,free of cost,over night and carry on their journey the next day.In the later days, this concept changed.
Now a days, in many cities / villages, free buttermilk stands are put up during festive season…
Coming to the recipe for the day with the theme – Cooking from West Bengal, I made this sharbat. Though winter has set in, it is quite hot during the day and this sharbar is a natural way to cool the system…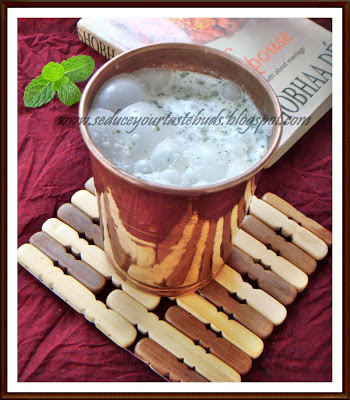 I used :
Fresh yogurt – 1 cup
Mint leaves and coriander leaver – a fistful
Black salt – a pinch
Sugar – 1 teaspoon
Chaat masala – 1/2 teaspoon
Cumin powder- 1/2 teaspoon
Green chillies – 2 ,chopped
Salt to taste
Blend the coriander leaves, mint leaves,green chillies to a fine paste.
Put in the yogurt and all the other ingredients and blend well.
Add water to adjust the consistency. It should be quite watery.
Serve chilled.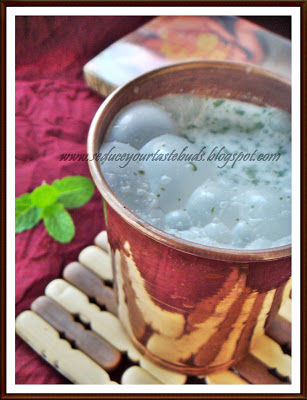 Hop over to the Blogging Marathon page for the other Blogging Marathoners doing BM#22
Bon Appetit…