It looks like the right time to have chosen the Pakodi Masti theme for the final week of Blogging Marathon. The weather here is chill and drizzly and is the most perfect time to enjoy these crunchy delights!
Anyways,there is this TV how in the local channel here, that has a
little of everything – politics filmy gossip, day to day happenings,all carried out in as a comedy show.And at the end of
the show, the actress, cooks a dish. Those who are from Tamil nadu must be
familiar about this TV show – All in all Alamelu. I am not a huge fan of that
series but love to watch the cooking demo.Apart from this I also love the way
she dress up. The sari that she ties is gorgeous and the chunky jewellery that
goes with it are awesome!
As I said earlier, at the end of every episode, she prepares
an easy breezy dish.Today's pakoda recipe from that TV show.As the name
suggests, this pokoda has cabbage and sesame seeds. According to the hostess,
cabbage is good for the heart and sesame is good or the skin.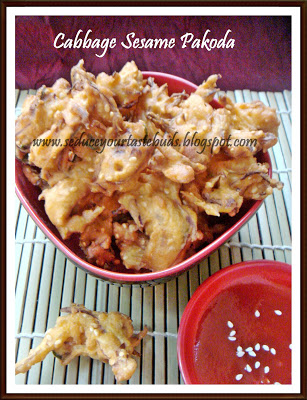 I used:
Cabbage ,shredded – 1 cup
Sesame seeds- 2 tablespoons
Onion- 1, sliced
Groundnuts – 1 tablespoon
Curry leaves- a few
Besan – ¼ cup
Rice flour – ½ cup
Red chilli powder- ½ teaspoon
Salt to taste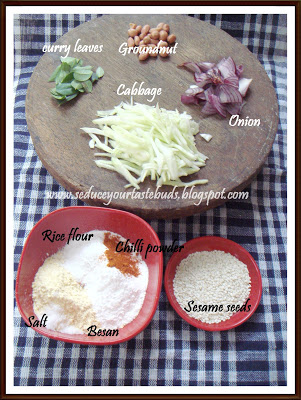 Oil to deep fry
1.Mix all the ingredients in a bowl[except the oil]. Sprinkle a ,little water and mix.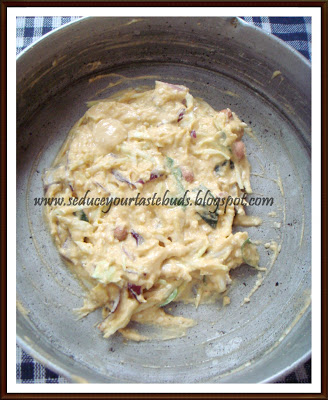 2.Heat oil for deep frying and drop spoon full of the prepared mixture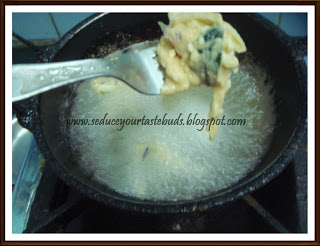 Fry till golden brown and serve…..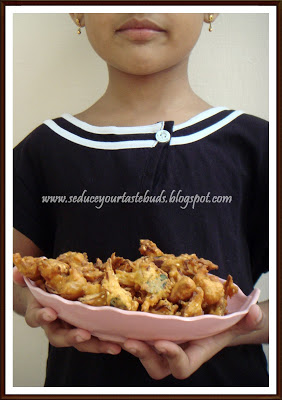 Lil Angel loved this snack and enjoyed it with tomato sauce…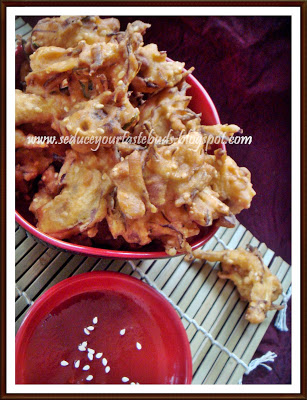 Bon Appetit…