Having money in the bank ,more importantly in your
name,gives you a sense of security. You are in need of money , just go take
some –no hassles , no worries…
Have 40 odd recipes in the blogger draft gives you a sense
of security of another sort. Whenever I am in a situation to cook but can't,I
am sure there will be something in the drafts to come to my rescue – no
hassles, no worries.
For quite some time now, I am posting just for a few cooking
communities. I do cook and click but all that is safely stored in the drafts.
With other things taking a front seat, blogging takes a step motherly treatment
from my side. Hopefully this situation will get reversed soon….
Anyways,the second recipe for Blogging Marathon under the
theme – Cooking with Chickpeas, I have chosen this recipe from one of the books
that I had reviewed earlier. I had cooked this dish for the review and it never
got to be published on the blog. When Srivalli announced this topic, I wa happy
that I had at least one recipe ready.
Like yesterday's chutney, today's recipe is from a chef-
Aditya Bal. This recipe is from his recent book
The Chakh le India
.
This Chole masala is a real Punjabi classic and has endless
variations. This can be served as a side dish or as a snack. I enjoyed it as a
snack and that's why there are no roti's / chapathis in the click….
I used:
Chick peas – 1 cup
Whole Bengal gram / kaala channa – 1 cup
For curry base
Tomatoes – 3, finely chopped
Onion- 1, chopped
Garlic- 5 cloves, chopped
Ginger – 1" piece, chopped
Spice powders :
Asafoetida powder – a pinch
Turmeric powder- a large pinch
Red chilli powder- 1 teaspoon
Coriander powder – 1 teaspoon
Whole spices:
Cumin seeds – 1 teaspoon
Cloves -4
Cinnamon stick – 1" piece
Black peppercorns- 5 numbers
Green cardamom-4
Bay leaf -1
Sugar- ½ teaspoon
Lemon juice- 1 tablespoon
Oil – 2 teaspoons
Butter – 2 teaspoons
Coriander leaves to garnish
Wash and soak the chick pea and black channa with enough
water overnight. In case you forget, wash and soak the dals in hot water inside
a hot box/ casserole. The dal will swell up in a couple of hours.
Drain the water and pressure cook with 3 cups of water till
70% done / 15 minutes.At this stage, the chickpea is cooked but not mushy.
When the pressure releases, take out a handful of chickpea /
kaala channa and mash well. Keep aside.
Heat oil in a wok and add the whole spices and bay leaf.
Sauté on medium flame.
Next add the onions and sauté till they turn golden brown.
Put in the ginger and garlic and cook till they soften.
Add the spice powders and saute for a few minutes till you get a roasted aroma.
Add some water to deglaze the pan and put in the cooked dals. Mix well so that the masala coats the dals.
Add the tomato and cook till it is mushy and sprinkle sugar over it.
Pour enough water so that it comes 1″ above the chickpea mixture and bring to boil.
Turn down the heat after 5 minutes,add salt and simmer for 10 minutes / cook till the gravy thickens.
Add butter and lemon juice to lift the flavor.
Check for salt and balance of flavors.
Remove from heat and serve garnished with coriander leaves.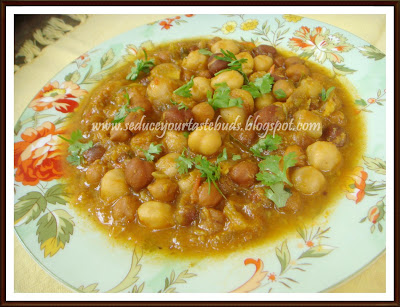 Hop over to the Blogging Marathon page for the other Blogging Marathoners doing BM#21
Bon Appetit…