Bread upma is probably the first dish I cooked for our family friend when they visited us.I was in high school and did not fear to try out a new recipe on them.Ask me to do that now, I will probably think twice before I try to serve a new dish to someone other than my guinea pigs folks.
I cube the bread slices and proceed to make Bread upma. I stuck to that recipe till a days back.Then last month I took up 'Upma' as the theme for blogging marathon and I was literally flooded with ideas. Then there were upma recipes posted by my fellow marathoners that were bookmarked. Here is one that I had bookmarked from Pradnya's blog . This bread upma was quite different from what I prepare and I loved her idea.
I added my touch by throwing in some veggies and it was my breakfast this morning. It was pouring outsied while I clicked this picture.The next time I make this, I will shoot a better pic to boast here 🙂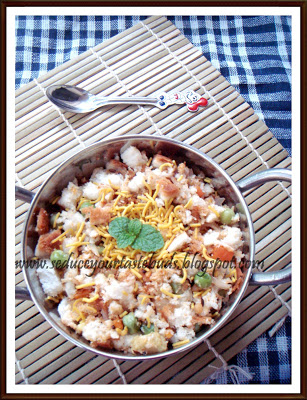 I used:
Bread slices – 3
Mixed vegetables , boiled.I used- baby corn,peas, carrot and beans
Onion- 1, sliced
Red chilli powder- 1,teaspoon
Lemon juice- to taste
Sugar- 1 teaspoon
Mustard- 1 teaspoon
Gram dal – 1 teaspoon
Cumin seeds- 1/2 teaspoon
Salt to taste
Oil- 1 tablespoon
Sev – to garnish
Crumble the bread slices. You can do this by hand / pulse it in a mixer.
Heat oil in a pan and add the mustard, cumin, gram dal.
When the dal turns light brown, add the onions and saute till soft.
Put in the cooked vegetables, a little bit of salt,red chilli powder and cook for a minute.
Add the bread crumbs, sugar and cook on low flame till the bread turns a little crunchy.
Remove from heat.Sprinkle lemon juice and serve garnished with sev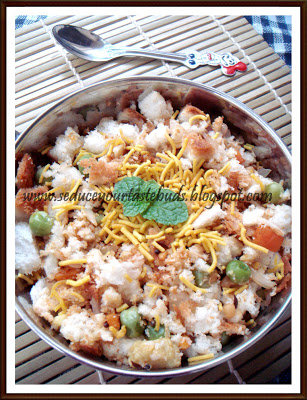 Note :
You can use brown bread for a healthier option
Use turmeric powder to give an even color to the dish. I missed adding it in this recipe.
Bon Appetit…