I was going through my previous posts with the thoughts of giving a few of them a make over with better pics.While browsing, I came across this recipe.This one is an all time favorite of Lil Angel. She loves to have this for breakfast , lunch and dinner!She is all smiles if it is packed for her lunchbox.My earlier post did not have a good pic of this dish which also happens to be my favorite too. So this is the third recipe that I am doing for Revisiting old posts with new pictures for Blogging Marathon #23, Week 4….
This preparation is from the Kongunad cuisine. Tamarind and some spices are cooked together to get a paste that can be stored and used when required.This paste is mixed with rice and tastes great when served with a spicy curry , especially potato roast and pappad…..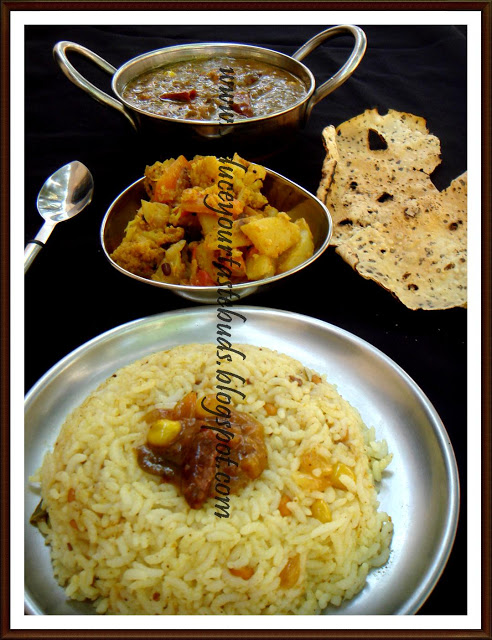 You need:
Cooked rice,grains separate-2 cups.
For the spicy tamarind paste:
Tamarind extract-2 cups,thick [see note below]
Shallots / Pearl onions-10 numbers,finely chopped
Mustard-1 teaspoon
Gram dhal-1 tablespoon
Urad dhal-1 teaspoon
Red chillies-5, broken into bits
Turmeric powder-1/2 a teaspoon
Curry leaves- a few
Fenugreek seeds-1/2 a teaspoon
Peppercorns-1/2 a teaspoon
Salt to taste
Sesame oil-4 tablespoons
1.Dry roast fenugreek seeds and peppercorns.Powder and keep aside.
2.Heat oil in a pan and put in mustard,urad dhal,gram dhal,red chillies,curry leaves and when it splutters add the onion and saute till till becomes soft.
3.Add the tamarind extract,,turmeric powder,salt and mix well.
4.Let it boil till it thickens,approx-15-20 minutes.If it is too tangy add a little water / jaggery/ brown sugar.
5.Add the fenugreek-pepper powder and mix well so that there are no lumps.
6.Cook for another 5 minutes and remove from flame.
7.Now take a portion of this paste and add to the cooled rice.Mix well and taste.Add more paste if required.
Serve with a vegetable curry and pappad….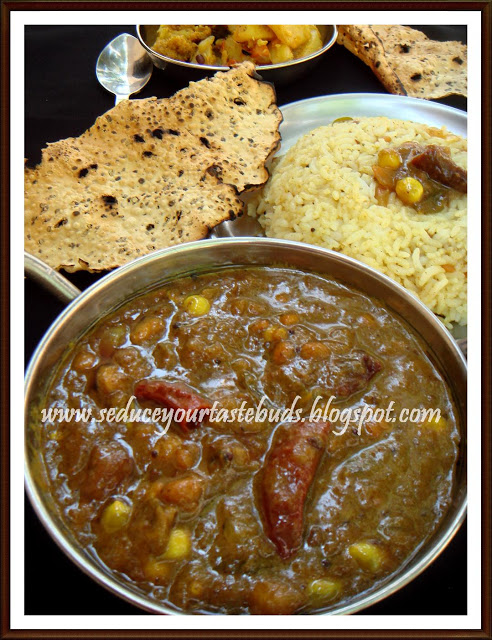 Note :
To prepare tamarind extract, soak a golf ball size tamarind in ot water for half an hour. Squeeze out the extract and pour into another vessel.Add warm water and repeat a couple of times. Strain this extract and use.
Prepare the paste in bulk and freeze / store in the refrigerator. It stays good for almost a month!
Use sesame oil for the authentic taste. If its not available, use a neutral oil. Coconut oil is a big 'No'.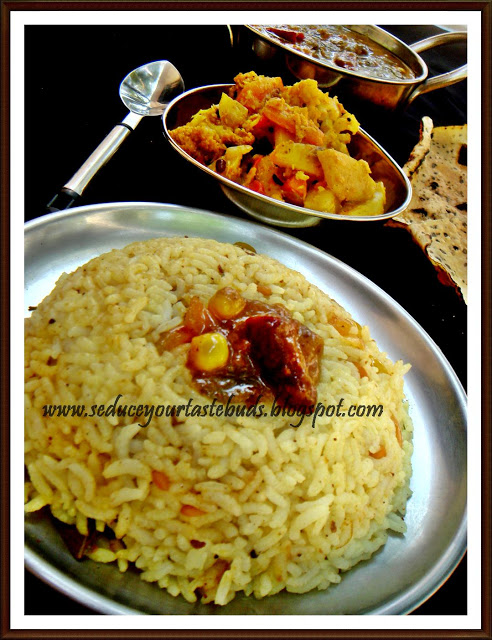 Puli Sadham served with
spicy cauliflower-potato curry and masala pappad
I came across a new fruit a few days ago and quizzed everyone on it.Do take a look and leave your comment on PJ's Mystery Files #2…
Take a look at the Blogging Marathon page for the other Blogging Marathoners doing BM#23
Bon Appetit…