Fried snacks are a favorite in my household.I made this crispy Vada last Sunday and no one really knew it had cabbage in it!No one is a fan of cabbage at home except me. So I never mentioned the cabbage part until the vadas disappread..
Sowmya is hosting Tried and Tasted event highlighting Rak's Kitchen this month.I tried this Cabbage Vadai / Vada from her blog. I have bookmarked many recipes from her site and this is one of them…
I have made a couple of changes from her recipe. I omitted green chillies and added red chilli powder. Lil Angel does not fancy biting into chillies in her favorite vadas.I also added 2 teaspoons of rice flour to the batter.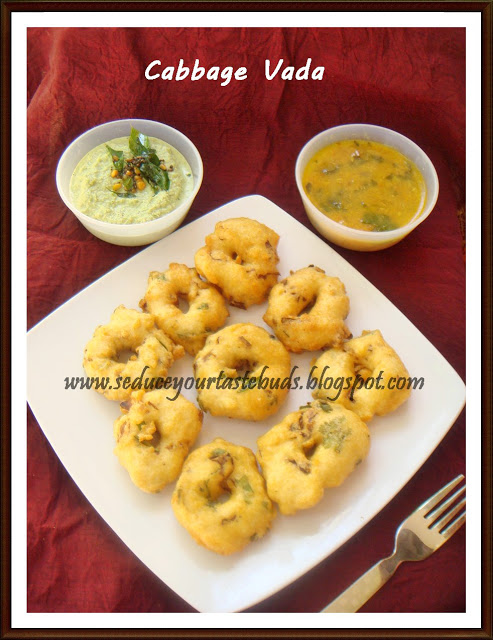 I used:
Source : Rak's Kitchen [Check out her recipe for step-by-step instructions]
Urad dal, white,Whole – 1 cup
Finely chopped cabbage 1 cup
Rice flour -2 teaspoons
Red chilli powder- 1/2 teaspoon
Grated ginger- 1/2 teaspoon
Asafoetida – a pinch
Curry leaves- a few , chopped
Coriander leaves- a few , chopped
Salt to taste
Oil to deep fry.
Wash and soak urad dhal for 3 hours. Drain and grind to fine paste in a mixer. Add as little water as possible and scrape out the sides so that the batter is evenly ground and there is no trace of whole urad dhal.
In a bowl, mix all the ingredient along with the ground batter.
Heat oil to deep fry.
Wet your hands and take a small amount of batter.Form a ball and flatten it and make a hole in the center.
Gently drop it into hot oil.
Fry till both sides are golden brown.Drain on absorbent paper.
Serve with sambar and chutney….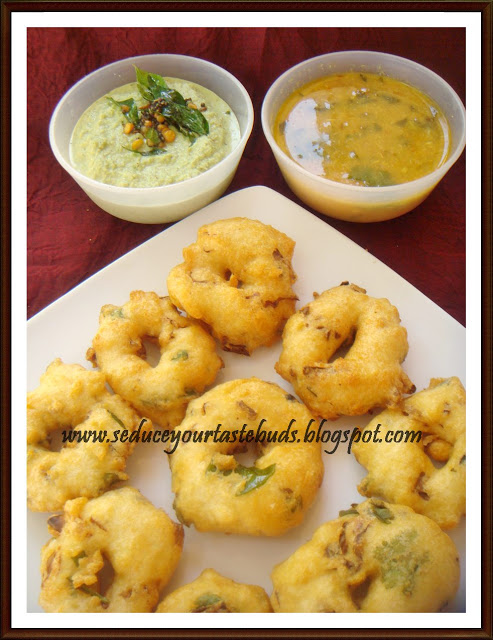 Cabbage Vada served with
Sambar and Coriander-Coconut chutney
Linking this to Your Best Recipes….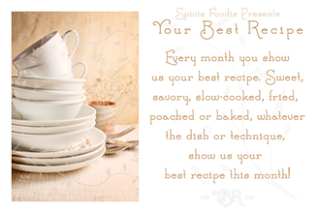 Bon Appetit…