Today we are starting Week #3 of Blogging Marathon 24.As you are aware I am hosting Srivalli's Kid's delight series this month with the theme Healthy lunch box recipes. I am in a quest for recipes that are apt to pack to school for my preschooler and this week I am doing this theme for Blogging Marathon.
One of the few vegetables that Lil Angel still loves is peas , carrots and ladies finger / okra. When these are packed in any form and sent in her lunch box, I am assured of an empty box and a happy tummy.
I make this carrot peas rice for her and she likes to have it with okra curry / pappad. Some time back, I got a pack of MTR's pulao masala for a BM theme of 'cooking from back of the pack'. I use this masala to jazz up the rice.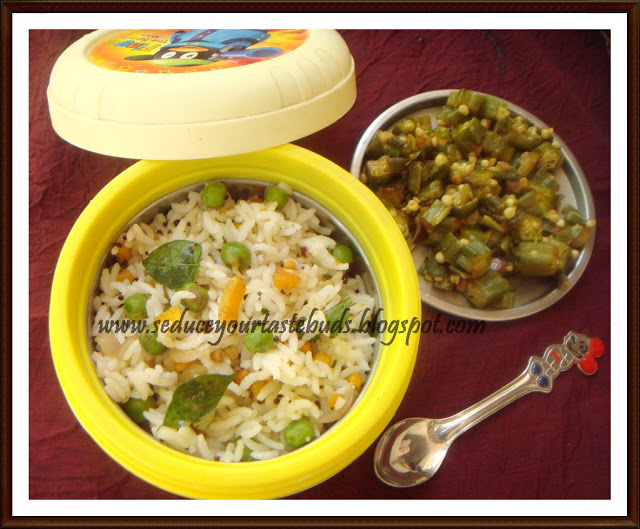 I use:
Cooked rice,grains separate – 1 cup
Cooked peas and carrots- 1/2 cup
Onion-1 small,chopped
Mustard seeds- teaspoon
Urad dhal -1 teapoon
Gram dhal-1 teaspoon
Curry leaves a few
MTR Pulao masala -1/2 teaspoon
Salt to taste
Ghee – 1 teaspoon
Melt ghee in a pan and add mustard, urad dhal, gram dhal, curry leaves.
When the mustard pops , add the onin and saute till soft.
Put in the cooked peas and carrot, salt, pulao masala and sprinkle some water if the mixture ids dry.
Cook for a few minutes and add the rice.
Simmer and mix well and let it be on low flame till the flavors blend – around 5 minutes.
Remove from heat and pack it in the box….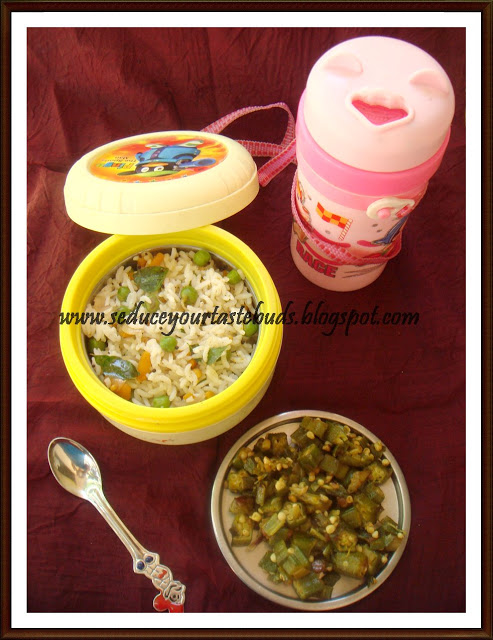 Note :
Since Lil Angel loves the flavor of ghee [and the fact that it adds some calories] I use it instead of oil for seasoning.
You can also add red / green chillies for heat.She likes non spicy food so I omit it.
Instead of MTR pulao masala you can add garam masala / sambar powder
Sometimes I also add roasted cashew / peanuts to this rice.
Take a look at the
Blogging Marathon page for the other Blogging Marathoners doing BM#24
Bon Appetit…