Hi Friends!! As promised in the Mystery file #2, here is a simple recipe that uses the mystery ingredient- Star apple / Rose apple…
Last month I chanced upon a fruit that I was looking for. I had initially seen it in
this blog and was wondering what it was. I had never seen it until then. After a few days, I saw it in a road side cart but could not stop due to the heavy traffic so I came home disappointed. A couple of days later luck favored me and I was able to buy this fruit in another place.
It cost INR 40 for 250 grams. The fruit was sour and crunchy.We loved it. It tasted great with a mix of chilli powder and salt dusted over it!!!
As soon as I go this, I wanted to make the raita I has seen in Krishnaveni's blog and here it is now….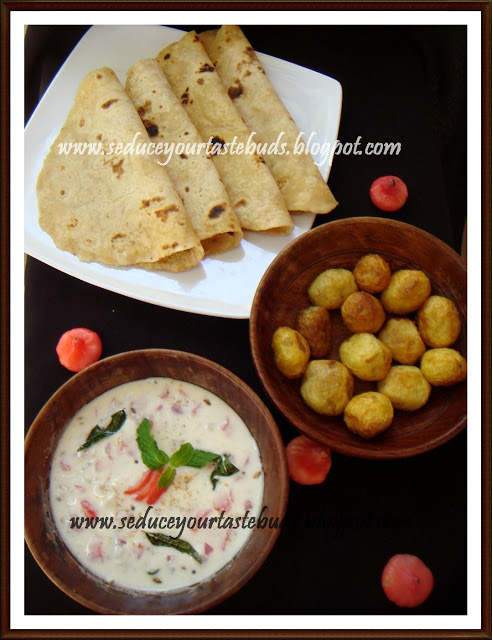 I used:
Star apple / Rose apple -10 numbers, de-seeded and chopped
Onion – 1, small , finely chopped
Fresh Yogurt 2 cups
Mustard seeds – 1 teaspoon
Cumin seeds – 1 teaspoon
Salt to taste
Oil – 1 teaspoon
Curry leaves a few
Mint leaves to garnish
In a bowl whisk yogurt and salt.
Add the chopped star apple and onion to the yogurt.
Heat oil in a small pan and put in the mustard, cumin seeds and curry leaves.
When the mustard pops pour over the yogurt mixture.
Mix well and serve garnished with mint leaves / chopped coriander leaves.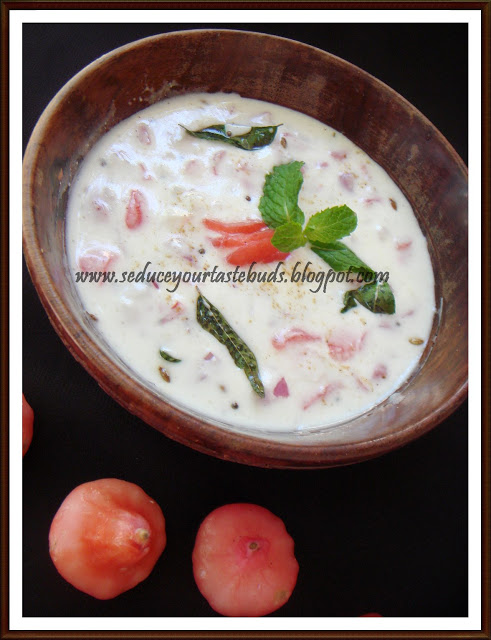 I have one more recipe using this fruit. Will share it in the coming days…..
Bon Appetit…