This month is very special in the blogosphere for a bunch of bloggers. What started as a hobby has become an addiction. And this addiction is now 25 months old!!Yes, I am talking about the Blogging Marathon started by Srivalli which is now celebrating its 25th month of non stop blogging!
The themes for this month, as always, was quite interesting and I had a tough time deciding on them. For Week 1 on Blogging Marathon, I will be doing Cooking from Books .
Last year I went on a craze and ordered more than a dozen book online.As you would have guessed it was all cookbooks and each time I received one, my folks looked at me weirdly.I have a huge collection of books yet I ordered more! I just couldn't stop myself. What I loved most while ordering from Flipkart was the cute book marks that came with each book. Each book mark had a saying or a joke printed on it and as all book lovers I fell in love with those cute book marks too.So one of them is being featured in the click today….
But as much as I love to buy them, I rarely cook from those books and now is the time to cook a few from my prized possession.
Since this is an exciting month, I should have cooked desserts from the books.But the last couple of days were kind of hectic and very busy and I was not able to plan any thing in advance. So I stuck to some basic yet healthy recipes for this theme.
Winter is the time when people are down with cold and sore throat.Ask any one and they are sure to complain about these two. My home is no exception. I made this soothing tea last evening. Lil Angel loved it and even asked for more!!!
This recipe is taken from the book Nutritive cooking for children by Dr. Shaila Santhanam, I will write a review on this book later this week.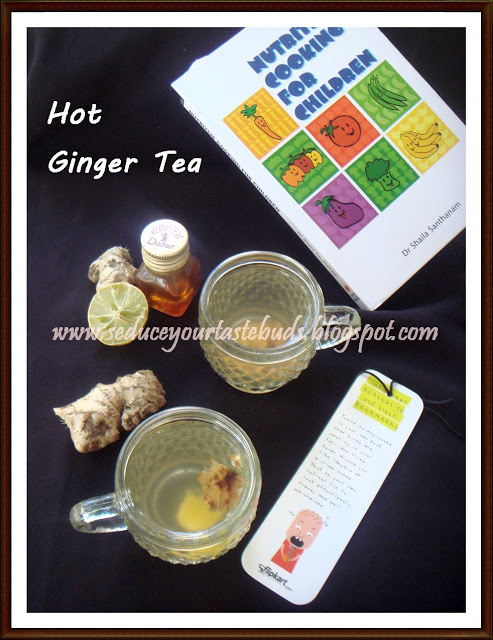 I used :
Water – 2 cups
Ginger – 2 " piece, crushed
Lemon juice – to taste
Honey to taste
Heat water in a pan.
When it comes to a rolling boil, simmer and add the ginger pieces.
Cover and simmer for 10 minutes.
Remove from heat, add a few drops of lemon juice and honey to taste.
Serve hot.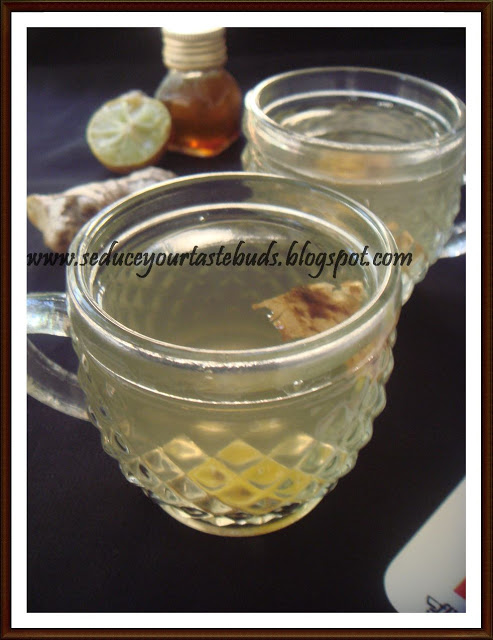 Note :
I was a bit skeptical if the tea would taste bitter as we add lemon juice while the tea is still hot. But luckily it wasn't.
You can strain and serve the tea but I served it as such.
The longer the simmering tea more the ginger flavor.
This tea is not only good for cold / cough / running nose / sore throat.It also improves / aids digestion. Health tips like this was provided in the book at the end of the recipes.
I will be back tomorrow with another recipe from yet another cook book…