I am sure you are aware of a fun cooking group called
South Vs North Challenge
,started by
Divya
In this group the members are divided into the North or South team based on where they hail from. The members of the South team challenges the North team with authentic South Indian dishes and vice verse. So we get to learn and create a lot of authentic dishes from the other half of the country whose cuisine we may not be familiar with…
So this month Sanoli of Sanoli's Kitchen challenged the South Indian team to prepare this delicious combo – Green peas Kachori and Dum Aloo.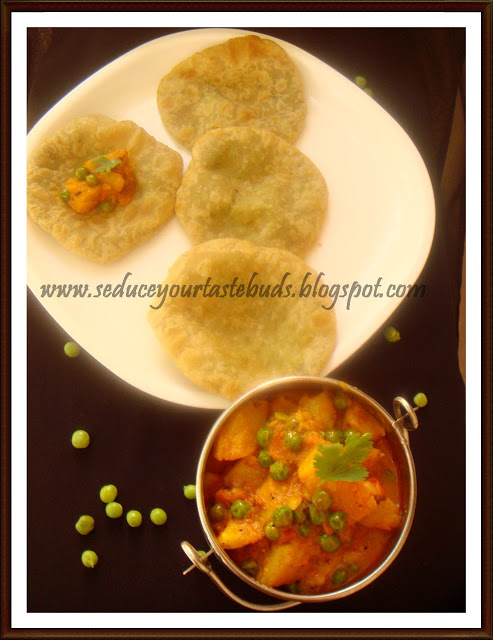 The dish is very easy to prepare and we had it for dinner a few weeks back.While I was cooking this hubby happened to peep into the pan of Aloo dum and exclaimed that the colour was so beautiful and he was so sure it would taste great. Lil Angel loves peas so this was a hit at home.
For the green peas filling
Fresh green peas – 3 cups
Green chillies- 3
Ginger- 1″ piece
Asafoetida- a large pinch
Roasted cumin powder- 1/2 teaspoon
Ghee- 1 tablespoon
Salt to taste
For the kachori
Whole wheat flour – 2 cups
Salt to taste
Oil- 2 teaspoons
Oil for frying
First let us start off with the kachori
In a bowl, take wheat flour and salt.
Add water little by little and knead to a firm dough.
Add the oil and knead once again till the dough is smooth.
Cover and keep aside for 15 minutes.
Meanwhile let us prepare the filling.
Grind the peas, green chilli and ginger to coarse paste.
Heat ghee in a pan and put in asafoetida
Put in the ground paste and cumin power, salt.
Keep stirring till the water evaporated completely and the mixture is very dry. This will take some time but it is worth doing it carefully or you will not get a proper filling for the kachori.
Once the mixture is dry, remove from heat and let it cool completely.This step too is very essential.
Now,
Divide the dough and the peas filling into equal parts. This way we will not have any left over dough / filling.
Roll out the ball of dough lightly and place the filling in the centre.
Close it by bringing the edges together and sealing it fully.
Press gently and roll out carefully taking care that the filling does not come out.
Repeat this for the remaining dough and filling.
Heat oil for frying and drop in one kachori at a time and cooking till brown spots appear on both sides.
Remove with a slotted ladle and serve with Dum Aloo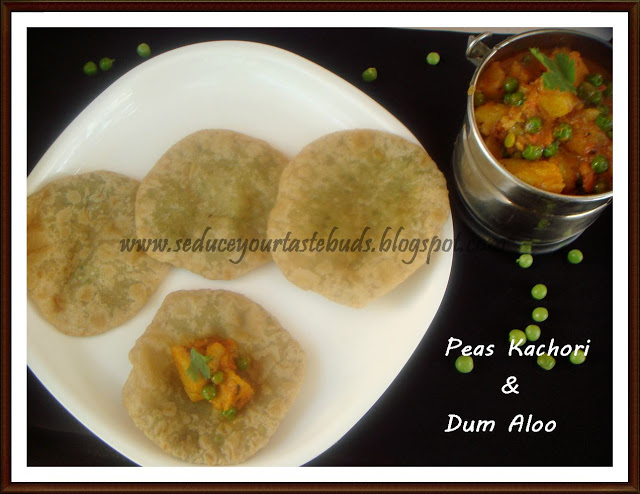 For Dum Aloo
Potato-3,peeled ,boiled and cubed
Green peas – 1/2 cup,parboiled
Tomato-2,ripe, chopped
Cumin seeds-1/2 teaspoon
Fennel seeds- 1/4 teaspoon
Bay leaf- 1
Garam masala- 1 1/2 teaspoons
Kashmiri red chilli powder -2 teaspoons
Turmeric powder- a large pinch
Ginger garlic paste- 1 teaspoon
Coriander powder -1 teaspoon
Yogurt / curd – 1 cup
Oil-3 tablespoons
Salt to taste
Coriander leaves to garnish
Heat oil in a pan and roast the potatoes cubes. Drain and keep aside.
To the same pan add the bay leaf, asafoetida, cumin and fennel seeds
When it crackles, add the ginger garlic paste and saute for a minute.
Add the peas and tomato and cook for 2-3 minutes.
Put in the turmeric powder, kashmiri red chilli powder, coriander powder, garam masala and mix well.Cook till oil separated from the mixture.
Add the potato and combine to coat the potato with the spice mixture.
Add the curd and a little water if needed to get the desired consistency.
Cook for another 2 minutes and remove from heat.Serve garnished with coriander leaves.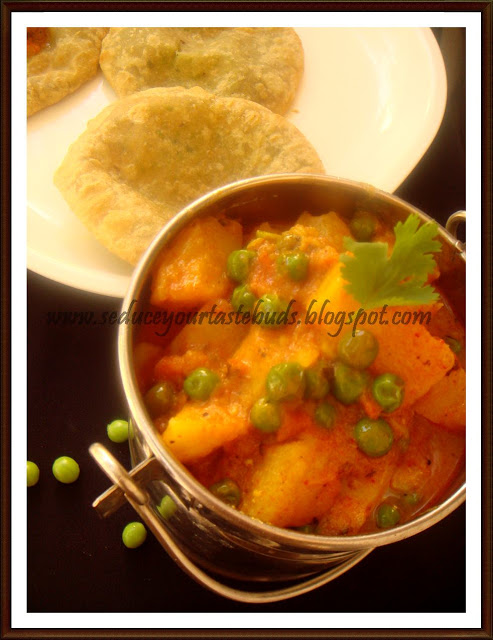 This is really awesome combination…
We enjoyed this meal Sanoli..
Thanks for this yummy challenge….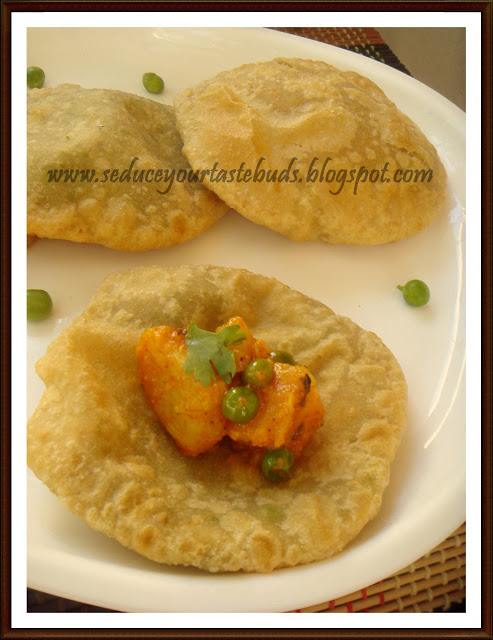 Note :
The original recipe calls for all purpose flour.But I used whole wheat flour
Ensure that the peas filling is really dry and cool before using it in the recipe.
Bon Appetit…