I am not fond of spicy foods. Dishes that are mild in flavor is what I prefer. But one fine day, I was craving for something spicy. The climate was chilly and I was lazy to prepare an elaborate meal. I wanted something quick and easy and more importantly spicy.
That was when I decided to prepare this simple peas pulao. Carrot raita and spicy potato wedges were the sides and the curd rice with chambakka pickle completed the meal.
So this is my recipe for Week #2, Day #2 , in Srivalli's Blogging Marathon….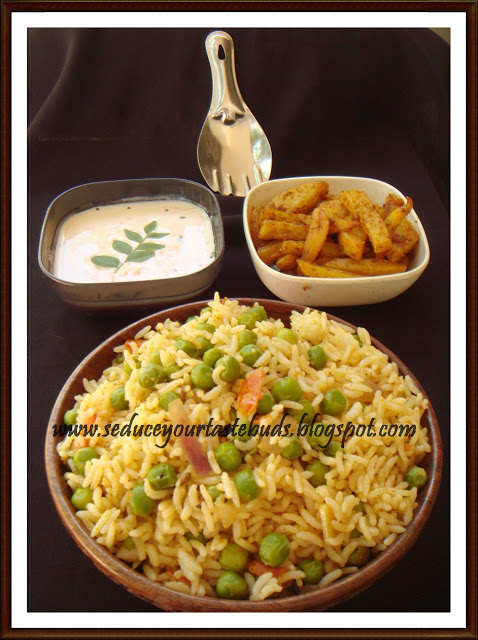 Blogging Marathon # 26
Theme – One Ingredient three ways [Soup , Rice , Snacks]
Today's theme – Rice
I used:
Rice – 1/2 cup
Shelled fresh peas – 1 cup
Onion-1 large, finely chopped
Tomato -1, finely chopped
Pulao masala – 2 teaspoons
Green chilies-3, slit
Ginger garic paste-1 teaspoon
Cumin seeds- 1 teaspoon
Salt to taste
Oil- 1 tablespoon
Cook rice and spread on a plate to cool. See to that the grains are separate. You can use regular rice or Basmathi rice.
Parboil the peas and keep aside.
In a pan heat oil and put in cumin seeds.
When it splutters, add the onion, green chilies, ginger garlic paste and saute till onion is translucent.
Next in goes the tomato, pulao masala,salt.
Cook till the tomato is mushy.
Add the peas and cook for a few minutes. If the mixture is too dry sprinkle a little water.
Add the cooked rice and combine gently.
Simmer and cover and cook for a few minutes for the flavors to belnd.
Serve hot with a raita of your choice.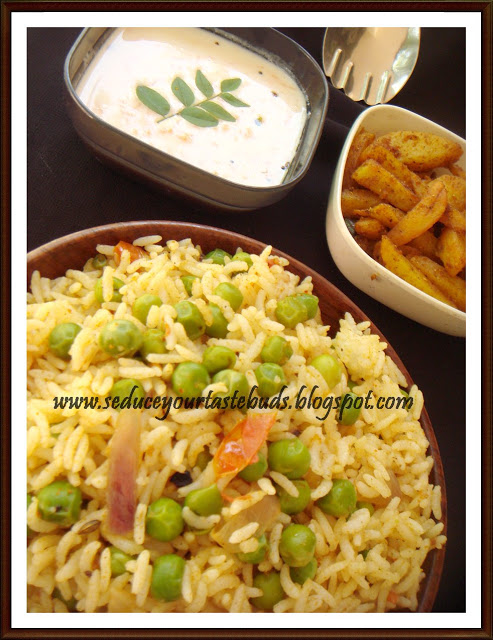 Note :
Adjust the spice level to suit your taste

Instead of pulao masala , garam masala / sambar powder can be used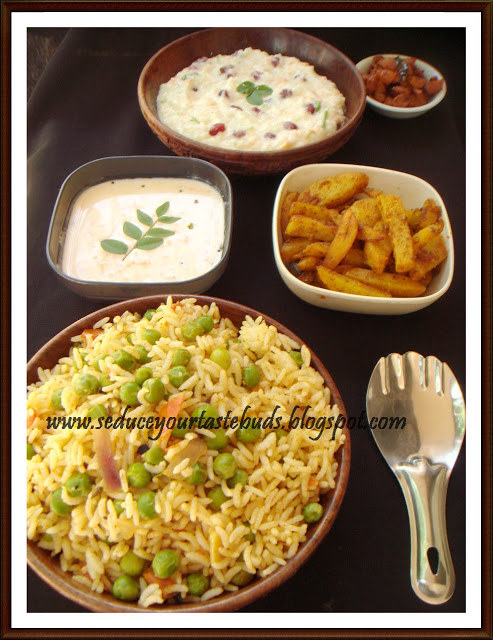 A spicy meal…
Spicy Peas pulao with carrot raita,
Spicy potato wedges,