The cover of the book suggests that it is a thriller that
might send a shiver or two down your spine. A girl with blood stained knives,
moon behind clouds, a pair of scary eyes, lightening striking down…, that
what I thought the book would do – scare me rather than thrill me.
I am not a fan of Vampires and stuffs but this book had made
me change my mind or rather made me look at vampires in a different light!
Tantra by Adi is a fictional thriller and I got to review this book.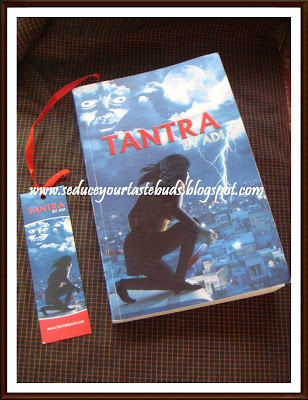 This is a heroine centered story, where Anu is the
protagonist vampire slayer or termed as professional guardian,the one who
vanquishes vampires.
The story starts with Anu waiting for her Indian counter
part in Delhi and starts working on slaying the vampires.
Though this is her job, her real motive of coming to Delhi
all the way from New York in the pretext of work transfer,is to avenge the death of her boyfriend- Brain. She
gets a clue that the vampire that killed Brain is an 'Indian' and she feels that it must
be in Delhi and starts hunting for it.
Things are a little slow until she finds a small boy's corpse in a bag of one
of the Vampires that she kills and soon she finds out that someone is attacking children .
That someone turns to be a saffron robe clad man called Baba
Senaka who wants to acquire immense power through black magic / Tantra and is using children as a sacrifice .
While she slowly learns that the relationship between the
slayer and the slain are not the same as that in her previous workplace – New
York,she is forced to team with the vampires to take on Baba Senaka.
She is introduced to Dr. Sharma, a professor, who teaches
her a few tricks that might help her win this war.She learns to recite some
Mantra taught by the Dr. Sharma and later she finds out that they border the
Tantra which she is dead against. After the professor gives her some reasonable explanation , she learns it
with her heart and soul.
Midst all this her aunt
is eager to see her settled in life and makes arrangements to meet
suitable bachelors. Initially she uses the 'I am a lesbian' ploy against her
mom but learns not to say that and disgrace the family.

Now she has two battles to fight!
A bride seeing ceremony – Dekhan-Dekhai is arranged in a
posh hotel where is all decked up and learns how to behave and what to except
from her cousin.Gaurav, whom she has met earlier is also present in that party
and she learns that he is the prospective grooms brother!
The story moves fast after this and the climax is how Anu
fought against Baba Senaka and did she
accomplish her mission of finding her boyfriend's killer.
What I liked about the book:
The language and narration is simple and easy to follow.
The explanation of Tantra, Mantra, Maya etc are very clear
and it shows the research done by the author before writing this book.
The author has added the right doses of comedy and I liked
the Dekhan-Dekhai ceremony and the way she lights up the grooms shirt without
actually intending to.Any added doses of comedy would not have been suitable to
this vampire- Black magic thriller.
The vampires are kind of cute, well most of them, especially
the vampire chieftain/ Panch – Chandra. He is several centuries old and yet has
boyish charms to seduce Anu. The vampires even have mobiles to get in touch
with!
And the bookmark that comes with the book is really a great idea![See pic above]
What could have been better
Some things could have been explained like the word ' shift'
.Later on while reading the book, I realized that it was a term used to
describe the phase when the guardians' have a sudden change in energy level by
which their wounds heal at super-fast rates.
The author could have given a short account of Anu's life in
New York, how she was popular/ efficient etc.
I found the first 60 odd pages a little dull and slow but
later on it picked up pace.
The few typos here and there could be avoided.
The face looking down at the city is a kind of odd. It would have been nice to have a better cover design.
Vampire based thriller from an Indian author sprinkled with the right dose of humor and laced with tantra, Mantra and Maya makes it a good entertainer. The first 60 odd pages were quite slow but the rest of the book is gripping with suspense. So the initial lull can be forgiven.
The unsaid relationship between Gaurav and Anu, Anu's cousin and Amit looks like there will be a sequel. Looking forward to reading that as well…
I will give it a score of 3.5 / 5
At a glance
Book
– Tantra
Author -Adi
Publisher – Apeejay Stya Publishing
No. of Pages – 335
Price – INR 195
Get in touch with the author @
Website – www.tantrabyadi.com
Twitter : @dearadi
Facebook -fb.com/DearAdiPage
This is not a paid review.This review is a part of the Book Reviews Program at BlogAdda.com. Participate now to get free books!
Happy Browsing…