The whole of last month I was constantly complaining about the weather when ever I posted a recipe. Those who know me for a while are quite aware that I love winter , especially when it snows and I don't prefer summer, mainly because of the hot sweaty climate that is coupled with power cuts.
The Rains Gods probably heard my whining and smiled upon us! It has been cloudy and drizzly right from the beginning of this month and I am totally in love with the climate.
People are complaining of not able to dry their cloths outside and not able to go out at will because it rains all of a sudden but I have no complaints what so ever.
This sort of climate makes your taste buds crave for something fried ,right? Last weekend, when it was raining cats and dogs, Lil Angel suddenly craved for bajji and promptly asked her grandma to make some for her.
Such requests are immediately carried out by her grand mom and she set out to make a batch of potato bajjis for her. I love onion bajji and mom made some for me. The 'still toothless' Lil dude would be sure to grab a bajji from Lil Angels hand so it was plain batter bajji for him. Dad said he would have a bite from each!
It was indeed heaven when the hot coffee and bajjis were served. It was an even greater pleasure when mom makes this!!
So, when I had to post a recipe today for the theme – Finger foods for Kid's Party, I was wondering what to cook,as I was literally clueless till an hour ago. It is chill and drizzling outside and I remembered the bajji that mom had prepared. A loaf of bread tempted me to try this recipe which I am sure all would love.
Here are the mini bites that I made just a few minutes back, served here piping hot just for the kids and of course for those adults who don't mind their calories and love to indulge on such foods on rainy days 🙂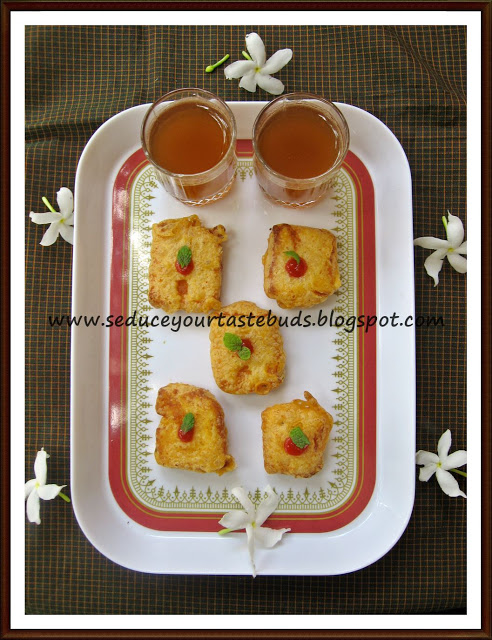 I used:
Bread slices – 4 , cut into 4 pieces each
For the batter
Besan – 1/2 cup
Rice flour – 3/4 cup
Salt to taste
Red chilli powder – 1/2 teaspoon
Ajwain seeds- 1/4 teaspoon
Oil for deep frying
In a bowl, mix all the ingredients for the batter. Add water little by little and prepare a lump free batter of coating consistency.
Heat oil in a pan.
Dip the bread pieces in the batter so that it coats the bread evenly and drop it into the hot oil.
Fry till golden brown and remove from heat.
To serve place a tomato sauce drop on the bajji bite and garnish with a mint leaf.This way there is no need to serve a side dish. The taste of the tomato sauce and mint leaf is absolutely yum
Serve immediately and watch it disappear instantly!!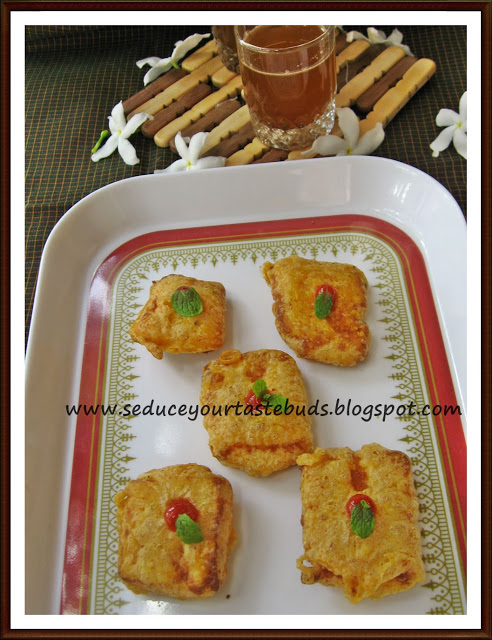 And also take a look at the Blogging Marathon page for the other Blogging Marathoners doing BM#29