Last evening Lil Angel enjoyed the bread bajji bites. Lil Dude wanted the same thing that this sister was eating and did not touch the plain dough bajji!It was really a hit with the kids.
When it was my turn to come up with another mini bite for kids party / finger foods, I was totally lost. All my ideas seemed to have vanished into thin air. My pantry is almost empty. I wanted to make something with paneer but there was not enough milk. One or more ingredient was missing for everything that came into my mind after a long thinking session.
Finally, I opened the freezer and there sat a box of this chocolate glaze that I made some months ago. It looked good. So left it on the counter top to thaw and tested tasted it and it was as delicious as it was on the day I made it!!
Then there is this box of crackers that nobody wanted to eat.Putting both these together,I have here today a chocolatey snack that takes just a few seconds to put together if you have the chocolate glaze ready 🙂
So, this isn't actually a recipe but more of a party idea….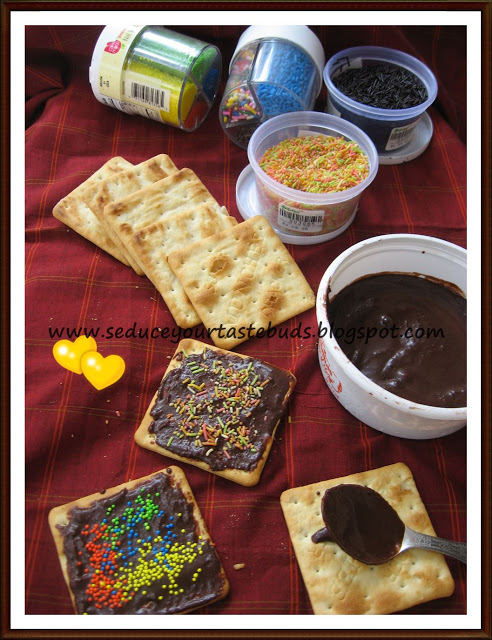 Just spread some chocolate glaze over the cracker and add some colorful sprinkles of your choice. Instant sweet treat!!!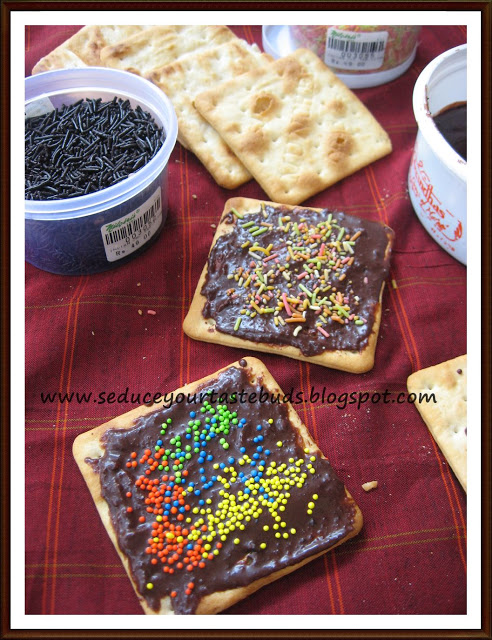 While I was making this some ideas popped you.You could also try these toppings on crackers…
peanut butter with chocoate chips
Cheese and fruits
Herbed cottage cheese
Hopefully tomorrow I will make something that is cooked and made specially for this theme 🙂
Also take a look at the Blogging Marathon page for the other Blogging Marathoners doing BM#29