After posting two simple recipes for this week's theme, I wanted to actually cook a dish. Then I decided to bake. Now that the powder cuts are almost gone [Yay!], I thought I will bake a cake for Lil Angel and Lil Dude.
I wanted to post a different kind of cake and something that we all love.This cake recipe is one that has never failed me. I have made it several times and each time, I hardly get the crumbs to taste!
The first time I saw this cake on Gayathri's blog, I was not sure how it would taste yet the lone beet in the crisper tempted me to try it. I halved the original recipe and the result was- Wow!
No one at home could believe that it had beet in there! The cake was moist and every one loved it. It just took a few minutes for the cake to disappear and as I said earlier, I just got a few crumbs to taste.
So I have been making this quite often and for the 'Finger food for party' theme, I decided to make cupcakes. They are cute and don't get messy. It has beet and kids will never know. Of course it is chocolatey and kids will love it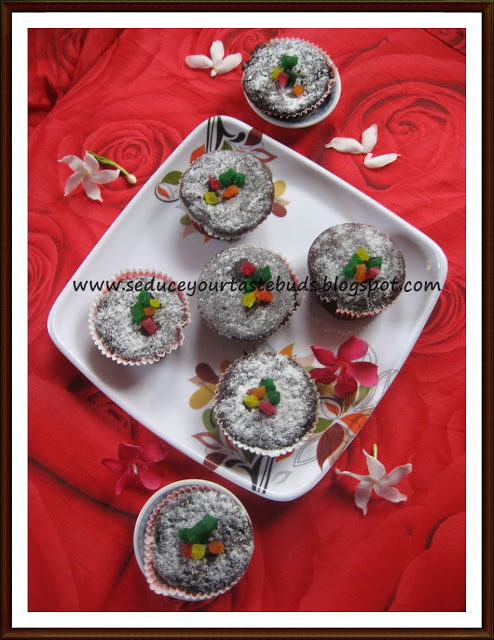 Choco beet cupcakes
Adapted from – Gayathri's Cook Spot.
I used:


Dry ingredients :
All purpose flour – 3/4 cup
Cocoa powder – 1/4 teaspoon
Baking powder – 1/4 teaspoon
Baking soda – 1/2 teasoon
Powdered sugar – 3/4 cup [Measured after powdering the sugar]
Wet ingredients
Beetroot puree – 1/2 cup
Fresh homemade paneer – 1/4 cup
Milk – 1/2 cup
Vanilla essence – 1/2 teaspoon
Sunflower oil – 1/4 cup
For topping
Icing sugar.
Candied fruits for garnishing
Take the wet ingredients in a blender jar and blend for a couple of minutes.
Take the dry ingredients in a large bowl and mix well to combine.
Make a well in the center and pour the wet ingredient mixture slowly while mixing simultaneously.
Meanwhile pre heat the oven @ 180 degrees for 10 minutes.
Line a muffin tray and pour 3/4 into each mold.
Bake at 180 for 18 minutes or till the a tooth pick when inserted in the center comes out clean.
Let it cool for a while. Dust with icing sugar,garnish with a few pieces of candied fruit and serve.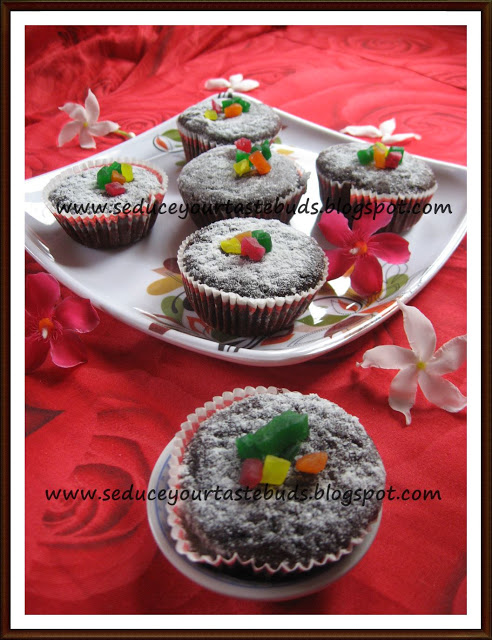 Note :
To make beetroot puree, peel the beet and chop into chunks. Pressure cook for 5-8 minutes or till done. Let it cook and puree it without adding water. I used very little water while pressure cooking and used it while pureeing. If you ise more water for cooking the beet, drain it and then puree.
The original recipe uses ricotta cheese. I used home made paneer. You can either use store brought / home made paneer or ricotta cheese
It took me 18 minutes to cook the cake. Check oven timings after 10-12 minutes. Timings may vary from oven to oven.
This can also be baked in a pan.
Also take a look at the Blogging Marathon page for the other Blogging Marathoners doing BM#29