The fruit basket is always full of Mangoes this year. Anyone who goes to the market never fails to pick up a few kilos of Mangoes! Though I am not so fond Mangoes, my family seems to love this fruit! The benefit for me is preparing loads of dishes with Mangoes and thanks to them, I now have almost a dozen Mango based recipes ready to be posted.
A couple of days back Hubby came home with 3 huge Mangoes, the Imam Pasand variety. This variety is more aromatic [that's what I feel] and I heard it is best suited for preparing desserts.Anyways, we finished off one of them and the same evening my neighbor dropped in to share Mangoes from her garden!There was a Mango over load at home.
So while every one was enjoying the fruit, I enjoyed preparing this dessert today.And this is my recipe for
cooking with colors
, for this week's theme of Blogging Marathon #29.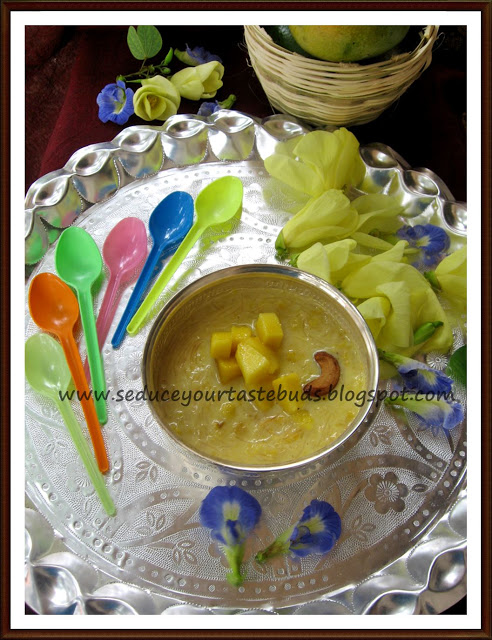 I used:
Mango pulp / puree- 1 cup [See note]
Vermicelli- 1/4 cup
Milk- 2 cups
Condensed milk – a little less than 1/4 cup
Fried cashews- a few
Mango pieces to garnish
If the vermicelli is not pre roasted, roast it with a little ghee.
In the same pan , add the milk and simmer till the vermicelli is cooked.
Once it is cooked, add the condensed milk, mango pulp and bring to a boil.
Switch off the flame.
While ready to serve, garnish each bowl of kheer with a few mango pieces and fried cashew.
Tastes best when served chilled.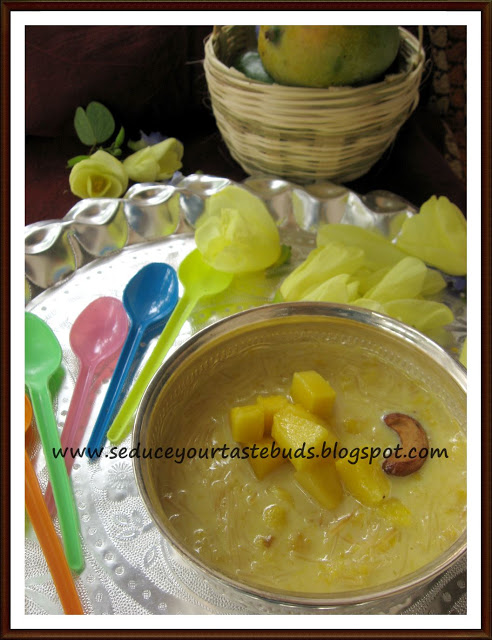 Note :
The Mango was very ripe, I mashed the pulp lightly with a fork. This gave an excellent texture to the kheer.
You can add sago instead of vermicelli.Soak and cook the sago in milk.
Cardamom powder can be added but i think it will mask the flavor of Mango which should be the high light of this kheer.
You can also add raisins fried in ghee for garnishing.
Increase or decrease the quantity of mango puree and vermicelli to suit your taste.
The condensed milk and mango both added to the sweetness so I did not add sugar.
You can skip condensed milk and use 3 cups of milk and simmer till it reduces a bit.
Take a look at the
Blogging Marathon page for the other Blogging Marathoners doing BM#29
Sending this to Nanyna who is hosting Mireille's Taste of Tropics with the theme – Mango