I love Seyal Phulka. There was a time when I used to prepare extra chapathis to make this dish. Then all of a sudden it vanished from our repertoire for no reason at all. I remembered this fact when I saw this recipe at Tarla Dalal's site and I knew I missed my favorite dish all these days .
The similarity between the dish I am posting today and the Seyal Phulka is that both use left over chapathis. And the similarity ends there. The main difference is that Seyal Phulka uses a tomato base and this recipe uses a buttermilk base.So this dish which I had for breakfast today morning seemed very apt for the theme for Blogging Marathon #30, with the theme – 'Cooking with curds'. It is really very simple and takes just 5 minutes to put together if you have left over roti / chapathi.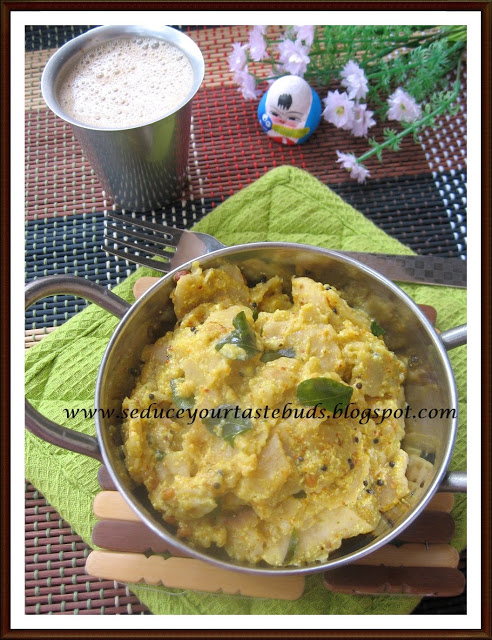 I used :
Adapted from : Tarla Dalal's recipe
Chapathi / Roti – 3, torn into bite sized pieces
Fresh buttermilk-2 cups
Turmeric powder – a pinch
Sambar powder- 2 teaspoons
Mustard sedds- 1 teaspoon
Gram dhal- 1 teasoon
Urad dhal – 1 teaspoon
Curry leaves- a few
Oil- 1 tablespoon
Salt to taste.
Heat oil in a pan and pit in mustard seeds, gram dhal, urad dhal,curry leaves.
When the mustard pops, put in the chapathi pieces. Saute for a minute.
Add the buttermilk, turmeric powder, salt, sambar powder, mix gently and bring to a boil.
Remove from heat and serve hot.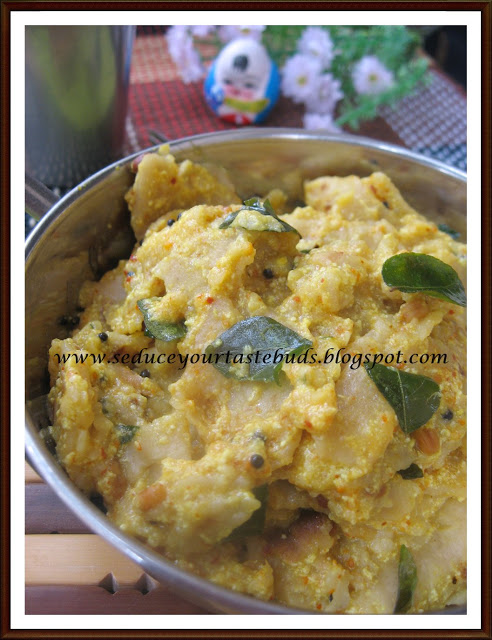 Note :
The chapathi pieces absorbs buttermilk, if you feel the dish is soggy, just wait for a few minutes, the buttermilk is sure to disappear.When I made this, it was quite watery almost like a thick khadi. But by the time I plated it for the click, the buttermilk was gone!!
Use fresh curd to prepare the buttermilk.
Tastes best when served right off the stove.
The original recipe uses chilli powder, but I gave it a south Indian twist. Next time I am planning to add Pav bhaji masala.
The quantity you see in the click is what I got from 3 regular sized chapathi. You need lots of chaapthis if you are feeding a crowd,so plan accordingly 🙂
Also take a look at the Blogging Marathon page for the other Blogging Marathoners doing BM#30