Preparing gravies in the microwave is so easy and gets done quickly. I love making different types of gravies to go with roti / chapthi and this one isone of my favorites- the combo of peas and baby corn. This is the third recipe that I am posting under – Microwave cooking for the final day of Blogging Marathon #31, Week 1.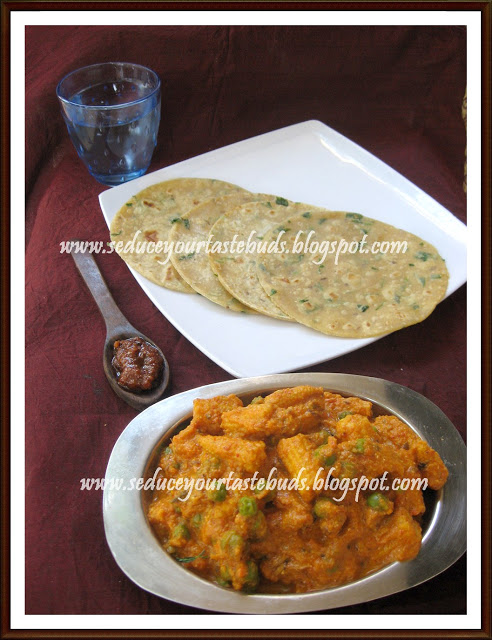 I used :
Baby corn- 10 number, cut into small cubes
Frozen green peas – 1/2 cup, thawed
Garam masala – 1 teaspoon
Red chilli powder- 1 teaspoon
Milk – 1/2 cup
Salt to taste
To make the paste
Tomato – 2, chopped.
Onion- 1, sliced
Garlic- 2 large cloves, chopped
Ginger – 1 " piece, chopped
Poppy seeds- 2 teaspoons
Coconut – 2 teaspoons, grated
Saunf / Aniseed – 1 teaspoon
Cinnamon – 1″ piece
Cardamom- 2 pods
Green chillies-2 slit, chopped
Ghee- 1 tablespoon [You can also use oil]
In a microwave proof bowl, cook the baby corn with enough water, covered, for 8 minutes or till almost done.Into the same bowl, add the peas and keep aside.Just before cooking it further, drain the water.
In another bowl, take the ingredients given under to make the paste and mix well.Microwave on medium for 8 minutes[ or till the tomato is soft] , stirring every 2 minutes. Cool this mixture and grind to a fine paste. Add a little water to grind if necessary.Keep aside.
In a large microwave proof bowl,take the paste, red chilli powder, salt and garam masala. Mix well. Add a little water if the paste is too thick. Cover and microwave on medium for 5 minutes.Stir once in between.
Add the cooked baby corn, peas and milk and stir well to mix.Cover and microwave on medium for 5 minutes. Check in between and stir.Add a little more water to get the desired consistency.[ The milk should not curdle so cook on Medium heat only.] Allow a resting time of 5 minutes.
Remove from heat and serve with Roti / Chapathi.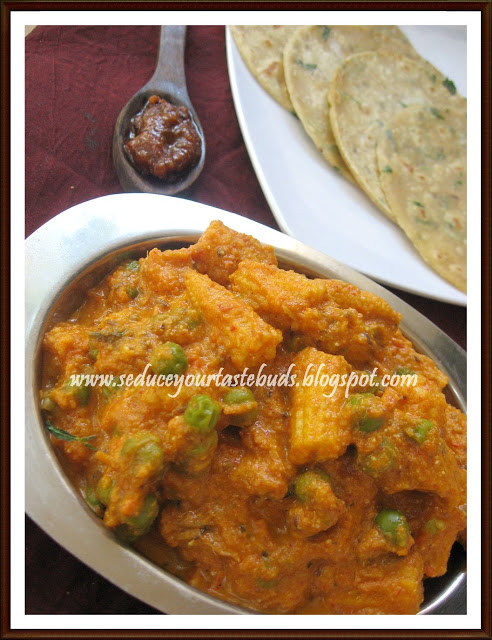 Note :
The cooking time will vary depending on the MW and the quantity. So adjust it accordingly.
Also take a look at the Blogging Marathon page for the other Blogging Marathoners doing BM #31
This Day That Year
2012 – Gobi Masala / Cauliflower Curry
2011 – How to eat/ prepare Dragon Fruit
2010 – A scrumptious lunch
Bon Appetit…