Sometimes, no matter how much you plan, things don't go as planned. I can say this is very true to this post. This was the dish that I planned for the alphabet 'J' and made it almost 2 months ago. It was the time when there were heavy rains every day and when it was not raining , it was dull and cloudy. I made this dish when Lil Dude was asleep and just as I was about to click he woke up and I had to abandon my plans of taking a proper picture for a few hours.
And when her was busy with his toys, I made a hurried photo shoot and tried out different settings on the camera to capture a better picture in the dull climate and managed to do so also.
A few days earlier, I was going through the pics and I felt the clicks could be a little better so started hunting for scallions. The local shop nearby which usually has loads of these, stopped selling it!! So I could not find the scallions there or any where else for that matter.Even this morning,I went looking for it and returned home without any luck.So I will have to do with these pics for now and maybe update them later when I find a bunch of scallions…
To make things worse, I lost the whole folder of pics that I had taken in July! Lil dude keeps playing with the laptop when I am not around and may be it got deleted by mistake. I have searched high and low , yet not able to locate those pics and worst of all , it is not there in my memory card either as I deleted them to accommodate new pics and that was the only folder that did not have a back up!
The reason for this rant is that this is one of my favorite food and I wanted to do a really nice post about it and planned a lot but nothing really worked out as I wanted it to be…..
Anyways,coming to the dish, it is one of my favorite street food and I used to buy loads of them when I used to go out . These were sold on one particular street and I had to walk quite a bit to get there. The thought of eating these pancakes was more than enough to convince me to walk any distance.
Jui Cai Bing is the Chinese Scallion Pancakes and a popular street food too. It is similar to the Indian flat bread – Chapathi and also has similarities with the South Indian parotta.
Scallions and sesame seeds are used as stuffing and the dough is shaped to spirals and then rolled out again.So it is very flaky. Also a very large amount of fat is used to cook it so that it is crisp and absolutely delicious.
Usually the street vendors don't provide a dipping sauce but I made it to go with the Bing. Also I used limited quantity of oil and hence the other portion is not very brown / crisp.
J- Jui Cai[Scallion] Bing [Pancakes]
Theme – International/ Chinese



While there is a confusion or at times the names are interchanged [between spring onion and scallion], here is what I used….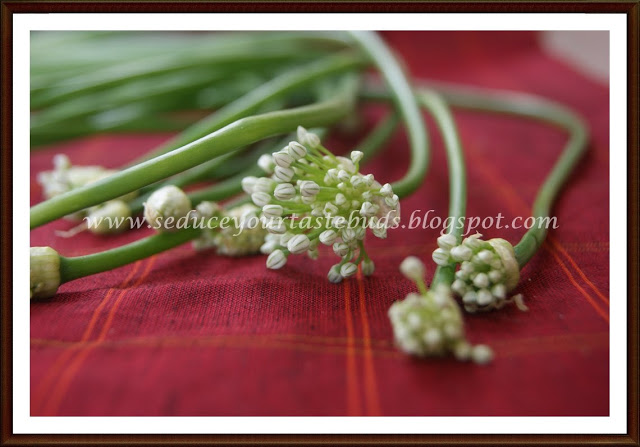 I used:
For the bing
All purpose flour – 1 1/2 cups
Hot water [not boiling hot] – as required
Oil – 2 tablespoons + some more to cook the bing
A few stalks of scallions
Sesame seeds- 2 tablespoons
Salt to taste
In a bowl take the all purpose flour,oil and salt.Add water little by little and knead to an elastic dough.Cover and keep for some time , at least 15 minutes.
Chop the scallions as finely as possible and add the sesame seeds and mix well.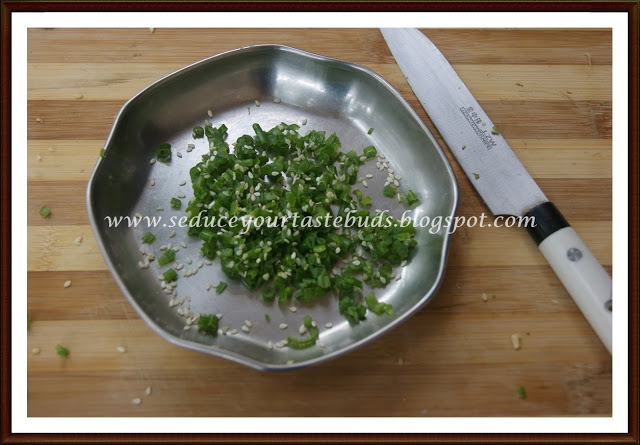 Divide the dough into 2 or 3 balls.And roll out into discs. They must not be too thin or too thick.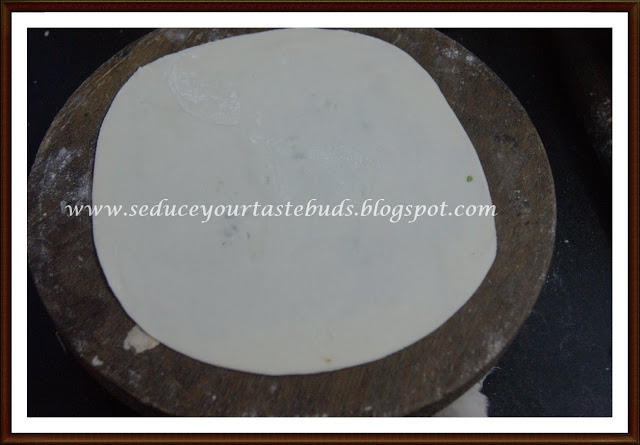 Spread a portion of the scallion mixture and start rolling from one corner.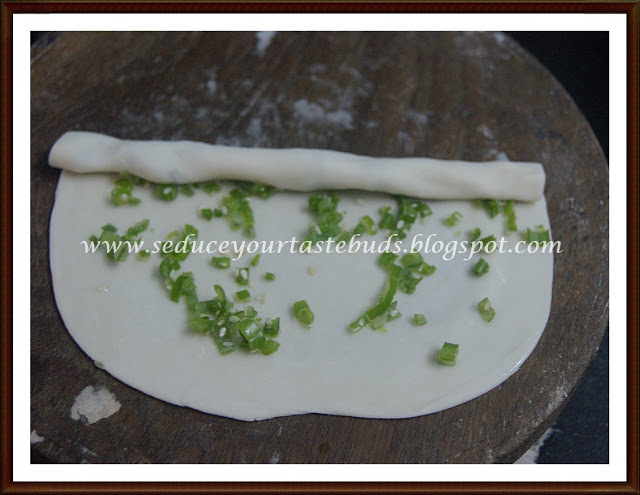 Coil the roll and seam the edges so that the filling does not fall off.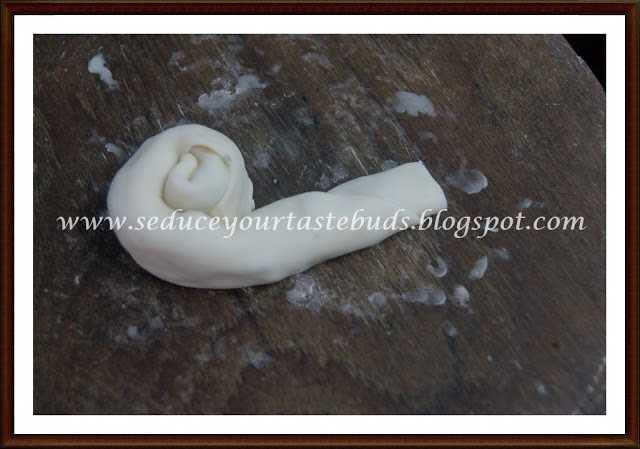 Flatten it a bit and again roll out into a disc.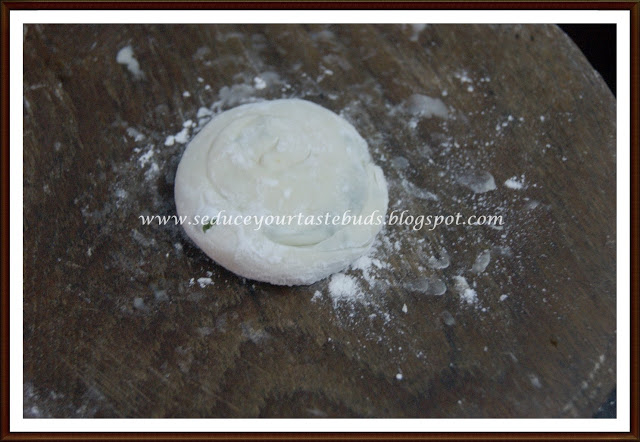 Heat a griddle and add oil around it and cook till brown spots appear on both sides.Usually around 1/4 cup of oil is used per pancake! If you add more oil and cook on medium heat, it will be brown on both the sides. I used less oil and hence got only the brown spots…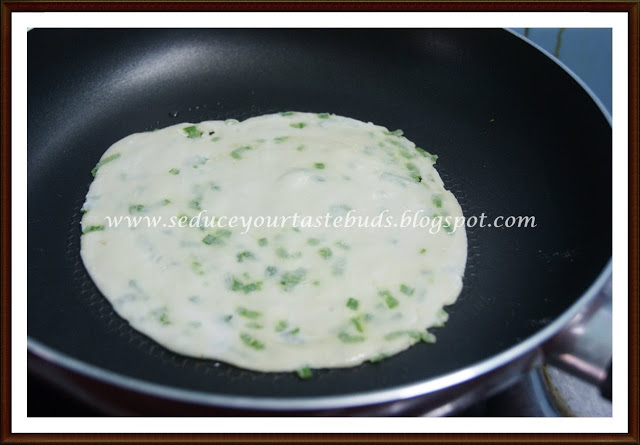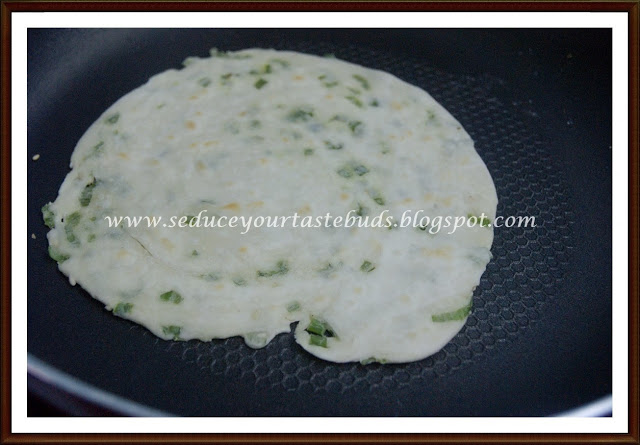 Remove from heat and serve ,cut into wedges with a dipping sauce or just enjoy it as such…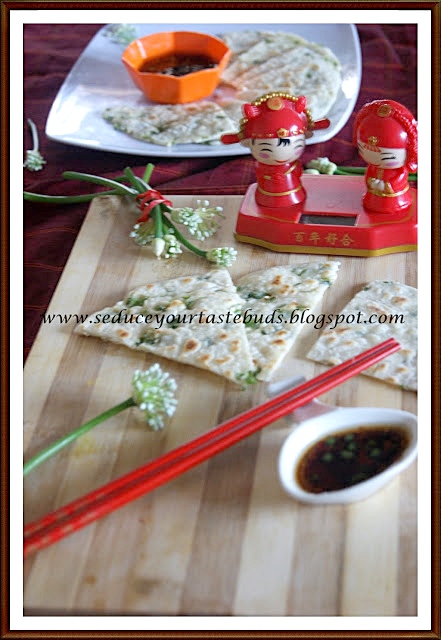 For the dipping sauce
I used:
Soy sauce- 1 tablespoon
Sesame oil- 1 tablespoon
Water – 1 teaspoon
Red chilli flakes- 1/2 teaspoon
Finely chopped scallions – 1 teaspoon
Minced ginger- 1/4 teaspoon
Grated garlic- 1/2 teaspoon
Mix everything together and let it stand for a few minutes before serving. This also goes well with dumplings.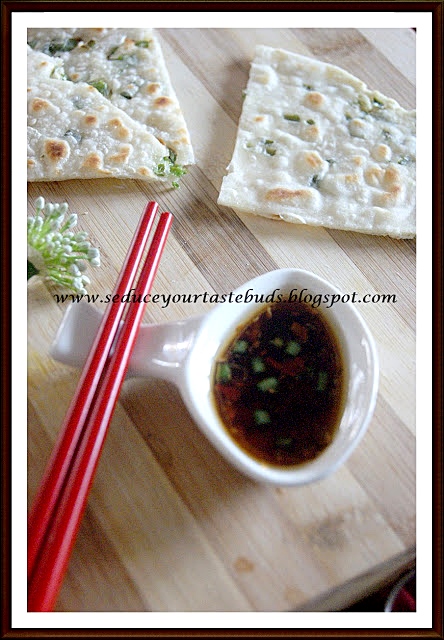 F
–
Falooda
– Ice cream Falooda And Kulfi Falooda – Regional / N.Indian