Last summer , we had been to my SIL's place. I dread going there for two reasons. The first being, my SIL's hubby literally stuffs me up with all the street food he can find and my SIL cooks up a feast for each and every meal. It is like we are doing nothing but eating the whole day! Well, this reason to dread is actually a fun reason and so full of love…
The second reason [which is actually the 'real' reason] is the climate. It is hot throughout the year and in summer it is super hot! So this summer,knowing my aversion for hot climate SIL's hubby made sure to cool me down with loads of ice creams and juices.And this sherbet was one of them.
The usual way to serve this is mix a few teaspoons of the concentrate in a glass of water, add ice cubes and gulp down.But he added this almond gum,[something that I searching for to make
Jigardhanda
, a famous street food] and it was all the more great. I shamelessly asked him to buy me a pack,which was promptly dealt with and I can now enjoy using it!!
Now to add my touch to this drink, add put in some basil seeds and the drink was stunning!!!
N- Nannari Sherbet
Theme – Misc / Street Food or Regional!
During summer, this drink is often seen on push carts with the vendor being surrounded by more than a dozen people waiting to have their share and cool off the heat.
This is made with the root of the plant which is quite a process .So I used the Bottle of concentrate that SIL got for me.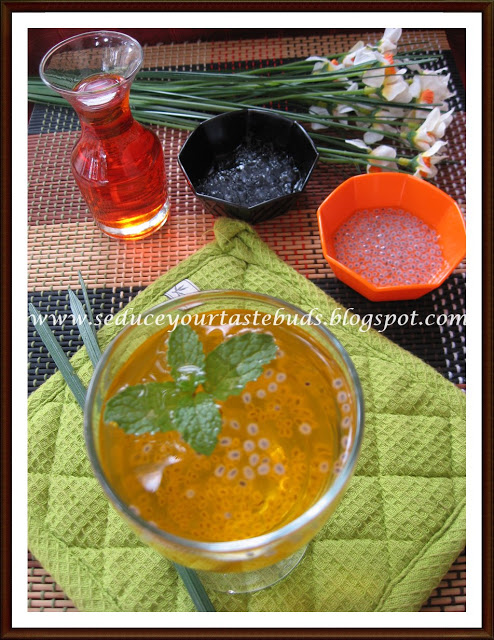 Now I just couldn't go straight to the simple recipe without giving you some fact….
Nannari is known by the Scientific name – Hemidesmus Indicus.
The other names include – Anantamuulah / Balyam / Dughgarbhaa[Sanskrit] / Anantamul [Hindi] / Narunrrndi / Nannari [Malayalam]/ Sugandhi[Telugu],Anamtamula [Kannada] / Suguddimalo[Odiya] etc…
This root is a very important Ayurvedic drug.
It is used to pacify the pitta dosha[It is the hot,sharp,soup, penetrating quality of the body constitution] and hence used to reduce the burning sensation, treat diarrhoes, fever, dysentry etc.
It strengthens the immune system.
It is an excellent body cooler.
It is also a diuretic and strengthens the urinary system
It purifies the blood
It is used to treat impotence and infertility.
With so man health benefits, lets add some more to this drink…
Badam pisin/ Almond gum looks like this….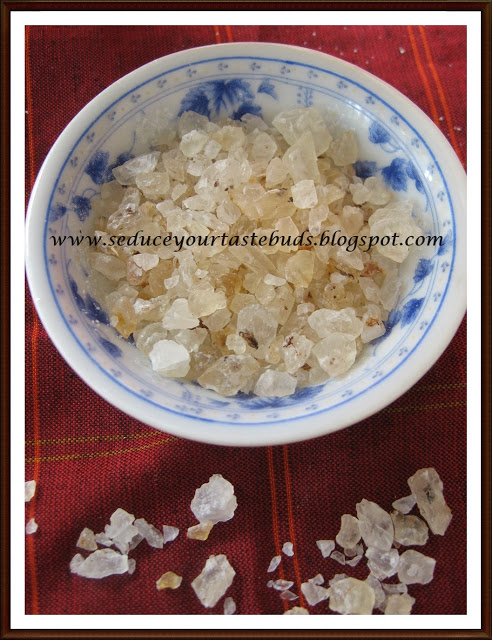 Almond Gum is also a body coolant and is usually added to the famous Jigardhanda and other beverages. A few pieces are soaked, usually for about 8 hours, and then added to the drink. It is basically tasteless and feels like jelly.
The benefits of almond gum include
It is a body coolant
When this is mixed with milk and taken regularly, increases the body weight
This was the quantity of almond gum that 1 soaked in 1 cup of water…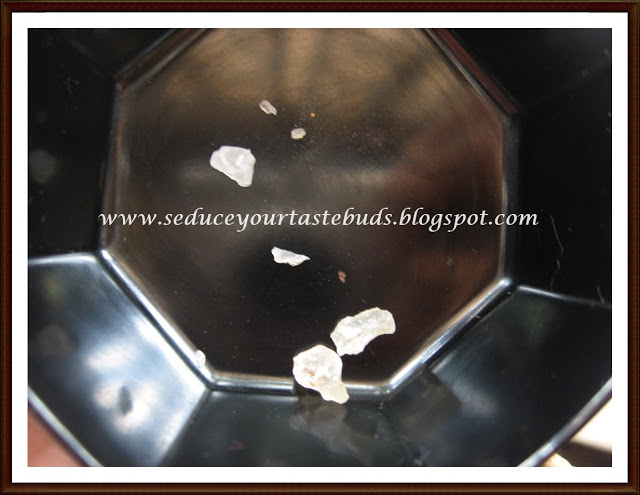 And see how much I got!!!!!!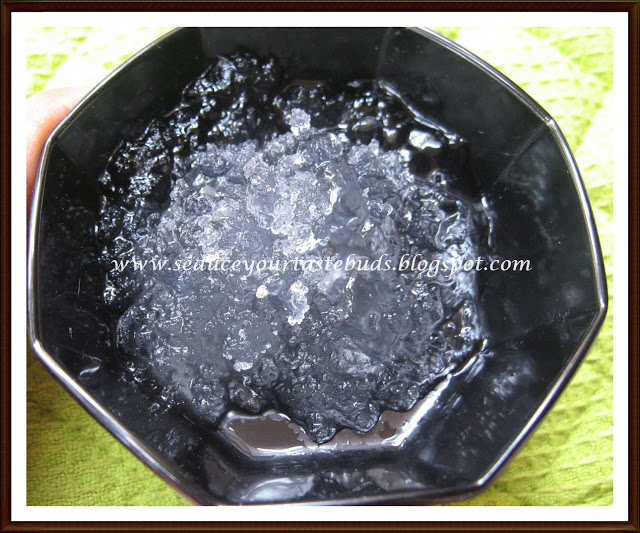 The next ingredient that went into the sherbet are the basil seeds….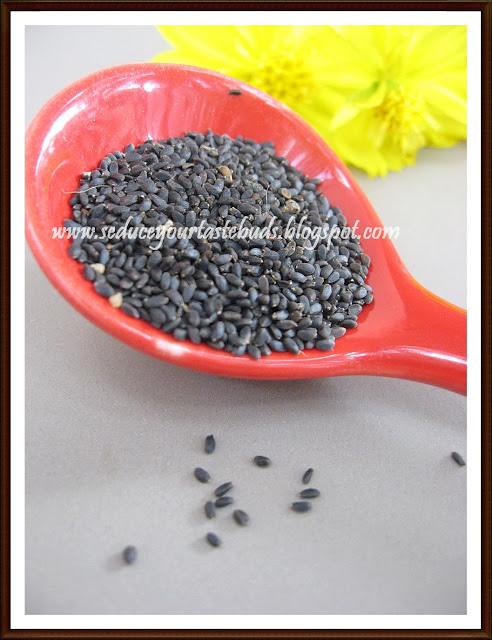 This too is soaked in water for a few hours so that swell up….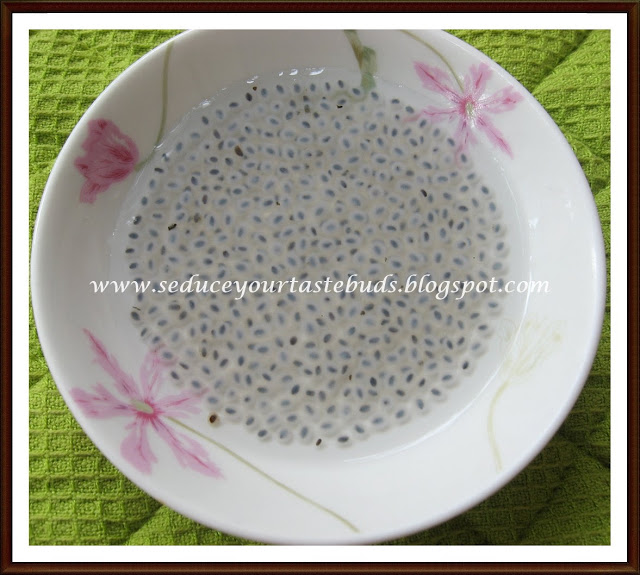 Basil seeds are also called Subja seeds, sabja seeds, Takmaria seeds,thukamaria seeds etc and is one of the important ingredient of the famous Falooda.
Basil seeds are black in color, resembling black sesame seeds, only a little smaller.When soaked in water they 'bloom' and attain a jelly like structure and has a light crunch to it.They have no flavor of their own.
These seeds are said to aid weight loss, overcome skin infections and relieve stress. It is also a body coolant and hence added to a variety of beverages and consumed in summer.
So into that sherbet went a whole load of body coolants!! I think this may not be particularly suitable for people prone to bronchitis, or other lung related issues, asthma, wheezing etc, as it may cool the body and aggravate the condition…
Now to the recipe…
You need:
Nanaari concentrate [It has sugar, so no need to add extra]
Chilled water
Soaked almond gum
Soaked basil seeds
Lemon juice
Mint leaves to garnish
In a glass add 2 teaspoons of the concentrate.
Put in a tablespoon[or more of the almond gum]
Top it up with water.
Add a little lemon juice.[First add 1/2 tsp,check the taste and add more if needed.]
Serve garnished with a teaspoon of basil seeds and a mint leaf.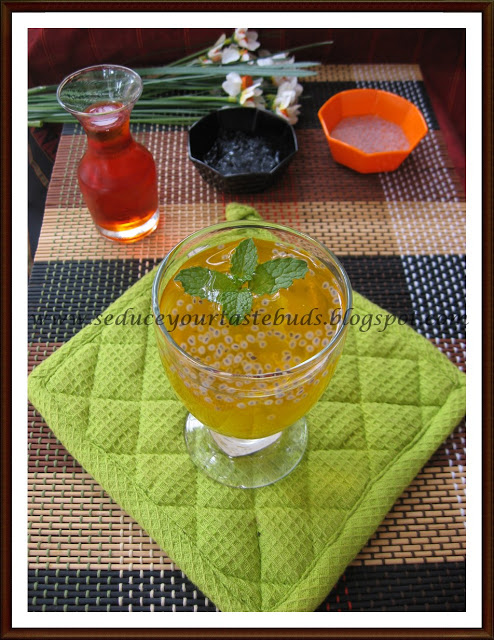 Isn't this drink is way better than all those soft drinks that are expensive and not good for the body!
Take a look at the Blogging Marathon page to check out what my friends are cooking in this A- Z series…




F
–
Falooda
– Ice cream Falooda And Kulfi Falooda – Regional / N.Indian
document.write('