I know that most of my blogging Marathon friends would have guessed that I would be posting an Oats based dish for the alphabet 'O' today. I wanted to surprise them with a 'non-oats' recipe! And the choice for this alphabet happened by chance!I was browsing to find a recipe for another alphabet and this one popped up!
I put my Oats-Banana Quick Bread in the drafts so that I can share this tasty curry from Odisa.
O – Olo Kobi Bhaja
Olo Kobi-Turnip Bhaja -Stir fry
Theme – Regional / Odisa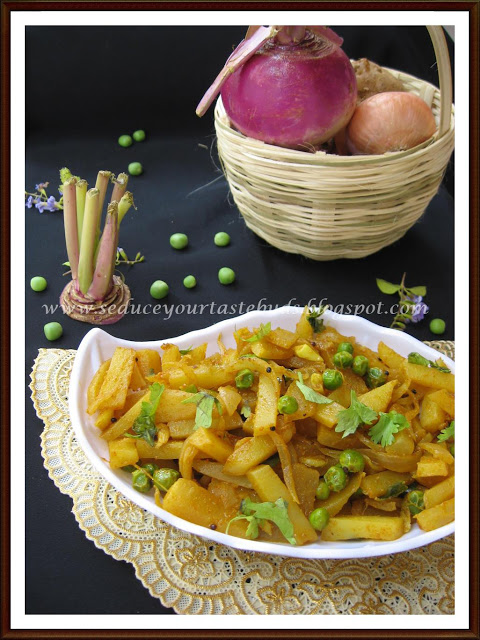 I used:
Turnip- 2 medium sized
Potato-1
Onion-1
Fresh green peas- a handful
Mustard-1 teaspoon
Turmeric powder- a pinch
Bay leaf-1
Salt to taste
Oil-1 tablespoon
Coriander leaves to garnish
For the masala paste :
Oil-1 teaspoon
Onion-1,chopped
Garlic-3 cloves,minced
Ginger- 1″ piece,minced
Green chilli-2,slit
Heat oil to saute the ingredients for the masala paste. Add all the ingredients and saute till the onion is soft. Cool and grind to a smooth paste. I did not add water. You may sprinkle a little water if needed but the paste should not be watery.
Peel and cut onion, turnip and potato into even sized slices[like you do for french fries].Keep the potato in a bowl of water till you get the other things ready.When you are ready to prepare drain the water and use the potato.
Now for the stir fry, heat oil in a pan and add the mustard and bay leaf.
Add the sliced onion and saute for a few minutes.
Put in the potato,turnip, peas, salt, turmeric powder, masala paste and sprinkle a little water.
Cover and cook till the veggies are soft. Add a few sprinkles of water in between and cook on medium flame and don't forget to stir once in a while.
Remove from heat and serve garnished with coriander leaves.
A good side dish with steamed rice and piping hot rasam…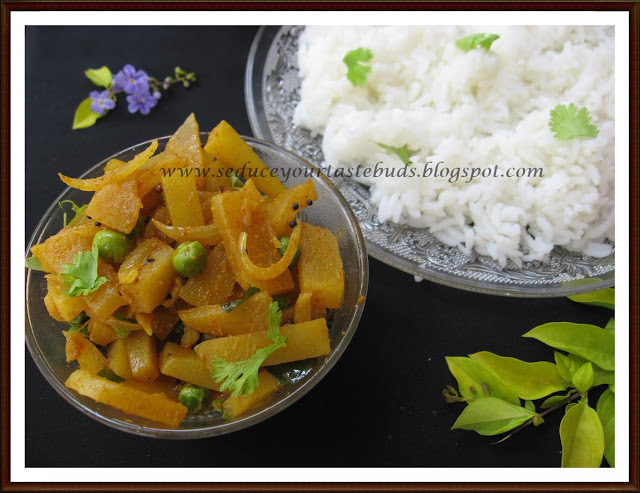 Note:
The original recipe uses the raw masala paste. i.e. no sauteing before grinding.
Also the onions were added along with the other veggies instead of sauteing it first.
Red chiilies were used in the original recipe but I used green chillies. You can adjust the spice level to suit your taste.
I liked the light crunch in the turnip but you can cook till all the vegetables are soft.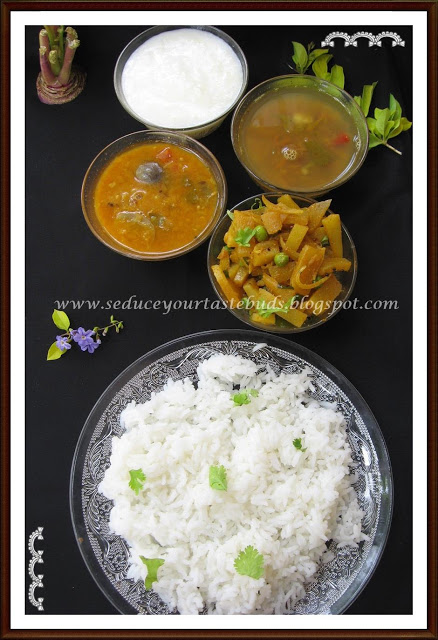 We had this Olo Kobi Bhaja with Rice,Mixed Vegetable Sambar, Rasam and Curd..
Take a look at the Blogging Marathon page to check out what my friends are cooking in this A- Z series…




F
–
Falooda
– Ice cream Falooda And Kulfi Falooda – Regional / N.Indian
N – Nannari Sherbet – Regional / Tamil Nadu
document.write('