Finally, we have come to the end of this month long A-Z mega Blogging Marathon! Its so hard to believe that its over.So many months of preparations and expectations and now this is the last post in this series!
I did learn a lot of things this month. A lot of new recipes, food stuffs and techniques were showcased by a strong group of 25+ bloggers!
So for the final recipe in this series, I have this filling and healthy soup.Once again this is from one of the treasures I picked up in an shop that sold used books. The book is –Fusion Food-Vegetarian Special by Komal Taneja . I have posted a review here and I had written that this was one the recipes that I sounded interesting and that I would try it out soon. I have already posted the Italian Bhel Puri Salad from this book for the letter 'I' in this A-Z marathon..
Z- Zensen Soup
Theme – International / Fusion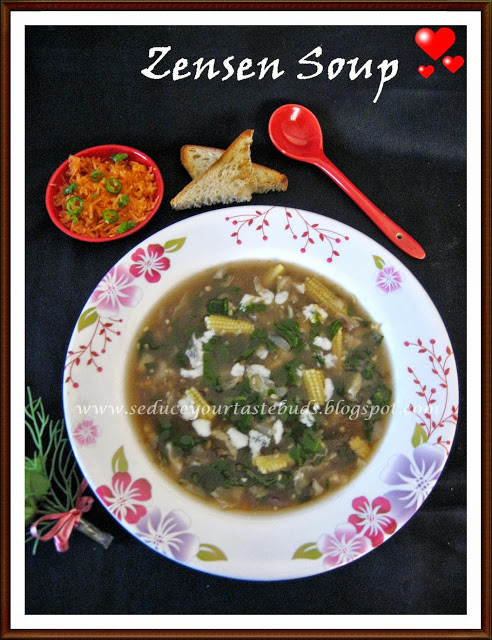 I used:
Spinach leaves- a small bunch,cleaned and roughly chopped
Baby corn-6 pieces,cut into 2″ pieces
Spring onions- 5 stalks,chopped
Cabbage-3 leaves, finely chopped
Tomato -1 , large, blanched and chopped
Oregano-1/4 teaspoon
Corn flour- 1 tablespoon dissolved in a little water
Freshly ground peppercorns to taste
Salt to taste
Butter-1 tablespoon
Fresh cream to garnish
1.
Melt butter in a pan and
saute the spring onions, green and white, for a couple of minutes. Add the
vegetables including tomato and saute for 2 minutes. Then add the spinach and
stir well.
2.
Dissolve the seasoning
cube in water and add to the pan. Bring to boil and reduce the heat .Simmer
till the vegetables are cooked.
3.
Add the corn flour
mixture and stir well. Simmer for a couple of minutes till it thickens
4.
Season with oregano and
pepper and remove from heat.
5.
Serve in bowls garnished
with a swirl of fresh cream…..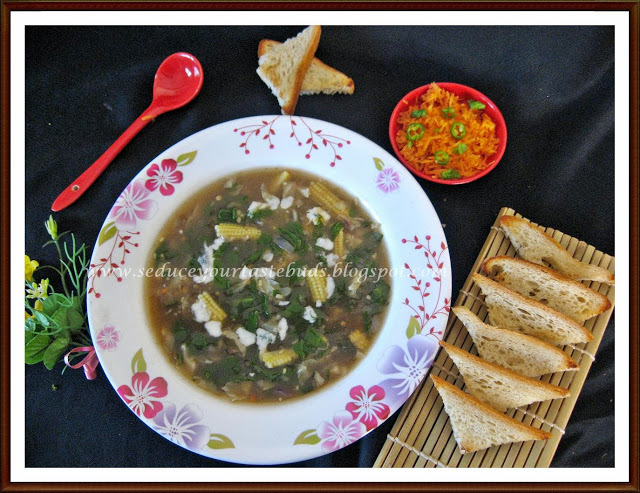 Note:
I did
not add salt to the soup. I felt the taste was right , maybe because of the
seasoning cube. This addition of seasoning cube is not there in the original
recipe.
Take a look at the Blogging Marathon page to check out what my friends are cooking in this A- Z series…




F
–
Falooda
– Ice cream Falooda And Kulfi Falooda – Regional / N.Indian
N – Nannari Sherbet – Regional / Tamil Nadu
O – Olo Kobi Bhaja – Regional / Odisa
document.write('