I have a magic word to make my kids eat! I know you have that word too…Yea,yea, Its 'Nutella'. The kids and me are crazy over this delicious spread.But that comes with a small problem. This magic word burns a really huge hole in the pocket, yet it is irresistible!
Last week I was looking for some spreads and I found a chocolate peanut butter recipe . I googled for the recipe and variations and found a lot of ways to make this and I chose to adopt the easiest of them!
I make used to make the Regular peanut butter at home and that was until we discovered the taste of Nutella. Now I am wondering why I never thought of the chocolate version of my 'once upon a time' favorite peanut butter!
This recipe hardly takes 15 minutes of your time and you can really feel happy and proud to taste something soooo good,something that is not expensive and can be done in a jiffy!!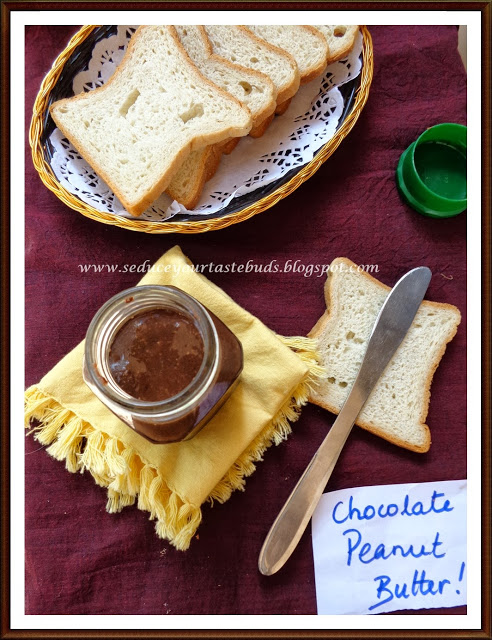 I used:
Roasted peanuts – 1 cup[without skin]
Powdered Sugar – 1/4 cup
Cocoa powder, unsweetened – 1/4th cup
Vegetable oil – 3 tablespoons
In a blender jar/ food processor/ mixie, take the peanuts, and grind it well. It will be powdery first .Scrap the sides and run it again.Slowly it will turn pasty.
Add the oil and keep scrapping the sides and run the blender/ mixer/food processor till you get a really smooth paste.
Add the sugar, cocoa power and blend well for a couple of minutes.
Scrape out the contents into a container and enjoy this yummy peanut butter with your bread/ toast/ roti or crackers or as such!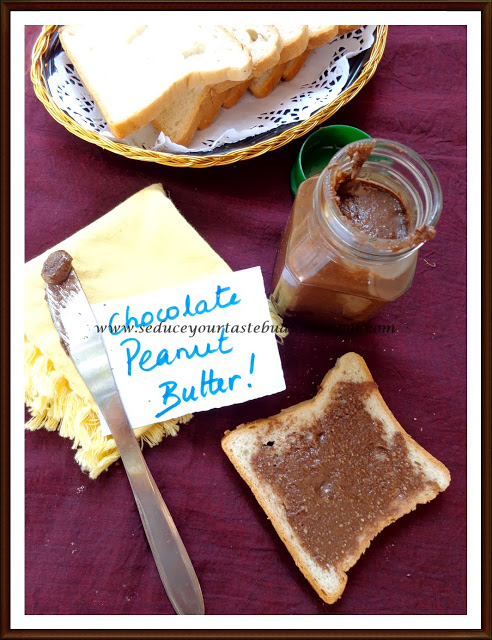 Note :
I did not make a smooth paste, I let it be a little grainy coz the lil ones at home prefer it that way.
The quantity of cocoa powder and sugar is my own approximation. The spread was sweet but not very sweet.
Also you can add more oil to get a more spreadable consistency.
After step 3 you can add a handful or more of peanuts and run the blender for a minute to get chunky chocolate peanut butter.
The mixie will heat up so give a break for a few minutes in between.
The peanuts that I used were slightly salted.So I did not add salt. If you prefer, you can add a large pinch of salt in step 3 in case you are using unsalted peanuts.
Lil Dude who is 20 months now, calls this 'Nu-na' .He is still under the impression that this is Nutella and I am no mood to enlighten him!
This is my kids favorite spread so I am taking it with me to
Srivalli's Kid's Delight Event – Kid's delight Party
and this is my theme for week 2 of Blogging Marathon # 33…..
This also goes to Spicy Foood which is hosting MLLA 64, an event started by Susan and now carried on by Lisa…
Bon Appetit…