Book fairs are an interesting place to visit.Not only you get to see so many books under different genre, you also get books at discounted prices. In one such book fair, I got Tarla Dalal's – The delights of Vegetarian Cooking…
Lil Angel was 3 months old and I was desperate to go out for a while. I saw an ad mentioning a book fair across the city. Mom and dad who sensed my plight offered to come with me. While mom sat back in the car with Lil Angel in her arms, dad and myself went in eagerly to see the books.
To our dismay, the fair had just started that morning and the people in charge were just getting the books out of the huge card board boxes. There were book everywhere but none were arranged thematically. I did not know where to start. We walked over the huge hall finding astronomy mingling with philosophy and cookery books in the company of DIY kits!
The cookery books mostly were the ones that were Westernised and had a whole of of Non veg dishes and the bakery books had ingredients that I could not find in my place.At last I found one Tarla Dalal's book and grabbed it as if someone else would take it off before I could take it off the table!
By then Lil Angel got restless and mom wanted me to come and pick her up. So the shopping ended there and I promised myself that I would visit that fair in a couple of days as it was going to be there for almost a fortnight. Sadly, I never went again…..
So here is a recipe from the book I got that day….
I used:
Cooked Basmati rice -2 cups [Grains should be separate]
Tomatoes – 2,chopped
Capsicum-1,small,chopped
Onion-2, sliced
Garlic-3 cloves,chopped
Cabbage, shredded- 1 cup
Soy sauce- 1 teaspoon
Chilli powder- 1 teaspoon
Salt to taste
Oil- 2 teaspoons
1.Heat oil in a pan and put in the onions and saute till it turns light brown. Add the cabbage and saute for 2 minutes. Next put in the garlic and capsicum and saute for 2 minutes.

2.Add the tomatoes and cook till the tomatoes are soft. Add the soy sauce and chilli powder.

3.Check for salt[soy sauce is a little salty] and add a little if needed. Next in goes the cooked rice. Mix well and serve.

Note:
In the original recipe rice is cooked with the vegetables. I made this with cooked rice .So this is an adaptation of the original recipe.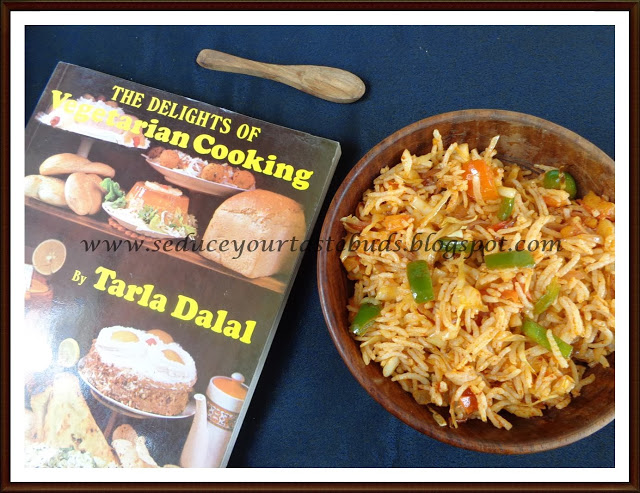 We had this with plain yogurt. The kids liked the rice dish as it was not very spicy and looked colorful too…
This post is for the Cookbook Challenge of the month…
And since this is a very easy breezy recipe and my kid's enjoyed eating this I am packing this off to Srivalli's Kid's delight Party….
Bon Appetit…