This week I had nothing prepared for Cooking From Cookbooks Challenge. I had a few raita recipes bookmarked and I made one of them today.
Raitas are curd based condiments that go well with flavored rice varieties/ roti or can be enjoyed on their own as such.
This one is from Aval Vikadan's – 30 corn recipes book. I changed it a bit to suit our taste.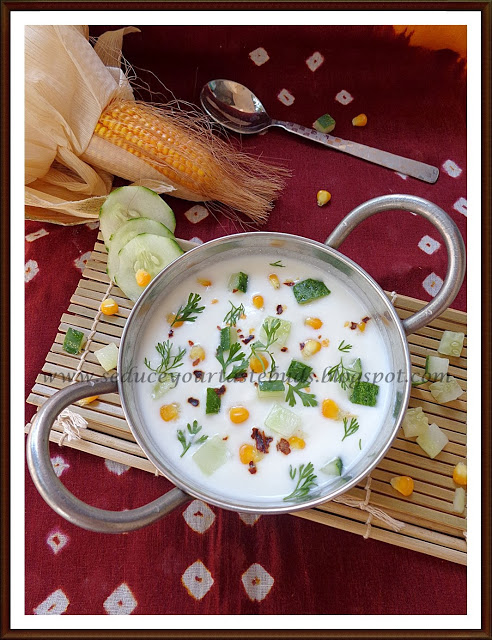 I used:
Boiled corn kernels – 1/4 cup
Finely chopped cucumber- 1/4 cup
Fresh yogurt / curd- 2 cups
Grated ginger- 1/4 teaspoon
Red chili flakes- 1 teaspoon
Salt to taste.
Coriander leaves to garnish
Whisk the curd with salt.
Add all the ingredients and mix well.
Serve garnished with chopped coriander leaves.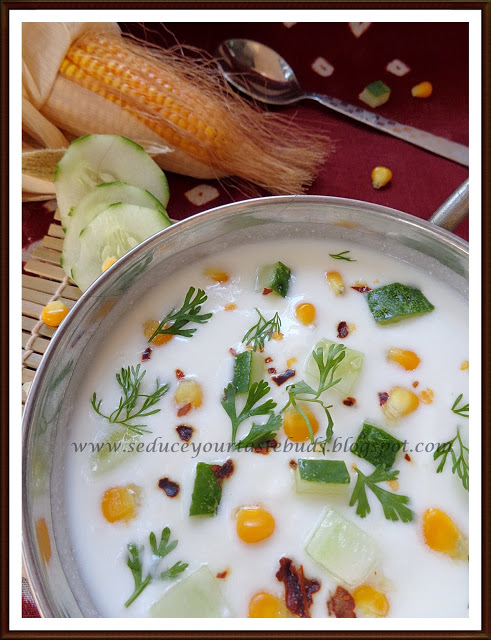 Note:
You can add a seasoning of mustard, cumin seeds along with green chilies.
A bit of grated coconut added to the raita will make it richer and more flavorful.
This post is for the Cookbook Challenge of the month….