What is Christmas without cakes!! I had initial plans to prepare an eggless fruit cake and that had to be put on hold when my oven broke down last week. A weekend visit to mom's place ended up with me spending time with the microwave than with my mom!
A few years back when we lived in China, I used to make eggless bakes in the microwave often since I did not want to buy an oven that I could not bring back with me. I converted many oven baked cakes into the MW versions.After that when we came down to our hometown, I got an OTG and started baking in that and almost forgot the microwave baking.
So when it came to 'Bookmarked theme' for this week's Blogging Marathon, all I had to do was search in my bookmarks page for a MW version of cake and luckily I found this one!!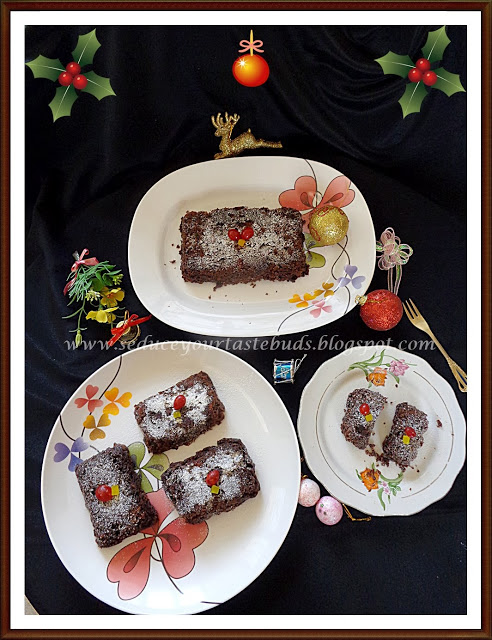 I used:
Source: The Yum Blog
All purpose flour- 1 cup
Sugar- 3/4 cup
Butter- 1/2 cup
Milk powder- 1/2 cup
Cocoa powder- 1/4 cup
Dry fruits – 1 1/4 cups
Milk-1/2 cup
Yogurt/ curd – 2 tablespoons
Baking powder- 1/2 teaspoon
Baking soda -1/4 teaspoons
1.Chop the dry fruits. I used glazed cherries, tutti frutti and dates.Soak the fruits in warm milk for an hour. Powder sugar and keep aside.

2. In a small cup, add the baking soda to the curd and keep aside. It will froth up. sieve the flour and baking powder. Cream the butter with sugar and keep aside.

3.Into the bowl in which the fruits have been soaking, put in all the ingredients and mix well . The batter was very thick, so I added a tablespoon of Boiling water. Transfer portions of the dough into microwave safe bowls/ pans [see note below] and Microwave at 60% power for 3 minutes or till a cake tester comes out clean.

Dust powdered sugar on top and add a few cherries / tutti frutti as garnish and serve!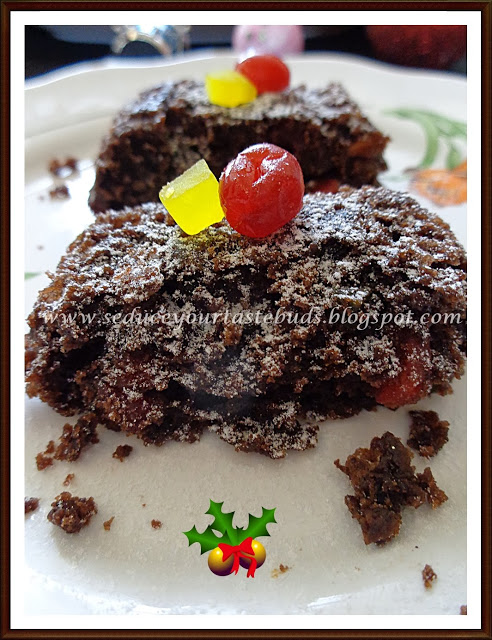 Note:
I used 6 x 4 1/2 and 5 x 3 1/2 inches pan. I got one big cake and 4 small cakes with quantity of flour. The smaller ones were easy to serve!You can bake in a larger pan too as a single cake.
Do not fill more than 1 1/2 inches of batter in the pan. the original recipe states that if more batter is put in the cake gets dry and crumbly. I followed this rule and the cake was yum!
I did not grease the pans and the cake did not stick to the pan. If you are not sure about this, grease and dust the pan as you would normally do while baking in a regular oven.
I baked the smaller ones on 60% power for 3 minutes and the larger one for 7 minutes at 60% power.My microwave is of 1200 watts.
Timings will vary so check the cake every 30 seconds after 2 minutes. If baked for too long the top becomes hard.
If the cake is not cooked around the edges leave it in the microwave for a few minutes, it will get cooked up during the standing time.
You any dry fruit of your choice.
You can also add nuts of you choice to the batter.
You can also add a bit of cardamom power/ cinnamon powder along with the flour.
The cake keep well for 3 days.After that I am not sure as the cake disappeared by then 🙂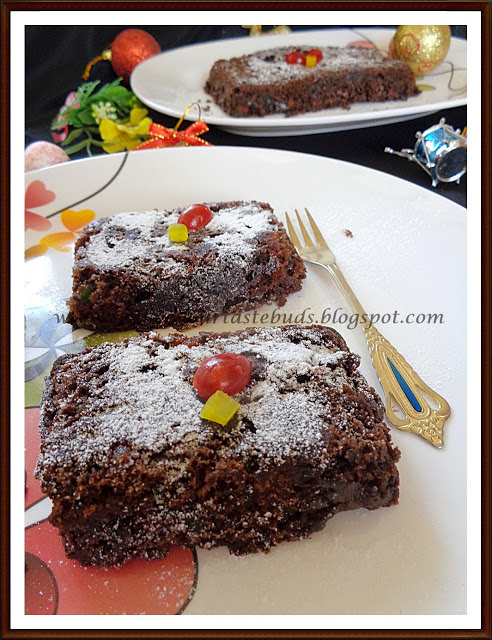 Take a look at the Blogging Marathon page for the other Blogging Marathoners doing BM #35

This also goes to Nayna's Let's Cook Christmas Party Foods , Nupur's Christmas and New Year giveaway…
Here are the other bakes that are a part of this Bake- A – Thon group….
document.write(");
Bon Appetit…