A fortnight back we visited my grandparents.It was a surprise visit and they were speechless when they saw us by the gate! They were so happy to see the kids and I enjoyed watching them hug the kids and play with them. My grandparents though frail, are very eager to be with their grand kids and great grand kids!
So while serving idli, grandma fondly asked me if I would like to have some podi [lentil spice mix]. I readily agreed. It was ages since I ate her podi. I expected her to serve the usual idli milagai podi but she got this spicy powder made with lentils and desiccated coconut. The hot idlis and the podi was like a match made in heaven!
After tiffin, I asked her for the recipe. She said fry this and this and then add that and grind together! Then I had to ask her to tell me the measurements and she looked at me as though asking-What measurement?!Just use your hands to measure!!
But fianlly she gave me the measurement and also packed the whole jar for me to carry back and enjoy. Lil Angel and Lil dude loved to have this with idli and dosa and so did I…
Here is my grandmother's recipe for this Kobbari Pudi. Kobari is dry coconut also known as Kopra / Copra.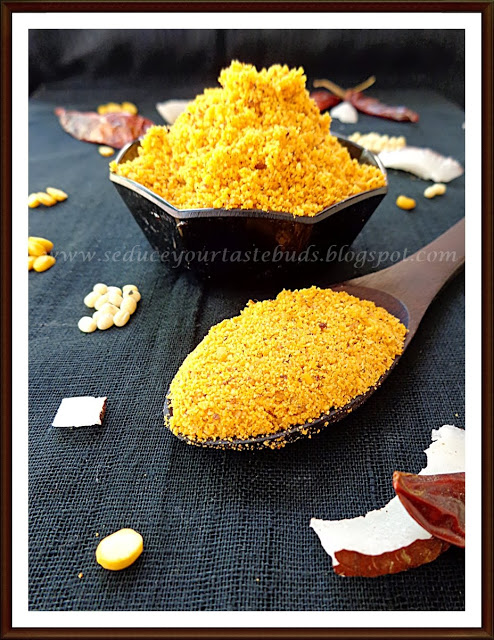 You need:
Grated Copra / Dried coconut – 1 cup
Urad dhal- 1 cup
Gram dhal- 1 cup
Red Chili- 4[adjust to taste]
Asafoetida powder- a large pinch
Salt to taste
Dry roast the urad dhal , gram dhal, red chiliestill the dha turns light brown. Keep aside.
Roast the grated copra for a few minutes and keep aside.
Grind everything together along with salt and asafoetida powder.While grinding, do it in short bursts – few seconds at a time so that the copra does not become pasty.
Spread on a plate to cool a bit
Store in an air tight container and serve as a side dish with idli / dosa….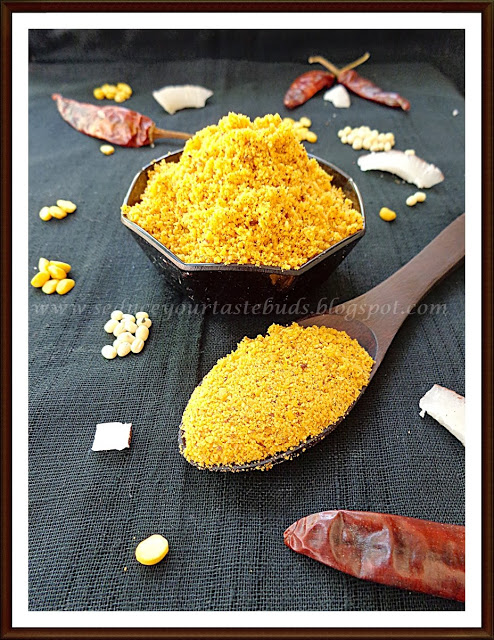 This post is for the Cookbook Challenge of the month….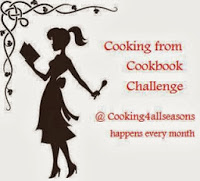 Bon Appetit…