This post is the one that I am always eager to write! A post that signs out the year that has gone by and welcomes the new one…..
2013 started off with a very happy win. I was the lucky one to get Rinku Bhattacharya's- The Bengali 5 Spice Chronicle book in a giveaway @ Mharo Rajasthan's Recipes . So I can gladly say that it was a winning start in the blog front!
The highlight of this year is my trip to Ahmadabad for the BM #25 meet. Though were in regular contact through calls , messages and mails, it was finally the time to put a face to each of those names! I joined the others from the second day and it was the best thing of the year! You can read about it here – Trip of a lifetime, Day 2, Day-3. One can never forget Vaishlai's hospitality and the efforts she and her family took to keep us comfortable!
Then it was another win! With the fresh tuar dal that I brought back from my trip to Ahmadabad, I made this Green Tuar Gravy and sent it to Susan's My Legume Love Affair. And I won this Silicone Candy,jelly, chocolate mold and Susan also sent me this beautiful book-Field guide to cookies!
And in June, I sent this Bread Bajji mini bites to Kalyani -who hosted the Kids delight event and I won Sanjeev Kapoor's Low Salt Cookbook!
And just around midnight,31st December 2013, Siri sent me a mail informing me that I had won a $25 amazon card in her giveaway!! Wow! What a way to end the year and start a new one!!!!!
Another achievement is that I have completed 1300 posts with this one in 5 years with a total of 930,594 page views!
I baked around 80 chocolate cup cakes for a kid's X'mas party and it was a great hit! This has given me new confidence in baking and baking against orders as well….
After all this bragging, I will tell you the stats that I love to share….
I hosted some events in my blog
This year too I received books for reviewing and those are
And then I did 2 long Marathons initiated by Srivalli, the one that we do all the time!Only this time it was for a whole month of non stop blogging! I loved the A-Z themed marathon and it was so nice to see every one putting up their best dish forward!
Even though I was not sure how I would be able to manage, I joined in for the Bake-A-thon and completed it successfully!
I am still a part of the cooking communities that joined earlier like – Taste and Create, Blogging Marathon, We Knead to bake, South Vs North Challenge, Cooking from Cookbook Challenge,Indian Cooking Challenge,Eggless baking group….
I usually do the favorite post for each month in this post but this year I am just letting it go.The reason being,according to me, all the posts that I did this year are special to me. With two lil ones at home and the frequent power cuts, I feel it is an achievement to have kept blogging all this time in addition to taking care of the household.
But here are a few random pics from each month…..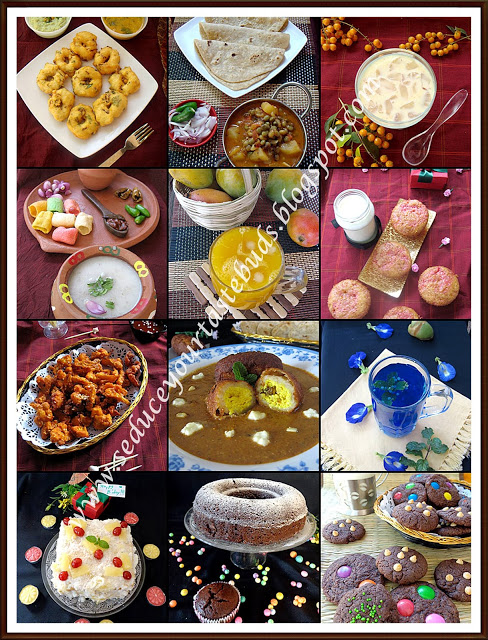 As for the resolution,I prefer not to make any hard and fast ones this year. I am going to take things as they come. Isn't is always better to make resolutions through out the year and try to stick to them instead of making it right on the first day of the year and then struggle to keep them all up!
I did buy a lot of cookbooks this year and perhaps I will cook from all of them and those that I have been accumulating for the past several years. Then maybe discover new cuisines and try to bake more than what I am doing already.
Last but not the least, I would like to Thank each and every one of you who kept sending me the encouraging vibes through messages, comments and mails. Also a big hug and Thanks to the members of Blogging Marathon,Eggless baking, We knead to Bake, SNC ,Taste and Create,Bake-a-thon,ICC,CCC for the dropping by my space and also for the inspiration and the awesome friendship that I have earned through this blog of mine…
I would be failing in my duty if I did not Thank my folks at home and also my parents who encourage me to keep going. And also to all those people who are brave enough to try the dishes that I cook 🙂
This post is being sent to Srivalli's 'Best of the year 2013' event.
Also check out how the past years were in these posts…2012 , 2011, 2010,2009,2008
Happy Blogging…