I have a lot of bookmarks!!And by 'lots' I really mean really, really lots that I have literally lost count! What's more funny is that I have several bookmarks for the same recipe !That means so many variations to choose from!I have been trying to strike out a few by cooking them for the blog events but the bookmark count is increasing at alarming speed!
A few weeks ago,Srivalli and myself got talking about Indian Cooking Challenge and I was really guilty that it was quite some time that I participated in it. I was telling her that I will be doing the next month's challenge and she asked me to suggest something for it. I happily agreed!
From my bookmarks, I found this Dokar Dalna recipe that I had meant to do long back. Luckily she okyed my choice and here I am one more of my bookmarks crossed out….
Dokar Dalna is one of the famous vegetarian recipes in the Bengali cuisine. It is one of those recipes that does not call for onion / garlic thus making it an excellent dish to be prepared during fasts.It is said that the Bengali widows were not allowed to eat onion and garlic and this dish is their contribution to the bengali cuisine.
The term 'dokar' means to cheat and I have no idea why such a tasty dish should be given such a name!!!
For this challenge,I chose Sandeepa's recipe and made a few tiny changes in the original recipe.
I used:
Adapted from : Bong Mom's Cookbook
Soak 1 cup Channa dal for 3-4 hours. Drain and grind along with a 1/2″ piece ginger and 2 green chillies, broken, salt to a fine paste. Also grease a plate with oil and keep aside.

Heat 1 teaspoon of oil and add cumin seeds. When it splutters add the ground lentil paste and cook for a few minutes till most of the moisture dries out ,yet the mixture is soft and not crumbly.As you cook ,it should come off the sides of the pan.It would be wise to use a non stick pan for this purpose.

Immediately transfer the paste onto the greased plate and flatten it out .Let it cool for sometime and marks squares and remove them from the plate one the cakes have cooled down. Do this carefully without breaking them .Heat oil for deep frying and fry the lentil cakes gently without breaking them .Remove from the oil once the cakes are golden brow in color.

Pressure cook 10 baby potatoes for 2 whistles or till just done. Cool and peel. Deep fry the potatoes till golden brown and keep aside. In a bowl take 2 tablespoons of yogurt/ curd and add 1 teaspoon each of cumin seed powder, coriander powder , chili powder, a pinch of turmeric powder and mix well. Keep aside.

Heat a teaspoon of oil and add 1 teaspoon of cumin seeds and 1/2′ piece of ginger, grated.When the cumin crackles, add 2 finely chopped tomatoes and cook till mushy.To this add the yogurt -masala mixture and cook for a few minutes on low flame.

Add 1 1/2 cups of water, salt to taste and 1 teaspoon garam masala and bring to boil.

Add 1 teaspoon ghee , roasted potato and gently slide in the fried lentil cakes.Simmer for a few minutes and remove from heat.

Serve as a side dish with steamed rice…..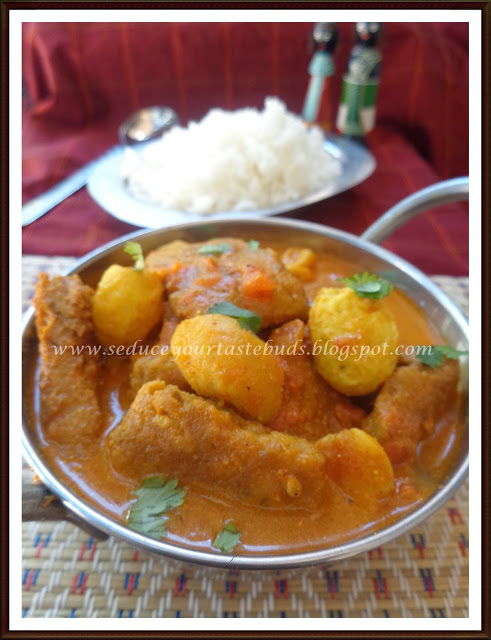 Note:
I did not add water while grinding the lentil mixture. So the cooking of the mixture took less time as there was less moisture. If you are unsure of the consistency, cook on low flame..
If the lentil cakes crack up while frying, don't add it to the simmering gravy. Arrange them on the serving dish and add the finished gravy over it.
It is not necessary to pressure cook the potatoes.You can fry it and then cook it in the gravy.
If baby potatoes are not available, the regular potato can be cut into wedges / chunks and used.
Bay leaf has to be added in along with cumin and ginger before adding the tomatoes in the gravy process. I was out of bay leaves so did not add.
Sugar is added to the tempering but I skipped it.
Sandeepa recommends soaking the dal overnight but I soaked it for a few hours only and it turned out fine too.
My kids really loved the soaked up lentil cakes and I was happy to see them enjoy this with curd rice…