For the past couple of months I have not been able to post for the South Vs North Challenge. Thought the challenges were delicious as always, something came up and the making and posting never happened.
South Vs North Challenge or SNC is a food community started of Divya Pramil of You Too Can Cook . The group is divided into 2 groups – North and South team based on where they hail from.The members of the opposite group pose challenges each month to the other group and the challenge is to prepare and post it.
When I first saw this month's challenge, I loved it at first sight. Saonli of Sanoli's Kitchen challenged the South Indian grump to prepare Labongo Latika.This is one of the famous sweets that are available in the sweet shops during diwali and they are pretty highly priced!
I wanted to make them as soon as I saw the challenge yet the first week of this year was pretty hectic and so I put it off for later. Then today morning, I saw a few members post this dish and dusted off my apron to make this one!
I did not have mawa/ khoya at home. I did have a litre of milk in the fridge. So I used a paneer filling instead of the traditional filling. I also added a little toasted almonds for taste and richness.This dessert is a wee bit cumbersome but worth every bite!!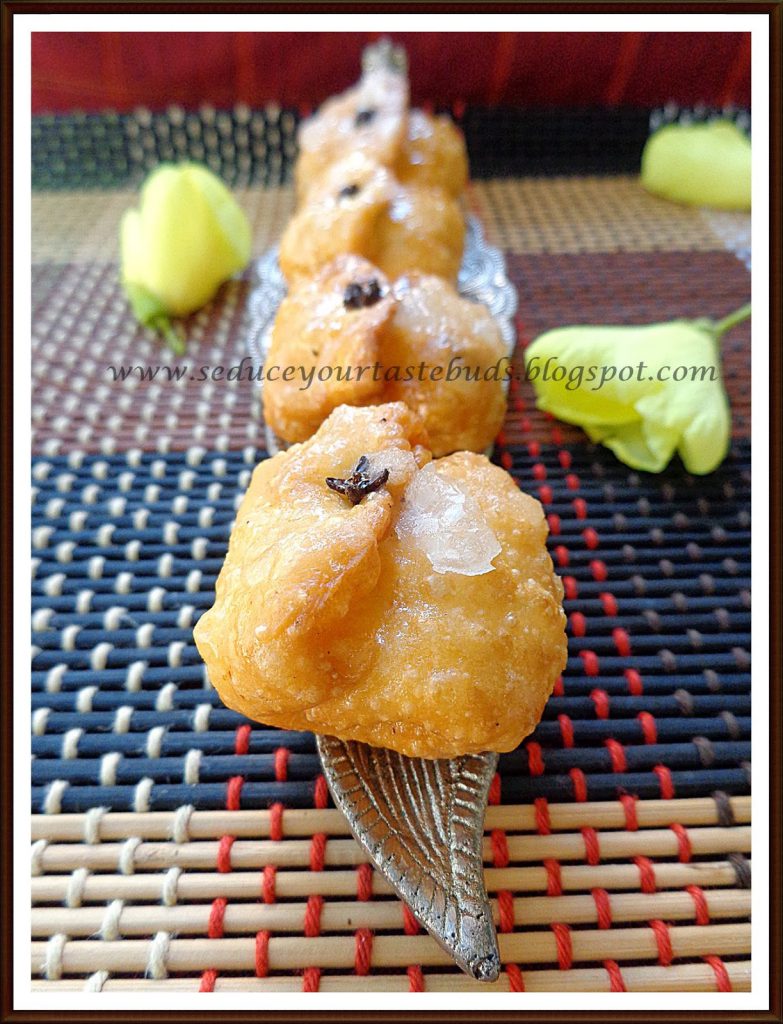 I used:
Source – Sanoli's Kitchen
For the outer dough
All purpose flour- 1 cup
Sugar- 1 teaspoon
Ghee- 1 tablespoon
Salt a pinch
Baking powder- a pinch
Warm water to knead the dough
Cloves
Oil to deep fry
For the paneer filling
Fresh paneer- from 1 liter milk
Milk-2 tablespoons
Sugar- 2 tablespoons
Toasted almonds slivers – a few
Raisins- a few
For the sugar syrup
Water- 1/2 cup
Sugar- 1 cup
Rose essence- a few drops
Firs prepare the syrup…..
Take the sugar and water in a pan and bring to boil. Add the essence and cook till you get a two string consistency. Remove onto a wide vessel and keep aside.

For the filling….
Blend the paneer, milk and sugar in a jar.Heat a pan and put in this mixture. It will be a bit runny.Cook for 8-10 minutes till the mixtures comes together and thickens. Switch off the heat and add the almond slivers and raisins,Mix well and keep aside.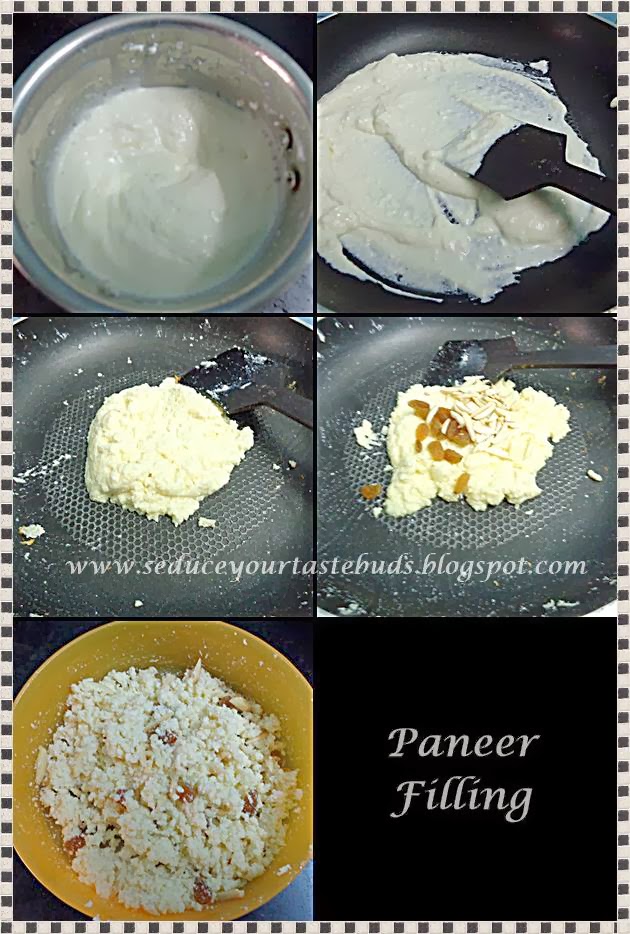 Hoe to proceed…..
Take the all purpose flour, salt, sugar,ghee,baking powder and mix well. Add warm water little by little and prepare a smooth dough.Cover with a wet cloth and set aside for 15 minutes. Then knead again. Pinch out a golf sized ball and roll it out like a chapathi / roti. Using a round lid, cut out circles from the dough.
Take a circle of dough and place a portion of the filling in the centre. Bring one edge to the centre and cover with the other side. It will like a rectangle now. Then bring in the other two edges and seal it with a clove.
See the pics below for a better explanation….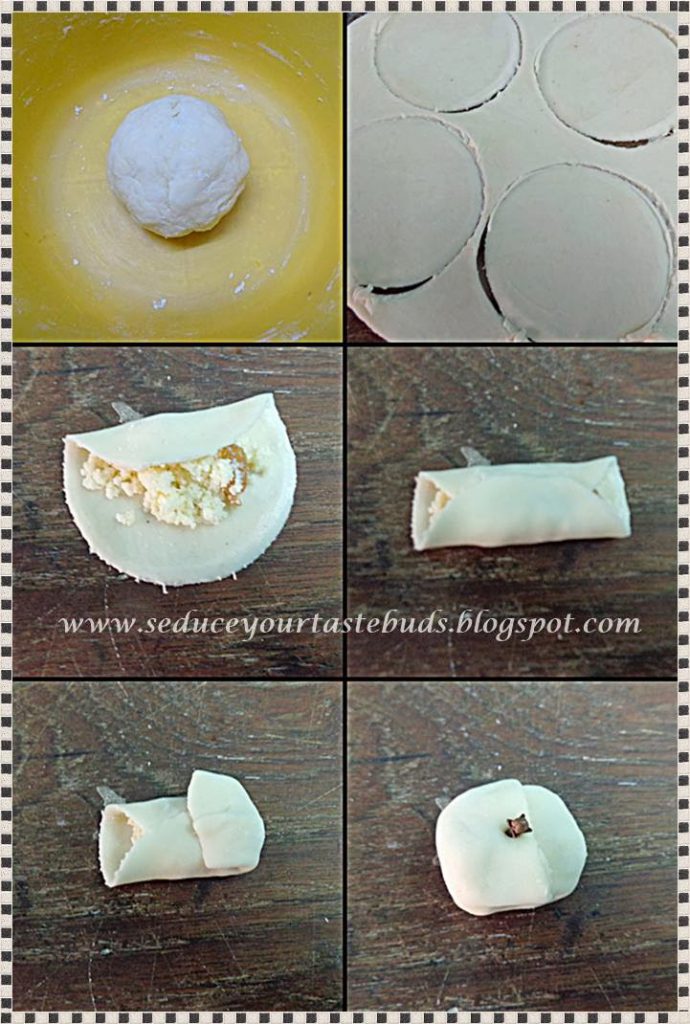 Prepare the lavang latika for the remaining dough and keep it ready. Heat oil for deep frying. Check if the oil is hot by dropping a small piece of dough into the oil. If it rises up immediately then the oil is ready. Else wait for a few more minutes.Once the oil is hot, reduce the flame, and fry the prepared lavan latika in batches till golden brown.
Remove from oil and drain on a paper towel.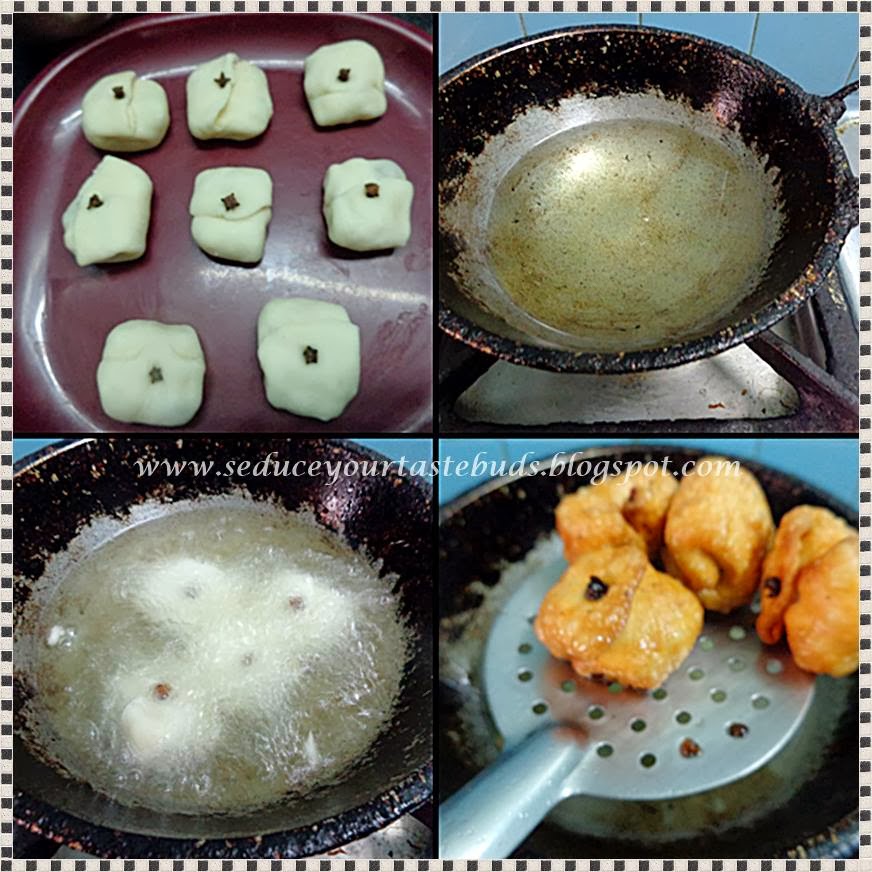 Immerse the lavang latika in the prepared sugar syrup ensuring that it is fully coated.Drain on a wire rack

Enjoy the famous Bengali Dessert…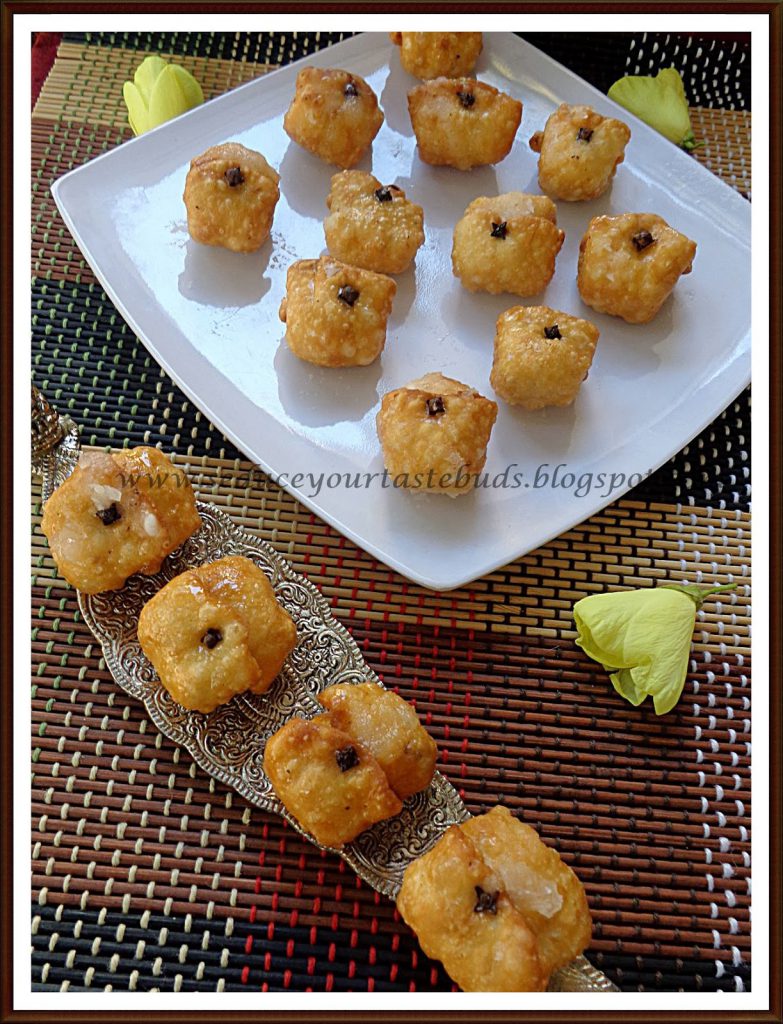 This can be stored in an air tight container for a few days but I doubt if your folks will leave them alone for that long!
Bon Appetit…