Moving forward in this delicious journey, we now stop at Punjab, the Land of 5 rivers.The Greeks called this land as Pentapotamia meaning inland delta of five converging rivers. The scared texts of the Zorastrians called this the Sapta Sindu ot the Land of 7 rivers.
In the ancient times, Punjab was the gateway to the Indian Subcontinent for the people from Greece, Central Asia , Iran and Afganistan.
Punjab is the single largest producer of Wheat in the country.
For me, Punjab is always those Bollywood heros and heroines running through the mustard fields in full bloom where the heroine is mostly from Punjab!At least about a decade back most films that I saw were like this.
And then there is this Balle Balle Bangra dance that gets featured in all cultural programs in college.
Coming to the cuisine of the Punjabis…
The food comes from the Punjab region of both India and Pakistan.It has a diverse range of dishes and they vary within the state itself.Even the choice of ingredients differ from one place to another within the state.
The most popular dishes are of course Sarson ka Saag and Makki ki Roti. Apart from this there are so many delicacies like the Kebabs, rumali roti,Poori halwa, Kulchas, Naan,lassi,etc.
And of course the Punjabi Dabba that serves the most delicious and ghee laden dishes!Even here in Tamil nadu there are so many Punjabi Dhabas, at least one near every highway exit.Though the owners are not Punjabis , the dishes are almost authentic. Plus these also serve the local dishes along with north Indian foods.
Years back, when I was in college, we went on a trip to a few places in North India. We mostly stuck to the Daaba style foods coz it was cheap and tastier than the star restaurants. They were clean too much to our surprise.
A small reminiscence that you may have read earlier…
We were travelling on the Ajmer highway. It was nearing midnight and we had planned to cut a cake that we had got to celebrate Christmas .Exactly when my friend was about to cut it, we heard a big 'bang' and the bus swerved.
Many of us screamed and I thought we had met with an accident. The driver managed to bring the vehicle under control and stopped by the roadside. We were informed that one of the tires had burst. Thank God, there was not much traffic on the highway and hence no causalities.
Just around that time, I realized the Pav Bhaaji I had in the evening almost vanished and I was hungry again.I didn't even want to think of the stale chapathi and most of the snacks we had purchased in Udaipur was long gone. Most of my friends were in the same situation. We shared a piece of cake and waited to resume the journey.
All our hopes were shattered when the driver announced that any chances of changing the tire would be at dawn. I looked around and saw that we were stranded in a place that looked like a forest with rows and rows of trees and that too in the middle of the night without a single soul in sight.
Suddenly someone mentioned something about bandits and we shrieked.We were around 40 girls and a lady guide,sitting in that bus and the 2 guys who were with us[the driver and the cleaner] didn't look like they would protect us from the thieves,in case they sprang up from nowhere.
There was not a single light on the highway.The occasional hoot of the owl and noises of the insects we more than enough to scare us. Every single sound made me jump.I wished more than ever that I was sleeping in that cozy hotel we had vacated earlier ,without fear and dreaming of all the beautiful places we had seen.
There were hardly any vehicles passing that way and all the fun and laughter that was heard minutes ago had died down to a whisper.A few lorries sped by after a while and some of them who stopped to help us could not change the tire.Our driver was left with no choice but to go and look for a mechanic at day break.
Somehow we managed to spend the cold night[it was winter] in the bus and by morning the driver got some help and much to our delight informed us that there was a dhaaba nearby.That was the best thing we had ever heard and immediately started walking in the direction of our 'saviour'.
The mere sight of the dhaaba signaled warmth, comfort and scrumptious food. There were wooden cots to sit upon and a wooden plank placed across the width of the cot to keep dishes.
Seeing 40+ hungry people,the dhaaba owner and the cook were delighted and started taking the orders and I must say ,the food appeared on our 'table' pretty quick.
We[my 2 friends and me] ordered all what we wanted-parathas,kulchas and some titbits- without even thinking if we would be able to finish them. Soon there was a delicious spread in front of us. The first ones to appear on the 'table' were Mooli parathas and dhal ,Kulcha and chole.
I started off with the Mooli parathas and dhal.The aroma was more than enough to seduce me.The mooli parathas and punjabi dhal tasted divine. Never did I know I could polish off so much food in such little time. Parathas were washed down with a cup a hot chaai[Indian tea]. I did eat the kuchas but the parathas had a carved a special place in my heart.
We sat there lazying around and taking sweet nothing ,basking in the warmth of dawn till our bus was ready to take us to the next stop-Jaipur.The weariness of the previous day's experiences were nowhere in sight once we had our fill of the yummy food.
Later when we re-started our journey I noticed numerous dhaabas dotting the roadsides.The food was inexpensive and definitely had a 'home-made' touch..
Any time I see a Dhaaba, this is the incident that I recollect…
Let us move on to the post….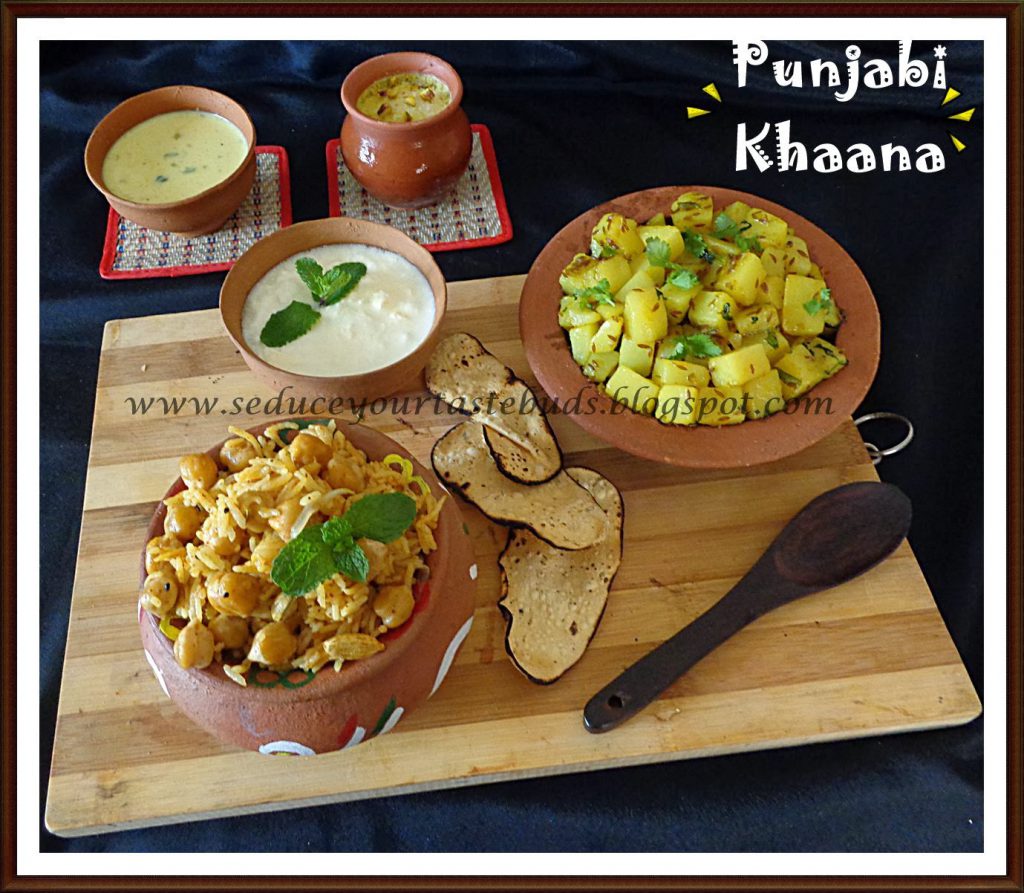 Featured here :
Achari Channa Pulao – A rice rich with Chick peas that is flavored with Punjabi Mango Pickle
Jeera Aloo – A simple stir fry of potatoes seasoned with cumin seeds
Mango Lassi – A tasty drink of mango in buttermilk
Kesar Pista Kulfi – Indian styled Saffron flavored pistachio Ice cream
Yogurt
Grilled Pappad
Let us start with the pulao preparation…
I used:
Adapted from Tarla Dalal
Basmati rice -1 cup
Mango pickle – 2 tablespoons [reduce the quantity if the pickle is too spicy]
Chick peas- 1/4 cup, soaked overnight and cooked al dente
Onion-1, sliced
Ginger garlic paste- 1 teaspoon
Turmeric powder- 1/8 teaspoon
Garam masala- 1 teaspoon
Red chili powder- 1/2 teaspoon
Ghee- 2 teaspoons
Spices :
Mustard seeds- 1 teaspoon
Fennel seeds- 1/2 teaspoon
Nigella seeds/ Kalonji-1/4 teaspoon
Fenugreek seeds- 1/4 teaspoon
Cumin seeds- 1/2 teaspoon
Asafoetida powder- a pinch
Cardamom-1
Blend the pickle in a mixer to a coarse paste and keep aside. Wash and soak the rice for 15 minutes. Boil 2 cups of water and keep ready.[I use 1:2 ratio.You can adjust the water to the one you use regularly]

Heat ghee in a pressure cooker and add the spices.Once the mustard pops, add the onion and saute till translucent. Add the ginger garlic paste and saute for a minute.

Add the chickpeas, red chili powder, garam masala and turmeric powder, followed by the pickle paste.

Add salt and the boiling water. Drain rice and add to the cooker.

Mix well.Cover and pressure cook for 3 hisses/ 10 minutes or till the rice is cooked. The rice should not get mushy. Once the pressure releases, fluff it gently with a fork and serve

This pulao can be eaten as such / served with plain yogurt/ raita/ crispies…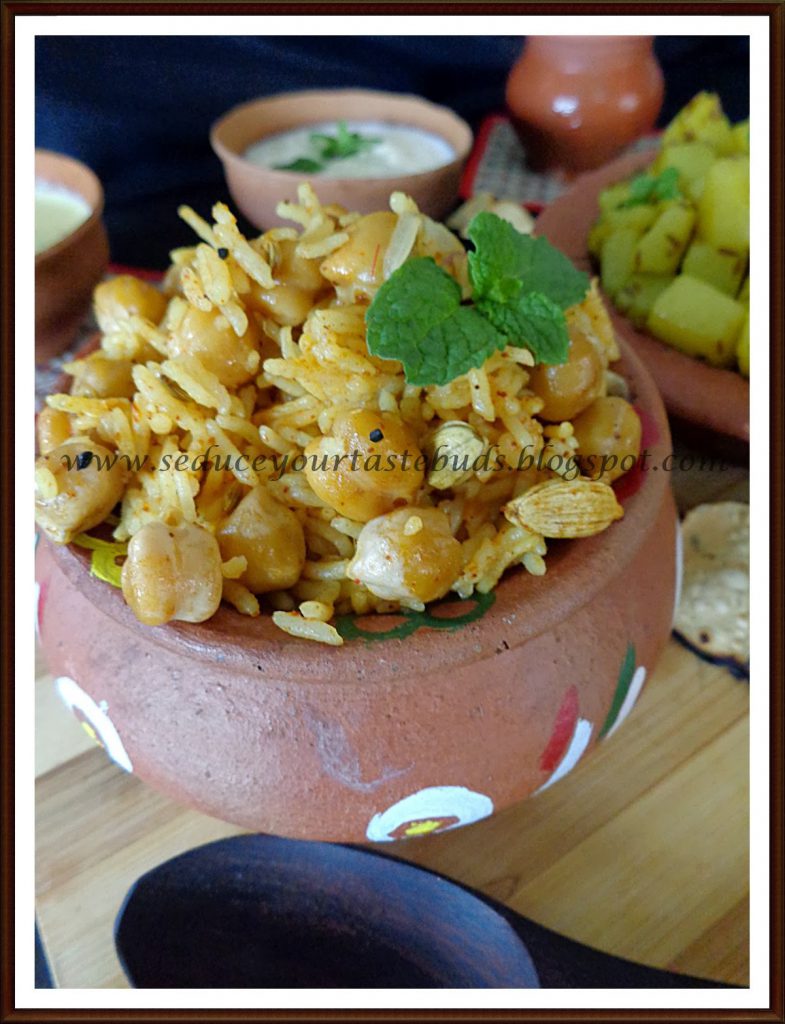 The next recipe is a simple potato curry flavored with cumin seeds.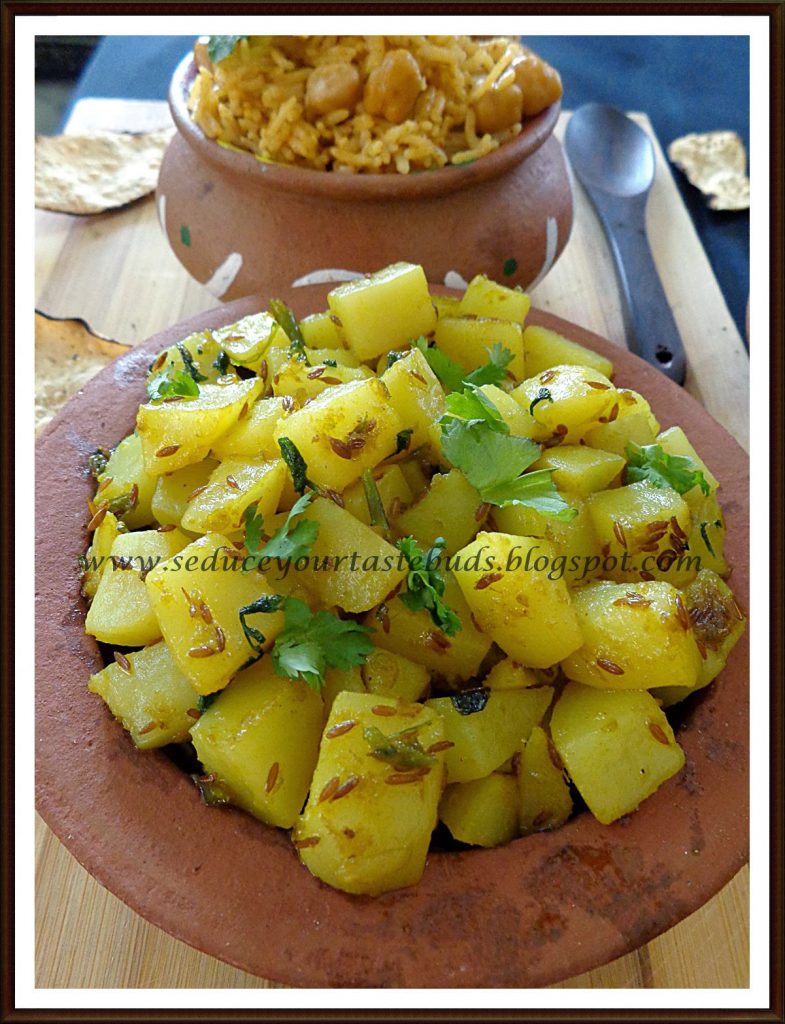 I used:
Potato-2 large, peeled and cut into cubes
Cumin seeds- 2 teaspoon
Green chili paste- 2 teaspoons
Turmeric powder- 1/8 teaspoon
Salt to taste
Coriander leaves to garnish
Ghee- 1 teaspoon
Melt ghee in a pan and add the cumin seeds. When it crackles, add the potato cubes and saute for a minute.Add a little water,cover and cook for a few minutes, stir once in a while to avoid burning
Once the potato is half cooked, add green chili paste, turmeric powder and salt.Mix well.
Add a little more water and cover and cook till the potatoes are done and the curry is dry.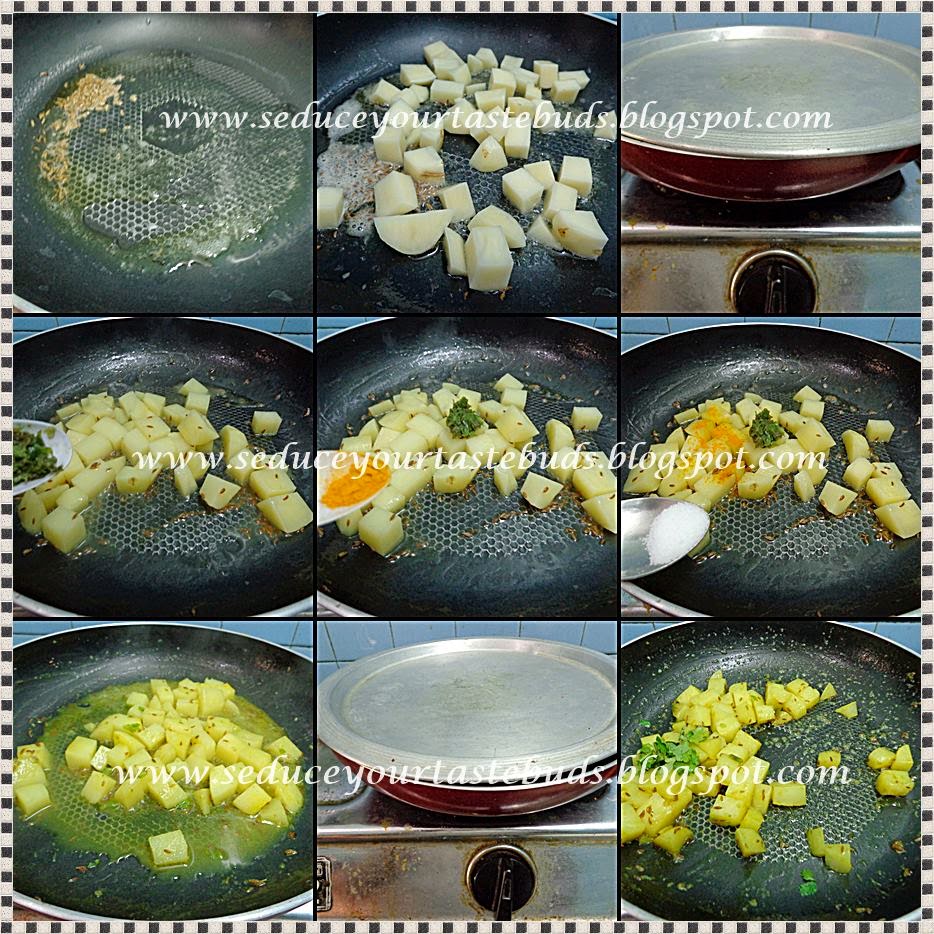 Serve with steamed / flavored rice garnished with coriander leaves….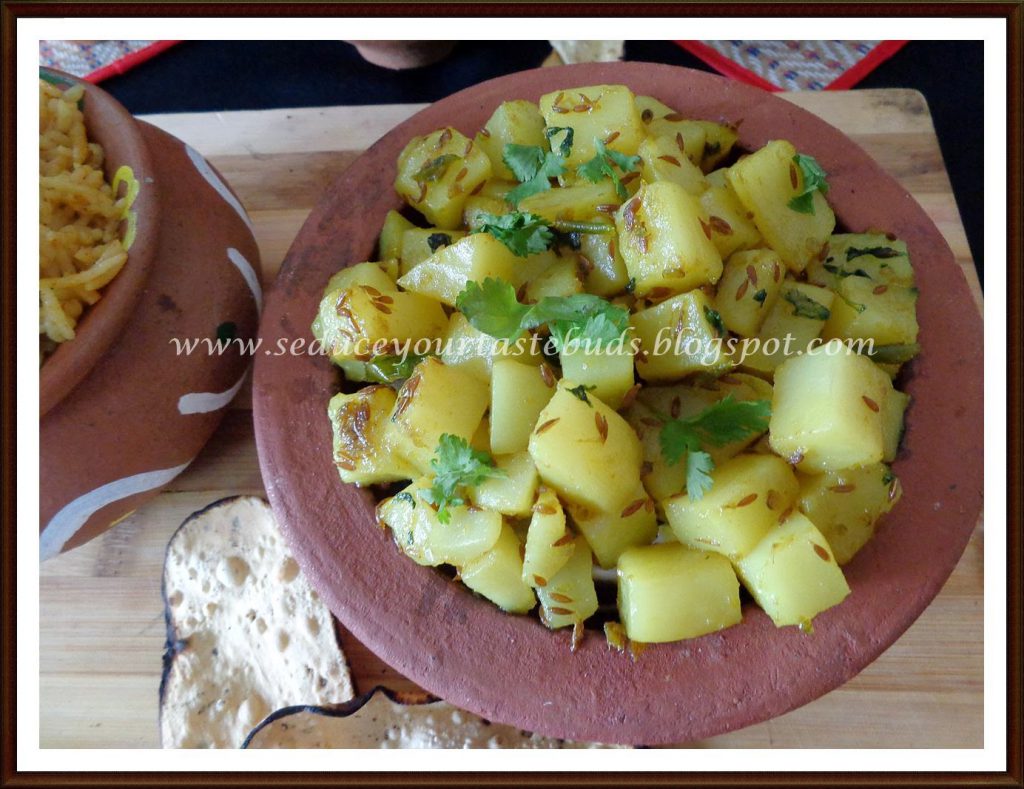 So here is the tasty meal from Punjab.Hope you enjoyed it….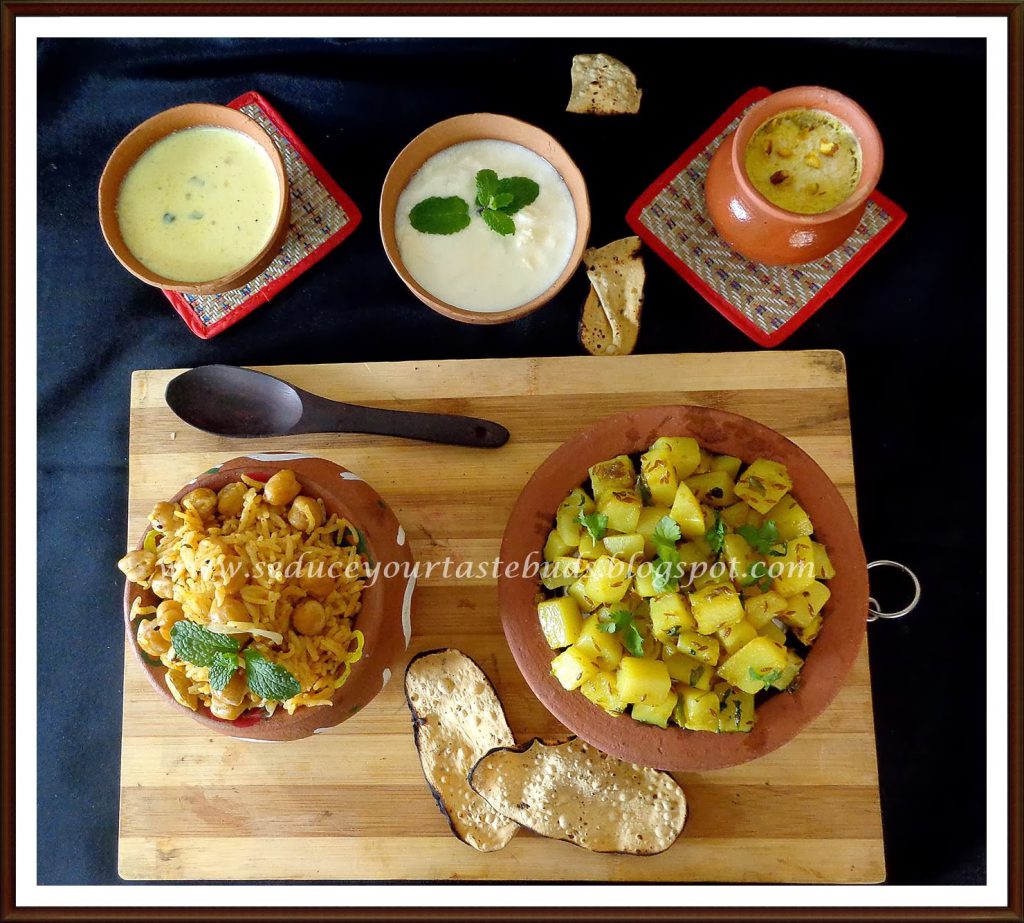 Other Punjabi recipes from my blog….
Punjabi Samosa
Punjabi Kadi Pakora
Punjabi Chole
Kachori
Punjabi Rajma Chawal
Punjabi Rajma Masala
Punjabi Chole Masala – Ver 2.0
Aloo Anardana Kulcha
Bon Appetit…