This post is a part of the main post that was featured for the Indian Food Odyssey for Tamil Nadu…
For lunch I am taking you to the Nilgiris,the home of the Badagas.They are the indigenous people living in the Nilgiris, Tamil Nadu.It is said that almost 3 centuries earlier, a large group of people migrated from Mysore to the Nilgiris and these people,the Badagas,have been living here since then.
But some of the elderly locals say that they have been living here for a long,long time and that they are the original native tribes of The Nilgiris.
They speak the Badaga language which is a mixture of Kannada and Tamil.
I spent a large part of my childhood among these people,almost a decade and a half.Many if our neighbors were badagas. These people are known for their hospitality .UNESCO has declared that the "Badagas of Nilgiris hospitality is the best" and have conferred the community with the "global" honor.Read more about it here.
A simple example would validate this statement. When we lived there in Ooty, my neighbor, a badaga had a telephone connection that the company had provided. Back then, very few people had one!So whenever we wanted to make a call to dad's office,I would go to their house.By the time I passed on the message to dad[which would take just a few minutes], my neighbor would be standing there ready with a large tumbler of tea!
In spite of telling her that I drop in often[to play with her kids who are almost my age],she would never hear of it and make sure I drink that tea.And I have to agree that their tea is the best I have ever had!
Similarly when relative drop in to their house, they would share their produce
that they bring along with us also since we are their relatives neighbors!Can you imagine that!!
I think this is more than suffice to explain their hospitality!
Agriculture is their main occupation and live is small villages called Hatti.The main crops are vegetables like potato, carrots and other root vegetables and those that grow well in cold places like cabbage, cauliflower, greens, beans etc. They also cultivate fruits.Tea and coffee plantations are also seen.
But now a days the youngsters have been coming out and are into studies,well educated and hold good positions in India and abroad.
They have their own typical customs for all occasions like birth,death,marriage etc.
They follow Hinduism and Hedai amman festival is something no one in their  community ever misses.Mom still remembers going to this.
We really miss living there and can never forget our life in Ooty.
So, coming to their cuisine part, they mostly use the crops from their fields in their cooking.
For their gravy curries, they make a special masala powder. I still remember my neighbor drying out the ingredients for the masala on a mat as soon as the sun comes out. It is then ground to a powder in the mill and store it in huge tin boxes. Even my present day neighbor agrees that the masala powder though prepared in bulk stays fresh and aromatic in this hot climate!As with any recipe, every family has its own version…
Simple ingredients are used in thier cookery yet the dishes turn out delicious.
Potato is of so much importance in their diet that there is even a proverb [Dhodaru Shuloka] which says
'Gandha illadha mane holla,Gaasu illadha udakka holla'  – meaning
Without a man[husband] a house is bad and without potato curry is bad!!!
Hence, today's  post is a dish that has potatoes and peas.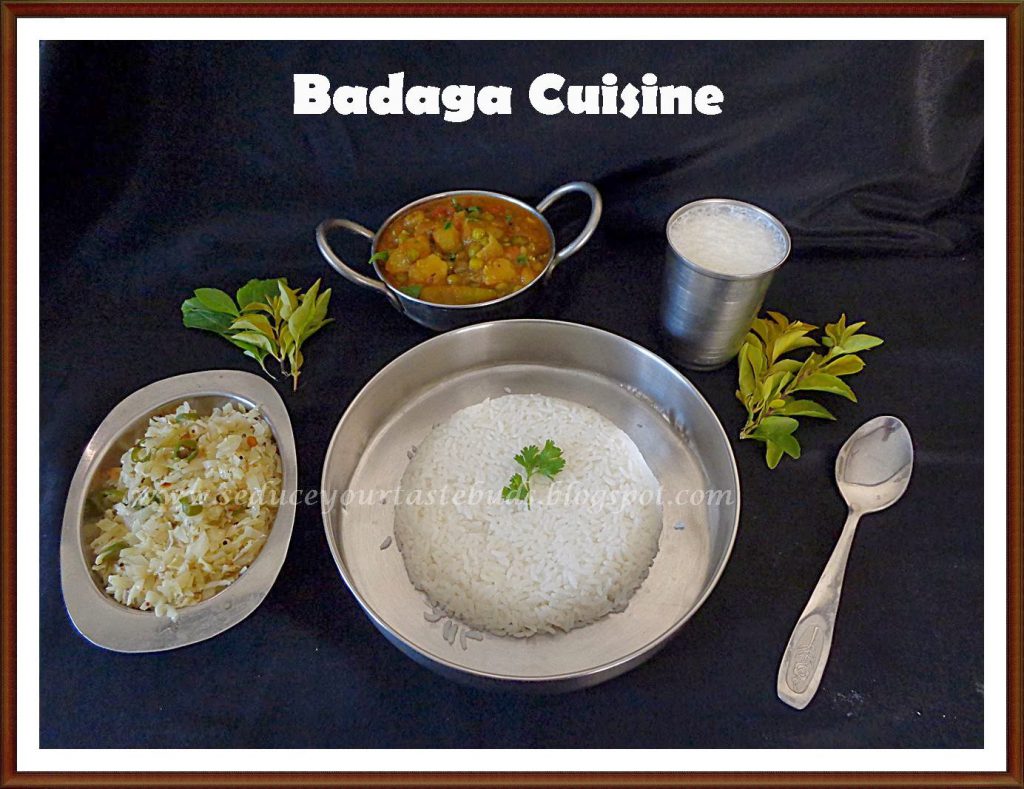 A simple and quick curry with potato and dried peas made using the badaga
masala powder served with cabbage curry and buttermilk…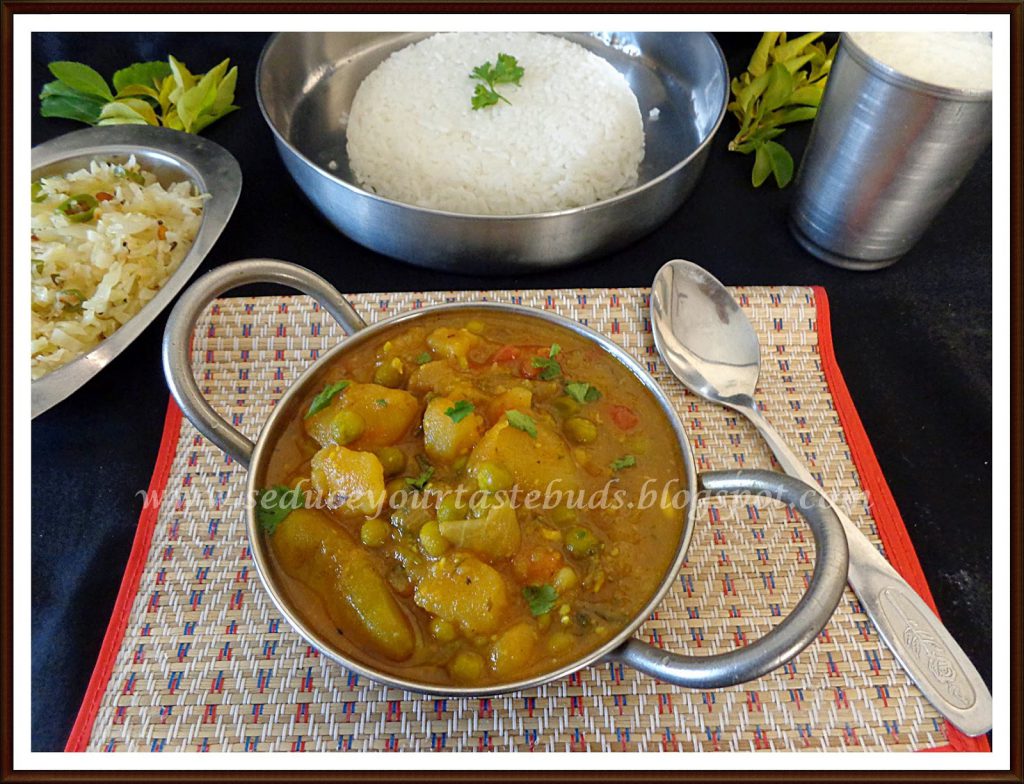 Avaray Gaasu Uthaka:


You need:
For the masala powder:[This is made in bulk, I have scaled it down for a small batch]
Red chilies-4
Coriander seeds- 3 teaspoons
Cumin seeds- 1/2 teaspoon
Saunf-1/2 teaspoon
Pepper- 1 teaspoon
Roasted chana dal-2 teaspoons
Bengal gram-1 teaspoon
Toor dal-1 teaspoon
Rice-1 teaspoon
Turmeric powder- 1/4 teaspoon
Fenugreek seeds-1/4 teaspoon
All the ingredients are to be roasted in a pan without oil and powdered and stored in air tight containers.
Some add cinnamon, cloves, nutmeg etc to this mixture.
Ingredients for the gravy
Potatoes-3,peeled and quartered
Dry peas-1 cup, soaked over night
Pearl onion-10, peeled and chopped
Tomato-1,large, chopped
Green chilies-3,slit
Crushed garlic -3 pods
Crushed ginger-1″ piece
Badaga masala powder- 2 teaspoons
Coriander powder- 1/2 teaspoon
Mustard seeds- 1 teaspoon
Turmeric powder- a pinch
Coriander leaves- a handful
Salt to taste
Pressure
cook the soaked peas, quartered potatoes, green chilies, crushed ginger
and garlic, badaga masala powder, coriander powder
Heat oil in a pan and add mustard seeds.When it pops add the onion and saute
till light brown,Add the tomatoes and turmeric powder and cook till
tomatoes are soft. Take out the cooked potato from the pressure cooker
and add to pan and lightly mash it with a ladle.
Add the remaining mixture to the pan[cooked peas] and bring to boil,
stirring once in a while. Add water if the gravy is too thick.Then add
the coriander, mix and remove from heat.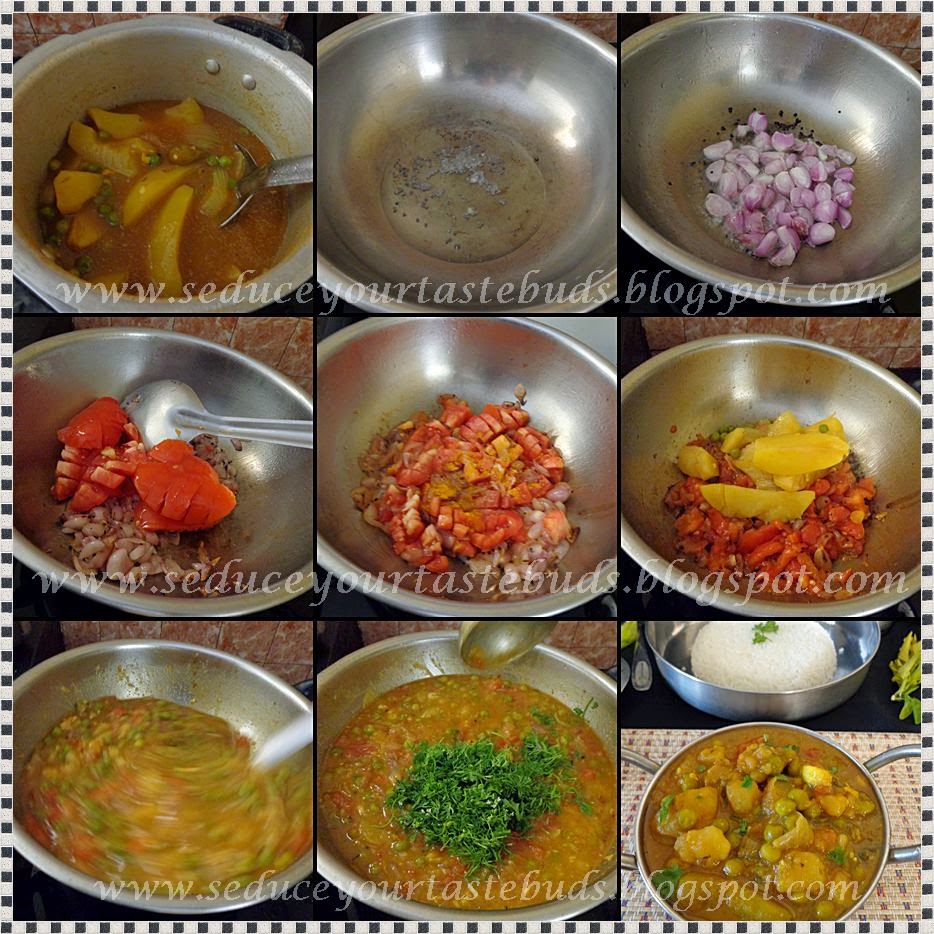 Serve with steamed rice and a vegetable curry…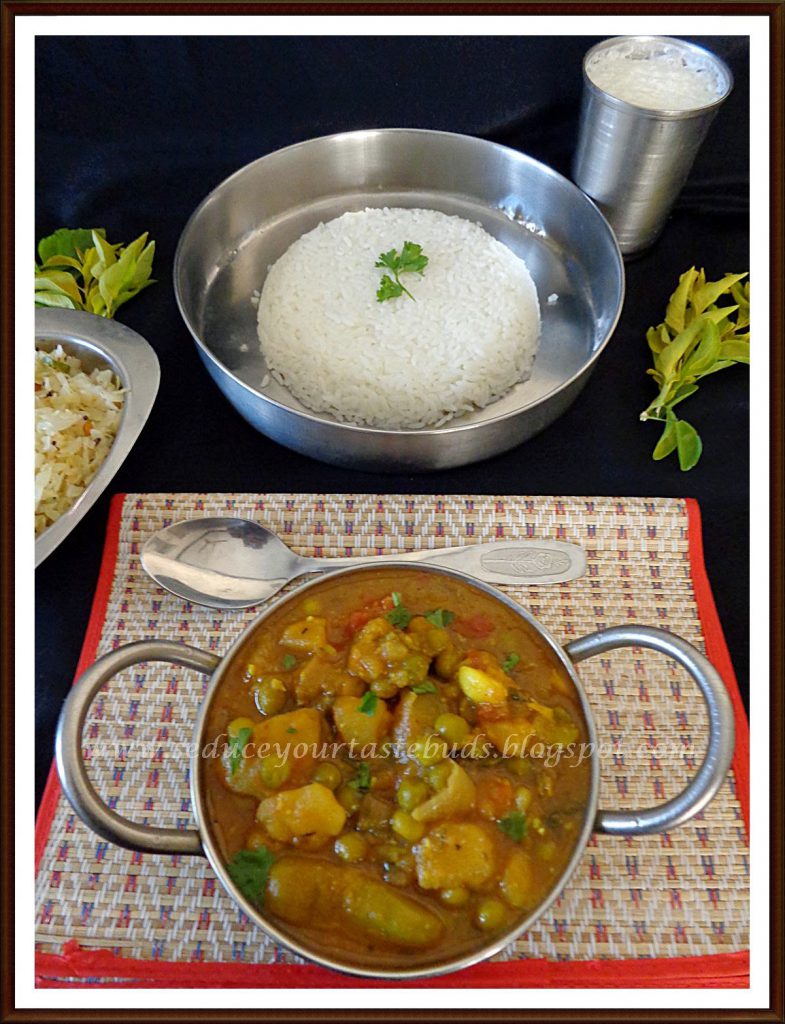 Note:
Avaray is badaga language refers to dried beans. I have retained that name even though I have used peas.
The cabbage porriyal is like the regular one we usually make.
Heat a teaspoon of oil in a pan and add a teaspoon mustard, 1/2 teaspoon chana dal and a pinch of asafoetida powder,a few curry leaves.
When it splutters add 1 chopped onion,2 cut chilies and saute till onion is soft.
Add chopped cabbage and salt and mix well.
Add a little water and cover and cook till cabbage is done. Sprinkle more water in between if needed and stir once in a while.
Finally add a few teaspoons of grated coconut and mix.
Remove from heat and serve with steamed rice and a curry.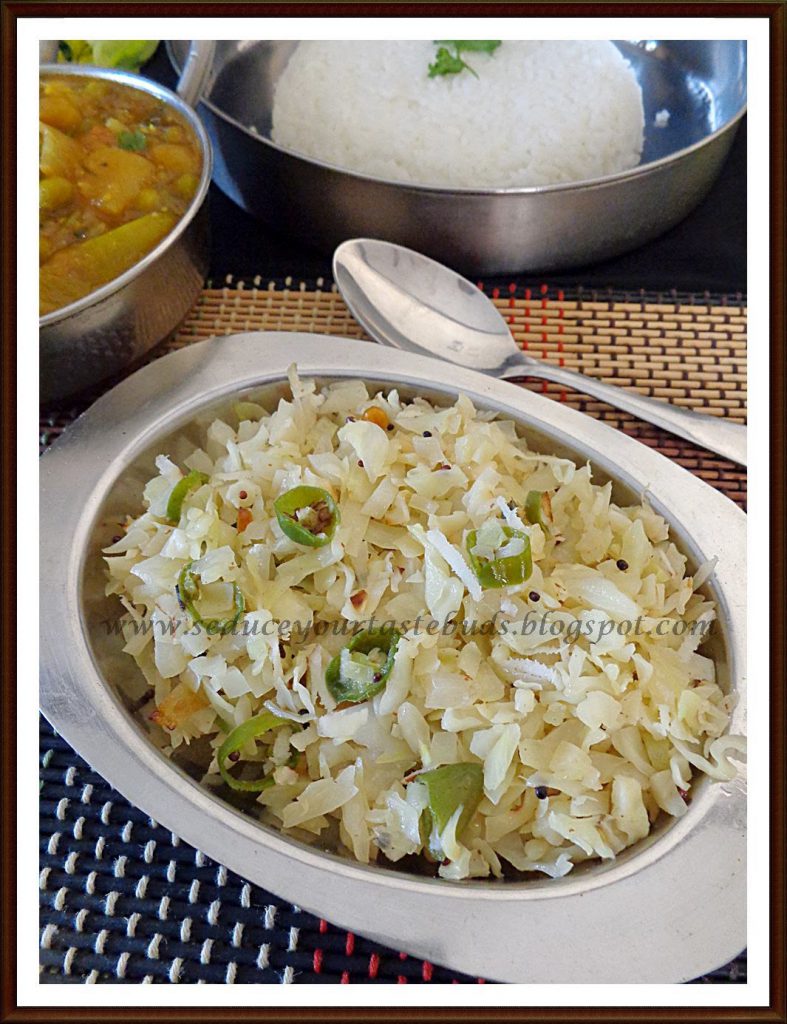 Bon Appetit…